---
Books by and about 2020 presidential candidates
Crippled America,
by Donald J. Trump (2015)
Fire and Fury,
by Michael Wolff (2018)
Trump Revealed,
by Michael Kranish and Marc Fisher (2016)
The Making of Donald Trump,
by David Cay Johnston (2016)
Promise Me, Dad ,
by Joe Biden (2017)
The Book of Joe ,
by Jeff Wilser (2019; biography of Joe Biden)
The Truths We Hold,
by Kamala Harris (2019)
Smart on Crime,
by Kamala Harris (2010)
Guide to Political Revolution,
by Bernie Sanders (2017)
Where We Go From Here,
by Bernie Sanders (2018)
Our Revolution,
by Bernie Sanders (2016)
This Fight Is Our Fight,
by Elizabeth Warren (2017)
United,
by Cory Booker (2016)
Conscience of a Conservative,
by Jeff Flake (2017)
Two Paths,
by Gov. John Kasich (2017)
Every Other Monday,
by Rep. John Kasich (2010)
Courage is Contagious,
by John Kasich (1998)
Shortest Way Home,
by Pete Buttigieg (2019)
Becoming,
by Michelle Obama (2018)
Higher Loyalty,
by James Comey (2018)
The Making of Donald Trump,
by David Cay Johnston (2017)
Higher Loyalty ,
by James Comey (2018)
Trump vs. Hillary On The Issues ,
by Jesse Gordon (2016)
Outsider in the White House,
by Bernie Sanders (2015)
---
Book Reviews

(from Amazon.com)

(click a book cover for a review or other books by or about the presidency from Amazon.com)
Vox Media (news website)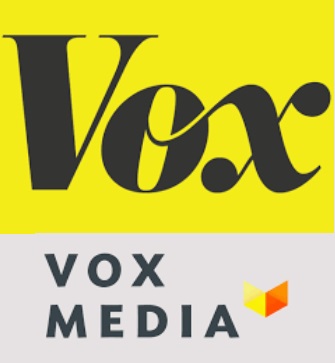 (Click for external website)
Click on a participant to pop-up their full list of quotations
from Vox Media (number of quotes indicated):
Articles in Vox.com blog:
2024_CA_Senate: "Who is Laphonza Butler, California's new senator?," by Nicole Narea, Oct 2, 2023, (Link)
VOX, "Who is Ketanji Brown Jackson?," by Ian Millhiser, Feb 25, 2022
Vox.com, "Why is Putin attacking Ukraine? He told us," by Zack Beauchamp, Feb 23, 2022,
Vox.com, "How America's NATO expansion obsession plays into the Ukraine crisis," by Jonathan Guyer, Jan 27, 2022
Vox.com, "The Supreme Court shut down an attack on ObamaCare in the most dismissive way possible," by Ian Millhiser Jun 17, 2021
Vox.com, "Amy Coney Barrett handed down a revealing first Supreme Court opinion," by Ian Millhiser, Feb 6, 2021
"Sen. David Perdue's racist treatment of Sen. Kamala Harris's name was all too familiar," by Li Zhouli, Oct 18, 2020
"Alexandria Ocasio-Cortez and the future of the left," by Aaron Ross Coleman, Aug 22, 2020
"Joe Biden likes you," by Ezra Klein, 8/21/20
"5 winners and 4 losers from the last night of the Democratic convention," by D.Matthews, D.Scott, L.Zhou, Z.Beauchamp, G.Lopez, E.VanDerWerff, E.Stewart, E.Nilsen, & I.Millhiser, 8/21/20
"Andrew Yang said the smartest thing about Biden at the DNC," by Zack Beauchamp, Aug 20, 2020
(On Trump Impeachment): "Rudy Giuliani just blew up Trump's 'no quid pro quo' talking point," by Aaron Rupar, Dec 6, 2019
"Warren's bold plan to crack down on corruption in Washington, explained," by Ella Nilsenella, Sep. 16, 2019
"Wayne Messam's key policy proposals, briefly explained", by Sean Collins, 7/2/2019
"The 20-year argument between Biden and Warren over bankruptcy," by Matthew Yglesias, May 6, 2019
"Democrats are increasingly critical of Israel. Not Pete Buttigieg," by Alex Ward, 4/3/2019
"Trump's decision to cut off aid to 3 Central American countries, explained," by Dara Lind, Apr 1, 2019
"An abortion clinic is suing to open in Pete Buttigieg's city," by Anna North, 3/27/2019
"Meet the first Democrat running for president on climate change," by David Roberts, Mar 1, 2019
"That time Donald Trump proposed a 14.5 percent wealth tax", by Matthew Yglesias, Jan 31, 2019
"5 anti-poverty plans from 2020 Democratic presidential contenders, explained," by Dylan Matthews, Jan 30, 2019
"Elizabeth Warren's proposed tax on enormous fortunes, explained," by Matthew Yglesias, Jan 24, 2019
Vox.com blog, "The Rhode Island governor's race, the left's next chance for an upset, explained," by Dylan Scott, Sep 12, 2018
(On Brett Kavanaugh): Vox.com on lead-up to SCOTUS Confirmation Hearing, 9/5/2018
(On Charles Schumer & Martin Heinrich): Vox.com on 2018 New Mexico Senate race, 8/28/2018
(On Brett Kavanaugh): Vox.com on lead-up to SCOTUS Confirmation Hearing, 7/12/2018
(On Tom Wolf & John Fetterman): Vox.com on 2018 Pennsylvania gubernatorial race, 5/16/2018
WV-Senate, "Ojeda's win gives Democrats their best chance to turn coal country blue," by Alexia Fernández Campbell, May 9, 2018
(On Bernie Sanders): Vox.com 2015 coverage of 2016 presidential hopefuls, 7/28/2015
(On Carly Fiorina, Chris Christie, Scott Walker & Ted Cruz): Vox.com coverage of 2015 Conservative Political Action Conf., 2/27/2015
(On Antonio Villaraigosa): Voxxi.com on 2014 California governor's race, 9/2/2012
(On Cynthia Nixon): Jen Kirby in Vox.com on 2018 New York gubernatorial race, 3/22/2018
(On Bob Casey): Jeff Stein in Vox.com, "TrumpCare dead", 3/29/2017
(On Claire McCaskill & Cory Booker): Jeff Stein in Vox.com, "TrumpCare dead", 3/29/2017
(On Donald Trump): Timothy A. Clary on Vox.com, Donald Trump's Black Outreach, 9/17/2016
OnTheIssues.org excerpts: (click on issues for details)
Abortion
Dave Schatz: Supported "Missouri Stands for the Unborn Act".
Jim Neely: Supported "Missouri Stands for the Unborn Act".
Mike Parson: Signed "Missouri Stands for the Unborn Act".
Pete Buttigieg: Abortion is a woman's choice, not a political statement.
Scott Sifton: Opposed "Missouri Stands for the Unborn Act".
Bill Eigel: Supported "Missouri Stands for the Unborn Act".
Crystal Quade: Opposed "Missouri Stands for the Unborn Act".
Laphonza Butler: President of Emily's List, backing pro-choice candidates.
Budget & Economy
Charles Schumer: Measure distribution of growth, not just overall GDP growth.
Donald Trump: 1999: one-time wealth tax on top 1% to reduce national debt.
Martin Heinrich: Measure distribution of growth, not just overall GDP growth.
Civil Rights
Jay Inslee: Statehood for DC & Puerto Rico; they deserve representation.
Wanda Vazquez Garced: Oversaw budget cuts to groups serving battered women.
Corporations
Brett Kavanaugh: Federal regulatory agencies are threat to individual liberty.
Crime
Kamala Harris: I chose the unpopular thing to NOT seek the death penalty.
Ketanji Brown Jackson: On US Sentencing Commission, helped reduce drug sentences.
Tom Wolf: Moratorium on death penalty; reprieves to death-row inmates.
Wanda Vazquez Garced: May have meddled in theft investigation at daughter's home.
Wanda Vazquez Garced: Didn't investigate corruption over hurricane relief.
Education
Joe Biden: 2005: no bankruptcy for student loans; 2015: student relief.
Richard Ojeda: Outspoken support for teachers during strike.
Wayne Messam: One-time forgiveness of student debt, increase Pell Grants.
Energy & Oil
Andrew Yang: Decarbonize US economy by 2035.
Donald Trump: End war on coal: it's important for our defense.
Jay Inslee: Fighting climate change must be top goal of next president.
Jay Inslee: Supported renewable portfolio; supports Green New Deal.
John Fetterman: Fracking acceptable if it brings thousands of jobs.
Pope Francis: Climate change is a critical problem that must be addressed.
Foreign Policy
Carly Fiorina: I know the leaders of the Mideast; Obama & Hillary do not.
Donald Trump: Treat foes of US worse than they could ever imagine.
Lincoln Chafee: After Iraq war, we have to repair American credibility.
Veronica Escobar: Puerto Rico still rebuilding after 2017 Hurricane Maria.
Government Reform
Cynthia Nixon: Main focus of campaign is exposing ongoing corruption.
Elizabeth Warren: End corruption of government by corporations & billionaires.
Ketanji Brown Jackson: Executive privilege not absolute; Presidents are not kings.
Gun Control
Brett Kavanaugh: Banning semiautomatic rifles & handgun registration unlawful.
Donald Trump: Teachers with gun training should be allowed to carry.
Veronica Escobar: Hate speech stokes gun violence and mass shootings.
Wayne Messam: No guns for mentally ill, domestic abusers, watch lists.
Health Care
Bob Casey: Defend ObamaCare instead of single-payer.
Claire McCaskill: Keep options open, instead of single-payer.
Cory Booker: Ok to consider single-payer, but I'm not behind it.
Jay Inslee: Implemented statewide public option within ObamaCare.
Jay Inslee: Medicare for all who want it: opt-in, not mandate.
Neil Gorsuch: Individual mandate is unconstitutional even with $0 tax.
Samuel Alito: Individual mandate is unconstitutional even with $0 tax.
Homeland Security
Pete Buttigieg: Be serious about security like Israel, but live freely.
Vladimir Putin: Ukraine and Georgia in NATO is threat to Russia.
Vladimir Putin: 2013 Euromaidan protests: dangerous Ukraine nationalism.
Immigration
Bernie Sanders: Open borders for guest workers pushes down U.S. worker wages.
Donald Trump: Cut off aid $700M to Central American Northern Triangle.
Pope Francis: Opposes border wall between US and Mexico.
Pope Francis: Vocal advocate for the plight of refugees.
Veronica Escobar: In America, diversity makes us stronger.
Jobs
John Fetterman: Raise minimum wage to $15 per hour.
Scott Walker: Right-to-work rules stand up for the hardworking taxpayers.
Tom Wolf: Raised minimum wage from $7 to $10 per hour.
Veronica Escobar: Raise the federal minimum wage.
Laphonza Butler: Was labor organizer; led fight for $15 minimum wage in CA.
Principles & Values
Adam Schiff: Trump accepting assistance from Russians is criminal.
Alexandria Ocasio-Cortez: Trump represents fascism in the United States.
Amy Coney Barrett: Neutral laws may impact religious groups.
Brett Kavanaugh: Neutral laws may impact religious groups.
Chris Christie: Sometimes must tell constituents to sit down & shut up.
David Perdue: Mocked Kamala Harris's first name at Trump rally.
Joe Biden: Member of the same club: those who stutter.
John Fetterman: Beat establishment incumbent as Bernie Sanders progressive.
Ketanji Brown Jackson: Thanked God, one can only come this far by faith.
Ricky Rossello: Leak of bigoted, vulgar messages leads to protests.
Rudy Giuliani: Tweeted "quid pro quo" for Ukraine aid that Trump denied.
Ted Cruz: I'm despised by GOP establishment, but so was Reagan.
Social Security
Gina Raimondo: Moved workers from state pensions to 401(k)-like plans.
Tax Reform
Donald Trump: Comparison of Warren wealth tax to Trump wealth tax.
Donald Trump: People want tax cuts; don't understand tax reform.
Elizabeth Warren: Comparison of Trump wealth tax to Warren wealth tax.
Elizabeth Warren: Curb inequality: 2% tax on assets over $50M; 3% over $1B.
Joe Biden: Tax code shouldn't reward wealth more than work.
Richard Ojeda: Raise taxes on natural gas companies building pipelines.
Technology
Jay Inslee: Requires major rebuilding of America, means new jobs.
War & Peace
Donald Trump: To eradicate ISIS, we need action, not talk.
George W. Bush: 2008: Support for Ukraine in NATO is a threat to Russia.
Lincoln Chafee: Calls drone strikes "extrajudicial assassinations".
Welfare & Poverty
Cory Booker: HOME Act: $134 billion a year via EITC for people in poverty.
Donald Trump: Rebuild our black inner cities, which are so sad.
Elizabeth Warren: Bankruptcy filers are squeezed by economy, not irresponsible.
Joe Biden: 2005 Bankruptcy bill was flawed, but my input made it better.
Kamala Harris: LIFT Act and Rent Relief: $42 billion to people in poverty.
Ro Khanna: GAIN Act: $111 billion a year for people in poverty.
Sherrod Brown: GAIN Act: $111 billion a year for people in poverty.
| | |
| --- | --- |
| Click for quotations from other sources by: | |
The above quotations are from Vox Media (news website).