---
Books by and about 2020 presidential candidates
Crippled America,
by Donald J. Trump (2015)
Fire and Fury,
by Michael Wolff (2018)
Trump Revealed,
by Michael Kranish and Marc Fisher (2016)
The Making of Donald Trump,
by David Cay Johnston (2016)
Promise Me, Dad ,
by Joe Biden (2017)
The Book of Joe ,
by Jeff Wilser (2019; biography of Joe Biden)
The Truths We Hold,
by Kamala Harris (2019)
Smart on Crime,
by Kamala Harris (2010)
Guide to Political Revolution,
by Bernie Sanders (2017)
Where We Go From Here,
by Bernie Sanders (2018)
Our Revolution,
by Bernie Sanders (2016)
This Fight Is Our Fight,
by Elizabeth Warren (2017)
United,
by Cory Booker (2016)
Conscience of a Conservative,
by Jeff Flake (2017)
Two Paths,
by Gov. John Kasich (2017)
Every Other Monday,
by Rep. John Kasich (2010)
Courage is Contagious,
by John Kasich (1998)
Shortest Way Home,
by Pete Buttigieg (2019)
Becoming,
by Michelle Obama (2018)
Higher Loyalty,
by James Comey (2018)
The Making of Donald Trump,
by David Cay Johnston (2017)
Higher Loyalty ,
by James Comey (2018)
Trump vs. Hillary On The Issues ,
by Jesse Gordon (2016)
Outsider in the White House,
by Bernie Sanders (2015)
---
Book Reviews

(from Amazon.com)

(click a book cover for a review or other books by or about the presidency from Amazon.com)
CNN "State of the Union" interviews during 2021
(Jake Tapper and Dana Bash interviewing candidates for 2021-2020 races)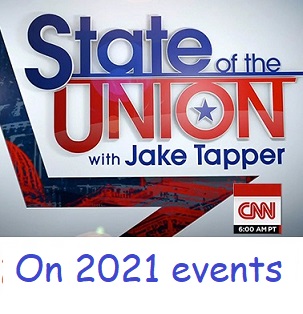 (Click for external website)
Click on a participant to pop-up their full list of quotations
from CNN "State of the Union" interviews during 2021 (number of quotes indicated):
A long-standing political tradition is the Sunday morning talk show, beginning with "Meet the Press" in 1947. Currently, five separate "talking head" programs appear on five different TV stations every Sunday morning. OnTheIssues.org excerpts all five of the shows, listed below, with their respective interviewing pundits and each pundit's political affiliation:
ABC This Week: 9 AM - 10 AM EST: (Martha Raddatz & George Stephanopoulos; liberal; from Bill Clinton's staff)
CNN "State of the Union": 9 AM - 1 PM EST: (Jake Tapper and Dana Bash; moderate liberal)
Fox News Sunday: 9 AM EST; rebroadcast 2 PM: (Chris Wallace and Bret Baier; conservative)
NBC Meet the Press: 9 AM EST; rebroadcast 4 AM Monday: (Chuck Todd; moderate)
CBS Face the Nation: 10:30 AM - 11:30 AM EST(Margaret Brennan and John Dickerson; moderate)
Citations:
Interview With Gov. Chris Sununu (R-NH), and Texas Gubernatorial Candidate Beto O'Rourke, November 21, 2021
Interview With U.S. Secretary of State Antony Blinken, October 31, 2021
Interview With U.S. Treasury Secretary Janet Yellen, October 24, 2021
Interview With Rep. Adam Kinzinger (R-IL), October 17, 2021
CNN, "Video surfaces of Marjorie Taylor Greene confronting Parkland shooting survivor with baseless claims," by Paul LeBlanc, January 27, 2021
CNN Business on Confirmation Hearings, "Mayor Pete had a fleet of 47 buses; Secretary of Transportation Pete Buttigieg will have a budget of $87 billion", by Matt McFarland, December 18, 2020
OnTheIssues.org excerpts: (click on issues for details)
Budget & Economy
Chris Sununu: Washington doesn't understand the concept of a budget.
Janet Yellen: Expects inflation will drop by late 2022.
Joe Biden: $130 billion in stimulus aid to counties and cities.
Pete Buttigieg: Redesigned streets proved safer & increased property values.
Civil Rights
Pete Buttigieg: Transportation decisions have hurt minority neighborhoods.
Crime
Kevin Faulconer: Time to have a governor who is going to put victims first.
Caitlyn Jenner: I am in favor of the death penalty.
Drugs
John Cox: If we have to, we're gonna force people to get treatment.
Education
Joe Biden: $200B in emergency COVID funding for K-12 schools.
Joe Biden: Write off $10,000 in student debt, not $50,000.
Energy & Oil
Antony Blinken: This is the decisive decade to meet climate change goals.
Caitlyn Jenner: Skeptical of state goal of zero emissions by 2045.
Tudor Dixon: Fact Check: Falsely claimed wind and solar power unreliable.
Families & Children
Joe Biden: No mandatory paid family and sick leave in COVID relief.
Government Reform
Doug Ose: Government engaged in significant overreach of authority.
Gavin Newsom: COVID: all registered voters receive mail-in ballots.
Caitlyn Jenner: If we lose election integrity, we lose everything.
Caitlyn Jenner: We need to have integrity in our election system.
Julia Letlow: Would have objected to certification of president election.
Gun Control
Beto O`Rourke: We don't want extremism in our gun laws.
Marjorie Taylor Greene: Confronted Parkland shooting survivor on radical gun control.
Ralph Northam: Appreciate thoughts & prayers but need commonsense gun laws.
Health Care
Joe Biden: Cap insurance at 8.5% of income instead of 10%.
Joe Biden: $119 billion to build public confidence in vaccines.
Joe Biden: $8.5 billion for rural hospitals, for telehealth & COVID.
Homeland Security
Joe Biden: Greatest terror threat to America is domestic terror.
Immigration
Beto O`Rourke: Not enough urgency in rewriting law, providing resources.
Caitlyn Jenner: Path to citizenship for undocumented; deport "bad ones".
Jobs
Janet Yellen: As we get beyond pandemic, labor supply should increase.
Joe Biden: Extended unemployment benefits for COVID, to contractors too.
Principles & Values
Chris Sununu: Vilifying pols is culturally ruining America.
Adam Kinzinger: Jan. 6 investigation about history, truth needs to win out.
Gavin Newsom: Partisan divisions can smash democracy like an antique vase.
Caitlyn Jenner: I don't like labels, I'm kind of middle of the road.
Bill Nelson: One of the rare civilians who has traveled to space.
Joe Biden: The nation is not as divided as we make it out to be.
Marjorie Taylor Greene: To remove Pelosi: "Bullet to the head would be quicker".
Marjorie Taylor Greene: 2018: Pelosi should be executed for treason.
Ralph Northam: Now is not the time for divisiveness, time for leadership.
Tax Reform
Antony Blinken: Global minimum tax agreement is an incredibly big deal.
Technology
Bill Nelson: Cutting NASA budget could cause US to fall behind in space.
War & Peace
Antony Blinken: US committed to Taiwan being able to defend itself.
Welfare & Poverty
Antony Blinken: Reopen desperately needed humanitarian access to Syria.
Joe Biden: Gave up on $15 minimum wage in Congressional bills.
Joe Biden: $880M for SNAP food stamps; let's increase to $3B.
| | |
| --- | --- |
| Click for quotations from other sources by: | |
The above quotations are from CNN "State of the Union" interviews during 2021
(Jake Tapper and Dana Bash interviewing candidates for 2021-2020 races).
Related interviews from Sunday morning talk shows:

2021 Sunday pundit shows (2021 events; 2022 Senate races and 2021-2023 gubernatorial races):



2020 Sunday pundit shows (2020 Senate races and 2020 presidential race):