---
Books by and about 2020 presidential candidates
Crippled America,
by Donald J. Trump (2015)
Fire and Fury,
by Michael Wolff (2018)
Trump Revealed,
by Michael Kranish and Marc Fisher (2016)
The Making of Donald Trump,
by David Cay Johnston (2016)
Promise Me, Dad ,
by Joe Biden (2017)
The Book of Joe ,
by Jeff Wilser (2019; biography of Joe Biden)
The Truths We Hold,
by Kamala Harris (2019)
Smart on Crime,
by Kamala Harris (2010)
Guide to Political Revolution,
by Bernie Sanders (2017)
Where We Go From Here,
by Bernie Sanders (2018)
Our Revolution,
by Bernie Sanders (2016)
This Fight Is Our Fight,
by Elizabeth Warren (2017)
United,
by Cory Booker (2016)
Conscience of a Conservative,
by Jeff Flake (2017)
Two Paths,
by Gov. John Kasich (2017)
Every Other Monday,
by Rep. John Kasich (2010)
Courage is Contagious,
by John Kasich (1998)
Shortest Way Home,
by Pete Buttigieg (2019)
Becoming,
by Michelle Obama (2018)
Higher Loyalty,
by James Comey (2018)
The Making of Donald Trump,
by David Cay Johnston (2017)
Higher Loyalty ,
by James Comey (2018)
Trump vs. Hillary On The Issues ,
by Jesse Gordon (2016)
Outsider in the White House,
by Bernie Sanders (2015)
---
Book Reviews

(from Amazon.com)

(click a book cover for a review or other books by or about the presidency from Amazon.com)
The Hill e-magazine coverage and analysis of 2010-2019 campaigns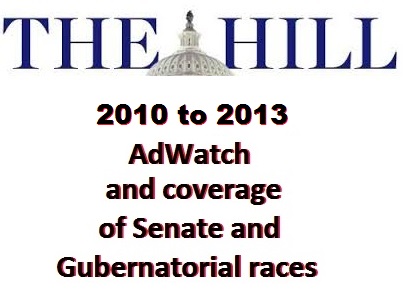 (Click for external website)
Click on a participant to pop-up their full list of quotations
from The Hill 2010-2019 (number of quotes indicated):
EXPLANATORY NOTE by OnTheIssues.org:
Starting well before each election, candidates produce and air politicial advertisements. Since Citizens United took effect, PACs have produced many campaign ads too.
In modern campaigns, ads might be on TV, but also might be via email, web video, Tweets, or other social media.
Political pundit publications, such as The Hill and Rollcall, analyze campaign advertisements as well as campaign events (although at OnTheIssues we ignore their relentless coverage of polls; since we consider them irrelevant to normal voters and relevant only to pundits!)
OnTheIssues.org reviews those ads and analyses for relevant issue content, including opponents' responses when available. Sometimes we transcribe the ads from video or audio; sometimes we include commentary; all the time, we urge paying attention to the opponent of each advertiser too, to get the full story!
Articles from The Hill:
(On Trump Impeachment), "Former GOP presidential candidate: It is 'vital' Trump be impeached," by Rebecca Klar, 12/16/19
(On Susan Rice): The Hill on 2020 Maine Senate race, Oct 6, 2019
(On Scott Taylor): The Hill e-zine on 2020 Virginia Senate race, Sep 26, 2019
(On Donald Trump): The Hill e-zine on 2020 presidential hopefuls, Aug 18, 2019
(On Tom Steyer): The Hill magazine on 2020 Democratic primary, Jul 14, 2019
(On Marianne Williamson & Mike Gravel): The Hill e-zine on 2020 Democratic primary, Jul 7, 2019
(On Joe Sestak & Pete Buttigieg): The Hill e-zine on 2020 Democratic primary, Jun 23, 2019
(On Steve Bullock): The Hill e-zine on 2020 Democratic primary, May 11, 2019
(On Pete Buttigieg): The Hill: 2020 Democratic primary & National Action Network, Mar 27, 2019
(On Cory Booker): Tal Axelrod in The Hill on 2020 Democratic primary, Mar 8, 2019
(On John Hickenlooper): The Hill e-zine on 2020 Democratic primary, Mar 6, 2019
(On John Kasich): The Hill coverage of 2020 presidential hopefuls, Feb 26, 2019
(On Nancy Pelosi): The Hill: Response to the 2019 State of the Union address, Feb 6, 2019
(On John Kasich): John Bowden in The Hill: 2020 Presidential hopefuls, Sep 26, 2018
(On Gary Johnson): The Hill coverage of 2018 New Mexico Senate race, Aug 28, 2018
(On Chris McDaniel): The Hill: Twitter posting of 2018 MS Senate Special Election, Aug 16, 2018
(On Bob Hugin): The Hill coverage of 2018 New Jersey Senate race, Jul 20, 2018
(On Eddie Melton): The Hill coverage of 2020 Vermont Gubernatorial race, Jun 2, 2018
(On John Neely Kennedy): The Hill coverage of 2019 Louisiana Gubernatorial race, Mar 1, 2018
(On Lindsey Graham & Mick Mulvaney): The Hill coverage of 2018 Trump Administration, Mar 1, 2018
(On Catherine Cortez Masto, Dean Heller & Jacky Rosen): The Hill reporting of 2017 LCV Enviro Scorecard, Feb 27, 2018
(On Kamala Harris): Amie Parnes in The Hill on 2020 presidential hopefuls, Feb 26, 2018
(On Adam Schiff): The Hill on proceedings for Impeaching Pres. Trump, Jan 5, 2018
(On Lindsey Graham): The Hill: coverage of 2020 presidential hopefuls, Dec 22, 2017
(On Chelsea Manning): The Hill E-zine on 2018 Maryland Senate race, Nov 12, 2017
(On Diane Black): The Hill coverage of 2018 Tennessee Governor race, Nov 8, 2017
(On Bill Walker): The Hill coverage of 2018 Alaska Governor race, Oct 31, 2017
(On Kris Kobach): The Hill coverage of 2018 Kansas Governor race, Jun 30, 2017
(On Alison Grimes): The Hill coverage of 2019 Kentucky Governor race, Jun 30, 2017
(On Donald Trump): The Hill analysis of 2016-17 Trump Administration, Apr 3, 2017
(On Eric Greitens & Jay Nixon): The Hill on Missouri legislative voting records for SB19, Feb 2, 2017
(On Democratic Party & Republican Party): The Hill FactCheck on 2017-2018 Congress' religion, Jan 3, 2017
(On Donald Trump): The Hill coverage of 2016 presidential hopefuls, Aug 8, 2016
(On Thomas Perez): The Hill coverage of 2016 Cabinet members, Mar 14, 2016
(On Carly Fiorina): The Hill weblog of 2015 Republican two-tier debate on CNN, Oct 28, 2015
(On Jeb Bush): The Hill weblog 2015 coverage of 2016 presidential hopefuls, May 31, 2015
(On Rick Perry): The Hill weblog coverage of 2015 Iowa Ag Summit, Mar 7, 2015
(On Ben Carson, Chris Christie & Rand Paul): The Hill 2015 weblog on 2016 presidential hopefuls, Feb 2, 2015
(On Bill Cassidy & Mary Landrieu): The Hill on 2014 Louisiana Senate debate, Oct 27, 2014
(On Rob Maness): The Hill on 2014 Louisiana Senate debate, Oct 27, 2014
(On David Perdue): The Hill PacWatch on 2014 Georgia Senate debate, Oct 9, 2014
(On Thom Tillis & Kay Hagan): The Hill AdWatch on 2014 North Carolina Senate race, Sep 29, 2014
(On Bruce Braley & Joni Ernst): The Hill e-zine on 2014 Iowa Senate debate, Sep 28, 2014
(On Tom Cotton): The Hill weblog on 2014 North Carolina Senate debate, Sep 5, 2014
(On Joni Ernst): The Hill PacWatch on 2014 Iowa Senate debate, Aug 19, 2014
(On Amanda Curtis): The Hill e-zine on 2014 Montana Senate race, Aug 16, 2014
(On Michelle Nunn): The Hill webzine on 2014 Georgia Senate race, Aug 14, 2014
(On Mike McFadden): The Hill weblog on 2014 Minnesota Senate race, Aug 9, 2014
(On Alison Grimes, Joni Ernst & Mitch McConnell): The Hill weblog on 2014 Kentucky Senate race, Jul 30, 2014
(On Scott Brown): The Hill AdWatch on 2014 New Hampshire Senate race, Jul 28, 2014
(On Ed Gillespie & Mark Warner): The Hill weblog on 2014 Virginia Senate debate, Jul 26, 2014
(On Brian Schatz): The Hill weblog: AdWatch on 2014 Hawaii Senate race, Jul 25, 2014
(On Chris McDaniel): The Hill weblog on 2014 Mississippi Senate race, Jul 25, 2014
(On Joe Carr, Lamar Alexander & Joe Carr): The Hill AdWatch on 2014 Tennessee Senate race, Jul 10, 2014
(On Mark Pryor & Tom Cotton): The Hill AdWatch on 2014 Arkansas Senate race, Jul 8, 2014
(On Pat Roberts): The Hill weblog on 2014 Kansas Senate race, Jul 3, 2014
(On Bobby Jindal): The Hill weblog 2014 coverage of 2016 presidential hopefuls, Jun 22, 2014
(On Scott Brown): The Hill e-zine on 2014 New Hampshire Senate race, May 28, 2014
(On Michelle Nunn): The Hill e-zine on 2014 Georgia Senate race, May 19, 2014
(On Chris McDaniel): The Hill e-zine on 2014 Mississippi Senate race, May 18, 2014
(On Rand Paul): The Hill weblog 2014 coverage of 2016 presidential hopefuls, May 9, 2014
(On Bill Cassidy): AdWatch by The Hill e-zine on 2014 Louisiana Senate race, Apr 28, 2014
(On Monica Wehby): AdWatch by The Hill e-zine on 2014 Oregon Senate race, Apr 23, 2014
(On David Perdue & Jack Kingston): The Hill e-zine on 2014 Georgia Senate debate, Apr 19, 2014
(On Matt Bevin): AdWatch by The Hill e-zine on 2014 Kentucky Senate race, Apr 17, 2014
(On Hillary Clinton): Mario Trujillo on The Hill weblog, "Thinking about 2016", Apr 9, 2014
(On Michelle Nunn): AdWatch by The Hill weblog on 2014 Georgia Senate race, Apr 1, 2014
(On Dan Sullivan): AdWatch by The Hill weblog on 2014 Alaska Senate race, Mar 31, 2014
(On Matt Bevin): AdWatch by The Hill weblog on 2014 Kentucky Senate race, Mar 31, 2014
(On Rick Weiland): The Hill blog on 2014 South Dakota Senate race, Mar 25, 2014
(On Lindsey Graham & Rick Perry): The Hill weblog 2014 coverage of 2016 presidential hopefuls, Mar 25, 2014
(On Lindsey Graham & Newt Gingrich): The Hill blog on 2014 South Carolina Senate race, Mar 23, 2014
(On Tom Cotton): The Hill e-zine AdWatch on 2014 Arkansas Senate race, Mar 19, 2014
(On Jeanne Shaheen): The Hill e-zine on 2014 New Hampshire Senate race, Mar 15, 2014
(On Scott Brown): The Hill e-zine on 2014 New Hampshire Senate race, Mar 15, 2014
(On Bill Cassidy): AdWatch: The Hill on 2014 Louisiana Senate race, Mar 13, 2014
(On Rand Paul & Ted Cruz): The Hill weblog 2014 coverage of 2016 presidential hopefuls, Mar 11, 2014
(On Karen Handel): The Hill e-zine on 2014 Georgia Senate race, Mar 4, 2014
(On Chad Taylor): The Hill e-zine on 2014 Kansas Senate race, Mar 3, 2014
(On Lindsey Graham): The Hill e-zine AdWatch on 2014 South Carolina Senate race, Mar 3, 2014
(On Thad Cochran): The Hill e-zine PacWatch on 2014 Mississippi Senate race, Feb 28, 2014
(On Matt Bevin): The Hill blog on 2014 Kentucky Senate race, Feb 20, 2014
(On Brian Schatz): The Hill magazine: AdWatch on 2014 Hawaii Senate race, Feb 18, 2014
(On Ted Cruz): The Hill weblog 2014 coverage of 2016 presidential hopefuls, Jan 28, 2014
(On John Bohlinger): C.Joseph in The Hill, on 2014 Montana Senate debate, Nov 12, 2013
(On Mark Pryor): The Hill's AdWatch of 2014 Arkansas Senate debate, Oct 22, 2013
(On Joe Miller & Mead Treadwell): The Hill on 2014 Alaska Senate debate, Sep 22, 2013
The Hill on 2014 SD, MI, NC Senate debates, Sep 22, 2013
(On Paul Ryan): The Hill coverage of Ryan speech at AEI, May 9, 2013
(On Mark Kirk): The Hill, "2013 Briefing room", Apr 2, 2013
(On Ed Markey & Steve Lynch): The Hill coverage of 2013 MA Senate debates, Mar 27, 2013
(On Richard Carmona & Jeff Flake): The Hill coverage of 2012 Arizona Senate debates, Oct 10, 2012
(On Dennis Rehberg & Jon Tester): The Hill coverage of 2012 Montana Senate debate, Jun 25, 2012
(On Deb Fischer): The Hill coverage of 2012 Nebraska Senate ad review, May 15, 2012
(On Paul Ryan): The Hill: 2012 Healthwatch; reporting on NBC Meet the Press, Feb 19, 2012
(On Chris Coons & Christine O`Donnell): The Hill coverage of 2010 Delaware Senate debate, Sep 16, 2010
(On Tom Price): The Hill on 2019-20 Georgia 2-year Senate race, Dec 17, 2009
(On Jack Carter): Roxana Tiron, The Hill News, Oct 26, 2005