---
Books by and about 2020 presidential candidates
Crippled America,
by Donald J. Trump (2015)
Fire and Fury,
by Michael Wolff (2018)
Trump Revealed,
by Michael Kranish and Marc Fisher (2016)
The Making of Donald Trump,
by David Cay Johnston (2016)
Promise Me, Dad ,
by Joe Biden (2017)
The Book of Joe ,
by Jeff Wilser (2019; biography of Joe Biden)
The Truths We Hold,
by Kamala Harris (2019)
Smart on Crime,
by Kamala Harris (2010)
Guide to Political Revolution,
by Bernie Sanders (2017)
Where We Go From Here,
by Bernie Sanders (2018)
Our Revolution,
by Bernie Sanders (2016)
This Fight Is Our Fight,
by Elizabeth Warren (2017)
United,
by Cory Booker (2016)
Conscience of a Conservative,
by Jeff Flake (2017)
Two Paths,
by Gov. John Kasich (2017)
Every Other Monday,
by Rep. John Kasich (2010)
Courage is Contagious,
by John Kasich (1998)
Shortest Way Home,
by Pete Buttigieg (2019)
Becoming,
by Michelle Obama (2018)
Higher Loyalty,
by James Comey (2018)
The Making of Donald Trump,
by David Cay Johnston (2017)
Higher Loyalty ,
by James Comey (2018)
Trump vs. Hillary On The Issues ,
by Jesse Gordon (2016)
Outsider in the White House,
by Bernie Sanders (2015)
---
Book Reviews

(from Amazon.com)

(click a book cover for a review or other books by or about the presidency from Amazon.com)
Sierra Club congressional voting recommendations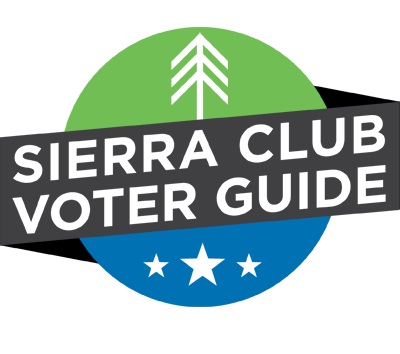 (Click for external website)
Click on a participant to pop-up their full list of quotations
from Sierra Club (number of quotes indicated):
Sierra Club (12)
OR click on an issue category below for a subset.
Sierra Club congressional voting recommendations:
HR1-2017: Case for voting NO on Tax Cuts and Jobs Act by Sierra Club: (Nov 16, 2017)
NO on H.J. Res. 69: banning predator controls (April 6, 2017)
YES on NEA funding, Mar 27, 2017
YES on funding Planned Parenthood, Jan 1, 2017
YES on Black Lives Matter, Jul 8, 2016
NO on nuclear power, "Nuclear FactSheet", Jan 28, 2016
YES on Zero-Emission Bus Information, Jul 2, 2015
YES on S. 824--To Reauthorize The Export-Import Bank Of The United States. Mar 23, 2015
NO on WTO complaint against India's solar panel exports, Feb 20, 2014
YES on labeling requirements for genetically modified organisms (GMOs), Apr 26, 2013
YES on Proposition 93, the Term Limits and Legislative Reform Act. Nov 28, 2007
NO on OCS Drilling (Outer Continental Shelf) Jan 12, 1974
OnTheIssues.org excerpts: (click on issues for details)
Abortion
Sierra Club: State role to fund Planned Parenthood after Title X cuts.
Budget & Economy
Sierra Club: NEA and NEH are vital for education.
Crime
Sierra Club: Black Lives Matter: equal protection under the law.
Energy & Oil
Sierra Club: Nuclear power is last in being clean, quick, safe, and cheap.
Environment
Sierra Club: Not sound science to ban predators on wildlife refuges.
Sierra Club: Publicize grant opportunities for diesel emission reduction.
Sierra Club: Mandatory labeling for GMO products, then long-term testing.
Sierra Club: Strict regulation & restrictions for offshore oil drilling.
Free Trade
Sierra Club: Reauthorize Ex-im bank and keep ban on coal financing.
Sierra Club: Let India export solar panels to the U.S.
Government Reform
Sierra Club: Expand term limit for Assembly from 6 years to 12.
Tax Reform
Sierra Club: Lower taxes on businesses is deeply regressive.
| | |
| --- | --- |
| Click for quotations from other sources by: | |
The above quotations are from Sierra Club congressional voting recommendations.
Related Links:

Voter guides: