---
Books by and about 2020 presidential candidates
Crippled America,
by Donald J. Trump (2015)
United,
by Cory Booker (2016)
The Truths We Hold,
by Kamala Harris (2019)
Smart on Crime,
by Kamala Harris (2010)
Guide to Political Revolution,
by Bernie Sanders (2017)
Where We Go From Here,
by Bernie Sanders (2018)
Promise Me, Dad ,
by Joe Biden (2017)
Conscience of a Conservative,
by Jeff Flake (2017)
Two Paths,
by Gov. John Kasich (2017)
Every Other Monday,
by Rep. John Kasich (2010)
Courage is Contagious,
by John Kasich (1998)
Shortest Way Home,
by Pete Buttigieg (2019)
The Book of Joe ,
by Jeff Wilser (2019; biography of Joe Biden)
Becoming,
by Michelle Obama (2018)
Our Revolution,
by Bernie Sanders (2016)
This Fight Is Our Fight,
by Elizabeth Warren (2017)
Higher Loyalty,
by James Comey (2018)
The Making of Donald Trump,
by David Cay Johnston (2017)
Higher Loyalty ,
by James Comey (2018)
Trump vs. Hillary On The Issues ,
by Jesse Gordon (2016)
Outsider in the White House,
by Bernie Sanders (2015)
---
Book Reviews

(from Amazon.com)

(click a book cover for a review or other books by or about the presidency from Amazon.com)
Columns and news articles in The Nation magazine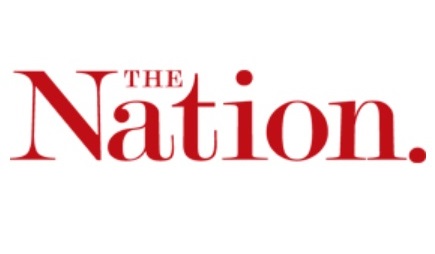 (Click for external website)
Click on a participant to pop-up their full list of quotations
from The Nation (number of quotes indicated):
Articles in The Nation magazine:
2020-MT-Senate: "Can This Montana Governor Deliver the Senate to the Democrats?," by Gabriel Furshong, July 6, 2020
2020-Primaries: "We Asked the 2020 Contenders How They Plan to Tackle Inequality," by Sam Pizzigati, November 19, 2019
"Economic Security Should Be Lifelong," by Peter Barnes, May 15, 2019
2020-Primaries: "Why Democratic Contenders Now Call for Abolishing the Electoral College," by John Nichols, April 22, 2019
"Breaking the Boundaries of 2-Party Politics in New York," by John Nichols, Nov 1, 2018
"Why Won't Lincoln Chafee Support Robert Mueller?," by Bob Dreyfuss, May 2, 2018
"A Governor Renews Net-Neutrality Protections With the Stroke of a Pen," by John Nichols, Jan 24, 2018
"Chafee Keeps Ripping 'Delusional' Neocons and Democrats Who Compromise With Them," by John Nichols, 8/20/15
More citations to follow....
OnTheIssues.org excerpts: (click on issues for details)
Abortion
Ben Carson: Need civil discussion between pro-life and pro-choice.
Civil Rights
Rick Santorum: Push for religious liberty in workplace, but not anti-gay.
Corporations
Steve Bullock: Defended state limit on corporate campaign donations.
Bernie Sanders: Workers should have 45% of board seats, 20% of stock.
Julian Castro: Tax capital gains annually, not when assets sold.
Marianne Williamson: Make it illegal for CEOs to be paid with stock options.
Bernie Sanders: Casino-type capitalism causes devastating problems.
Energy & Oil
Steve Bullock: Opposed Obama's halting coal mine leasing on Federal land.
Environment
Steve Bullock: Expanded fishing rights regardless of streambed ownership.
Barbara Lee: Environment relates to racial & economic justice.
Bernie Sanders: Climate change will lead to international security crises.
Don Blankenship: Environmental movement not great cause but great business.
Families & Children
Cory Booker: New estate tax to fund "baby bond" program.
Howie Hawkins: Supports universal healthcare & universal pre-K.
Foreign Policy
Ben Carson: Focus on funding refugee camps; not bringing refugees to US.
Jeb Bush: Duty to protect religious minorities & Christian refugees.
Jeb Bush: Russia won't be an ally in Syria but maintain communication.
Lincoln Chafee: Outspoken backer of Iran nuclear agreement.
Bernie Sanders: We have to negotiate with others, even Iran.
Mike Huckabee: Governors have world views; I've been all over the Mideast.
Jeb Bush: Passivity hasn't worked on Russia and Ukraine.
Free Trade
Bernie Sanders: Base trade policy on working families, not multinationals.
Alan Keyes: Tariffs make foreigners share burden of US government.
Government Reform
Brian Schatz: Abolish the Electoral College.
Elizabeth Warren: Every vote matters: so abolish the Electoral College.
Kirsten Gillibrand: Abolish the Electoral College.
Tom Udall: Abolish Electoral College; extend vote to DC & territories.
Homeland Security
Rand Paul: Both refugees and visa waivers pose threat.
Rand Paul: Bulk data collection does not improve safety.
Rand Paul: Surveillance of mosques ok; database of Muslims not ok.
Jeb Bush: OpEd: Distancing himself from brother & neocons.
Mike Gravel: Fought & beat Nixon White House on Pentagon Papers in 1971.
Mike Gravel: Bush administration's secrecy is worse than Nixon's.
Immigration
Rand Paul: Legal status for 11 million illegals after we secure border.
Jobs
Bernie Sanders: Tax CEOs making more than 50 times median worker pay.
Kamala Harris: Require "equal pay certification" for government contracts.
Michael Bennet: Hasn't supported a national $15 hourly minimum wage.
Principles & Values
Steve Daines: We're the greatest country in the world.
Howie Hawkins: Third parties force issues neglected by major parties.
Lincoln Chafee: Mueller investigation a waste of money.
Rand Paul: Conservative on spending; libertarian-ish on other issues.
Social Security
Andrew Yang: Fund Freedom Dividend payments with 10% VAT.
Tulsi Gabbard: Take money for Social Security from military & tax giveaways.
Tax Reform
Amy Klobuchar: Return to 39.6% top rate; open to wealth tax.
Andrew Yang: End Social Security cap, favorable capital gains treatment.
Bernie Sanders: Wealth tax of 8% on fortunes over $10 billion.
Joe Biden: Undo 2017 tax cut, eliminate "stepped-up basis loophole".
Joe Sestak: End preferential treatment of capital gains.
Julian Castro: Tax inherited windfalls as ordinary income.
Kamala Harris: Higher tax on wealthy to fund Medicare-for-All & teacher pay.
Pete Buttigieg: April: raise top tax rate; October: "soft-pedals" wealth tax.
Tom Steyer: Supports higher estate tax, annual wealth tax.
Abdul El-Sayed: Limit tax foreclosures for over-assessed Detroit properties.
Alan Keyes: Excise taxes allow citizens to control tax rate themselves.
Technology
Steve Bullock: Signed executive order requiring net neutrality.
War & Peace
Jeb Bush: No-fly zone in Syria; arm Kurds; establish Sunni coalition.
Jeb Bush: Send troops to Syria to then remain to maintain stability.
Lindsey Graham: Military commitment of regional troops in Syria is necessary.
Lindsey Graham: Regional, not US, army would keep stability in Syria.
Rand Paul: Only Sunni-Shiite coalition forces, not US, in Syria.
Lincoln Chafee: Neocon advocates for invasions are "delusional".
Lincoln Chafee: Iraq: There was "no evidence" of WMDs, it was a hoax.
Rand Paul: Keep on mind on Iran nukes but don't trust the ayatollahs.
Mike Huckabee: Arm the Kurds to fight ISIS, plus U.S. bombing.
Mike Huckabee: US boots on the ground to fight ISIS ok, if others join too.
Welfare & Poverty
Elizabeth Warren: Raise wealth tax rate for healthcare & affordable housing.
| | |
| --- | --- |
| Click for quotations from other sources by: | |
The above quotations are from Columns and news articles in The Nation magazine.