---
Books by and about 2020 presidential candidates
Crippled America,
by Donald J. Trump (2015)
Fire and Fury,
by Michael Wolff (2018)
Trump Revealed,
by Michael Kranish and Marc Fisher (2016)
The Making of Donald Trump,
by David Cay Johnston (2016)
Promise Me, Dad ,
by Joe Biden (2017)
The Book of Joe ,
by Jeff Wilser (2019; biography of Joe Biden)
The Truths We Hold,
by Kamala Harris (2019)
Smart on Crime,
by Kamala Harris (2010)
Guide to Political Revolution,
by Bernie Sanders (2017)
Where We Go From Here,
by Bernie Sanders (2018)
Our Revolution,
by Bernie Sanders (2016)
This Fight Is Our Fight,
by Elizabeth Warren (2017)
United,
by Cory Booker (2016)
Conscience of a Conservative,
by Jeff Flake (2017)
Two Paths,
by Gov. John Kasich (2017)
Every Other Monday,
by Rep. John Kasich (2010)
Courage is Contagious,
by John Kasich (1998)
Shortest Way Home,
by Pete Buttigieg (2019)
Becoming,
by Michelle Obama (2018)
Higher Loyalty,
by James Comey (2018)
The Making of Donald Trump,
by David Cay Johnston (2017)
Higher Loyalty ,
by James Comey (2018)
Trump vs. Hillary On The Issues ,
by Jesse Gordon (2016)
Outsider in the White House,
by Bernie Sanders (2015)
---
Book Reviews

(from Amazon.com)

(click a book cover for a review or other books by or about the presidency from Amazon.com)
Media coverage of MI political races in The Detroit Free Press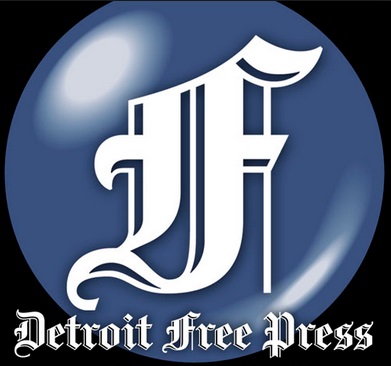 (Click for external website)
Click on a participant to pop-up their full list of quotations
from The Detroit Free Press (number of quotes indicated):
Articles from the Detroit Free Press:
2024_MI_Senate: "Former Rep. Mike Rogers jumps into Michigan's US Senate race," by Todd Spangler, Sept. 6, 2023, (Link)
Detroit Free Press on 2022_MI_Gov: "Perry Johnson files lawsuit in federal court to get on GOP primary ballot for governor," by Arpan Lobo, 6/6/22, (Link)
(On 2022_MI_Gov): "Whitmer off to Israel on her first trade mission as Michigan governor," by Carol Cain, Nov. 17, 2019
(On John James): Detroit Free Press on 2018 Michigan Senate race, 8/7/2018
(On Bill Schuette): Detroit Free Press on 2018 Michigan gubernatorial race, 7/23/2018, 1/31/2017, and 6/22/2016
(On Terri Lynn Land): Detroit Free Press on 2014 Michigan Senate race, 3/10/2014
(On John Roberts): Stephen Henderson, Detroit Free Press, 7/21/2005
OnTheIssues.org excerpts: (click on issues for details)
Civil Rights
Bill Schuette: Include LGBT gender identity in laws against discrimination.
Donald Trump: Skipped 2019 NAACP meeting, due to "format" disagreements.
Education
Marianne Williamson: Educational funding should not come from property taxes.
Energy & Oil
Elissa Slotkin: Need a climate change bill that's specific & result-oriented.
Environment
Bill Schuette: Sue firms that caused Flint drinking water crisis.
Gary Peters: Push for Great Lakes restoration efforts & oil cleanups.
Free Trade
Gretchen Whitmer: Important to continue traveling to Israel to support trade.
Government Reform
Kamala Harris: New voting rights act; make Election Day a holiday.
Perry Johnson: Disqualifying me from ballot disenfranchises millions.
Mike Rogers: Opposes overturning fair elections; Biden lawfully won.
Health Care
Terri Lynn Land: Pre-tax health savings accounts & cross-states insurers.
Homeland Security
Gary Peters: Less-than-honorable discharged veterans can regain benefits.
Immigration
Bill Schuette: It isn't a ban on Muslims; Trump puts security first.
Jobs
John James: Incumbent does not do enough to create or protect jobs.
Tax Reform
Kamala Harris: Tax break for people unable to pay unexpected expense.
War & Peace
John James: Army veteran who flew Apache helicopters in Iraq.
Welfare & Poverty
John Roberts: Defended welfare recipients from losing benefits, pro-bono.
| | |
| --- | --- |
| Click for quotations from other sources by: | |
The above quotations are from Media coverage of MI political races in The Detroit Free Press.