---
Books by and about 2020 presidential candidates
Crippled America,
by Donald J. Trump (2015)
Fire and Fury,
by Michael Wolff (2018)
Trump Revealed,
by Michael Kranish and Marc Fisher (2016)
The Making of Donald Trump,
by David Cay Johnston (2016)
Promise Me, Dad ,
by Joe Biden (2017)
The Book of Joe ,
by Jeff Wilser (2019; biography of Joe Biden)
The Truths We Hold,
by Kamala Harris (2019)
Smart on Crime,
by Kamala Harris (2010)
Guide to Political Revolution,
by Bernie Sanders (2017)
Where We Go From Here,
by Bernie Sanders (2018)
Our Revolution,
by Bernie Sanders (2016)
This Fight Is Our Fight,
by Elizabeth Warren (2017)
United,
by Cory Booker (2016)
Conscience of a Conservative,
by Jeff Flake (2017)
Two Paths,
by Gov. John Kasich (2017)
Every Other Monday,
by Rep. John Kasich (2010)
Courage is Contagious,
by John Kasich (1998)
Shortest Way Home,
by Pete Buttigieg (2019)
Becoming,
by Michelle Obama (2018)
Higher Loyalty,
by James Comey (2018)
The Making of Donald Trump,
by David Cay Johnston (2017)
Higher Loyalty ,
by James Comey (2018)
Trump vs. Hillary On The Issues ,
by Jesse Gordon (2016)
Outsider in the White House,
by Bernie Sanders (2015)
---
Book Reviews

(from Amazon.com)

(click a book cover for a review or other books by or about the presidency from Amazon.com)
Democracy Now! daily independent global news website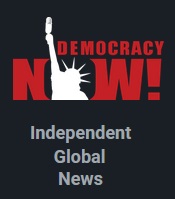 (Click for external website)
Click on a participant to pop-up their full list of quotations
from Democracy Now! (number of quotes indicated):
Articles from Democracy Now! (democracynow.org):
Democracy Now, "Cornel West on Third-Party Presidential Run, the Roots of His Political Activism & More," June 07, 2023, (Link)
2024_CA_Senate: Democracy Now, "Rep. Barbara Lee on Cutting the Military Budget, Abortion Rights & Why She's Running for Senate," March 10, 2023, (Link)
On Biden Administration: "Biden's AG Pick Merrick Garland Has Record of Not Holding Cops Accountable," January 08, 2021
"AG Bill Barr Grilled by House Lawmakers on Protest Crackdown, Voter Suppression & Pandemic Failures," July 29, 2020
Expanded Third Obama-Romney 2012 debate, Gary Johnson and Rocky Anderson, 10/22/2012
Expanded Second Obama-Romney 2012 debate, Rocky Anderson and Virgil Goode, 10/16/2012
Expanded First Obama-Romney 2012 debate, Jill Stein and Rocky Anderson, 10/4/2012
"Challenger for Obama?", by Amy Goodman (on Rocky Anderson), 12/13/2011
Democracy Now website, coverage of Richard Carmona, 1/11/2011
Interview of Cynthia McKinney with Amy Goodman, 2/4/2008
Salim Muwakkil and Amy Goodman on Barack Obama, 7/15/2004
"NH Governor Vetoes State Senate Bill to Abolish Death Penalty," May 22, 2000
OnTheIssues.org excerpts: (click on issues for details)
Abortion
Jill Stein: Birth control should not be up to your employer.
Rocky Anderson: Contraceptive services comprehensively provided, and free.
Cornel West: Wrong to be more concerned about abortion than child poverty.
Barbara Lee: Pro-choice; shared story of her own pre-Roe abortion .
Budget & Economy
Jill Stein: Still no end in sight to economic crisis: focus on jobs.
Jill Stein: We're again bailing out Wall Street with quantitative easing.
Civil Rights
Barack Obama: Forthright on racial issues and on his civil rights history.
Jill Stein: Pay equity for women remains critical, despite some programs.
Raphael Warnock: Fraud almost nonexistent; really about voter suppression.
Rocky Anderson: Lilly Ledbetter was a great beginning; now enforce it.
Stacey Abrams: Those who paid debt to society should be re-enfranchised.
Stacey Abrams: Upholding military transgender ban is an abomination.
Virgil Goode: Equal pay for equal work, regardless of sex.
Corporations
Jill Stein: Enormous bipartisan collaboration on deregulation.
Jill Stein: Hillary is the Wal-Mart candidate.
Mitt Romney: OpEd: Romney at Bain Capital sent jobs to China.
Robert Reich: Almost all post-Recession gains have gone to the top 1%.
Rocky Anderson: Break up too-big-to-fail banks & prosecute Wall Street fraud.
Crime
Barack Obama: Battles legislatively against the death penalty.
Jeanne Shaheen: Vetoed bill to abolish death penalty.
Merrick Garland: OpEd: deferential to police; lack of accountability.
Merrick Garland: Critic: deferential to police, lack of accountability.
Raphael Warnock: We have to continue to push back against police brutality.
Ralph Nader: Product liability suits are a pillar of democracy.
Education
Jill Stein: Bail out the students instead of bailing out the banks.
Rocky Anderson: Re-prioritize on education to keep up with rest of world.
Energy & Oil
Jill Stein: Weatherizing homes creates jobs & addresses climate change.
Jill Stein: Fight against climate change instead of fighting for oil.
Virgil Goode: Drill for oil & gas so US becomes an exporter.
Environment
Rocky Anderson: Polluting industries' campaign donations weaken the EPA.
Families & Children
Ralph Nader: National speed limit saves lives.
Foreign Policy
Jill Stein: Get tough policy has opposite effect of what was intended.
Jill Stein: End Israeli apartheid occupations and illegal settlements.
Jill Stein: Re-establish foreign policy on basis of international law.
Rocky Anderson: Build relationships instead of imperialist foreign policy.
Virgil Goode: No embassies in Libya; no dictating by the UN.
Free Trade
Gary Johnson: Hypocritical for US to attack China as currency manipulator.
Jill Stein: International trade boards compromise American sovereignty.
Virgil Goode: Renegotiate trade agreements focusing on US jobs.
Virgil Goode: Super PACs benefit from jobs being sent overseas.
Government Reform
Cynthia McKinney: Called for impeachment of Bush & Cheney.
Jill Stein: Supreme Court needs to be for the people and their rights.
Merrick Garland: The rule of law is the foundation of our democracy.
Merrick Garland: The rule of law is the foundation of our democracy.
Rocky Anderson: Limit individual donations to $100 a person.
Virgil Goode: Stop the super PACs from controlling our federal election.
Ralph Nader: Focus on the tools of democracy, not front-page issues.
Gun Control
Jill Stein: More local regulations; more background checks.
Jill Stein: Reduce culture of violence via mental health & legal drugs.
Jill Stein: Address community violence with more mental health services.
Richard Carmona: Owning weapons OK if people have good training, education.
Rocky Anderson: Only reason for assault weapons is to kill people quickly.
Virgil Goode: Veto any ban on assault weapons.
Health Care
Jill Stein: Medicare Part D is a giveaway for pharmaceutical companies.
Jill Stein: Affordable Care Act is neither Affordable nor Caring.
Jill Stein: 75% of expenditures are sick care system, not healthcare.
Jill Stein: Health insurance wastes 30%; Medicare only wastes only 3%.
Raphael Warnock: COVID: Crisis handled like country with no resources at all.
Rocky Anderson: Need universal healthcare like every industrialized nation.
Rocky Anderson: Just get the for-profit insurance companies out of the way.
Rocky Anderson: ObamaCare & RomneyCare are both "insurance companycare".
Rocky Anderson: Congress caved in to the for-profit insurance industry.
Homeland Security
Cynthia McKinney: Pentagon lost $2.3T; letís cut their funding.
Jill Stein: Bush & Obama criminalized the right to protest.
Jill Stein: Eliminate nuclear weapons in Middle East & whole world.
Jill Stein: Switch from bloated military to spending at home.
Rocky Anderson: Citizens are worried about being safe FROM our government.
Rocky Anderson: Bipartisan corporatism and militarism expands war budgets.
Rocky Anderson: Reduce our own nuclear weapons before we call on others to.
Rocky Anderson: Unneeded military programs to bring home bacon: It's treason.
Barbara Lee: We need to cut defense budget by at least $100 billion.
Immigration
Jill Stein: Undocumented immigration massively spiked after NAFTA.
Jill Stein: Extend DREAM Act beyond age 30.
Rocky Anderson: Government and corporations have colluded on immigrant jobs.
Virgil Goode: Moratorium on green cards until unemployment is under 5%.
Virgil Goode: Illegals' presence here steals jobs from American citizens.
Virgil Goode: Use entire AZ law as model for US, not just E-Verify.
Virgil Goode: No green cards for foreigners diplomas; US citizens first.
Cornel West: Treat immigrants with same dignity as any other human being.
Jobs
Jill Stein: Directly create jobs, not via tax breaks.
Rocky Anderson: Trade agreements responsible for sending jobs overseas.
Rocky Anderson: Raise minimum wage to $10.55 an hour, to stimulate economy.
Rocky Anderson: Strong labor movement crucial to thriving middle class.
Principles & Values
Barack Obama: Unflinching progressive but ok to downstate conservatives.
Cynthia McKinney: Address people who have withdraws from electoral process.
Cynthia McKinney: Ban malicious party-crossover voting in open primaries.
Jill Stein: At breaking point for people, planet, economy, & democracy.
Jill Stein: Petition to open up debates to more than two candidates.
Jill Stein: In private, Hillary is for wealthy, but not in public.
Raphael Warnock: America at its highest: equal voting, health care, education.
Rocky Anderson: Economic justice, social justice, & environmental justice.
Virgil Goode: Not much difference between Obama, Romney and Bush.
Cornel West: America is one of the most anti-intellectual cultures.
Social Security
Jill Stein: System perfectly solvent when rich pay their fair share.
Rocky Anderson: Payroll tax is as regressive a tax as known to mankind.
Tax Reform
Rocky Anderson: Massive tax favors to the very wealthiest is an obscenity.
Rocky Anderson: Big tax cuts just cause more record deficits.
Technology
Jill Stein: Renew our infrastructure and assure everyone has a job.
Rocky Anderson: Put 20 million to work on deteriorating infrastructure.
War & Peace
Barack Obama: Problems with current Israeli policy.
Barack Obama: Not opposed to all wars, but opposed to the war in Iraq.
Jill Stein: Blowback across Middle East due to our immoral war policy.
Jill Stein: Stop the flow of arms to Syria on both sides.
Rocky Anderson: Iraq is a tragic unnecessary war.
Rocky Anderson: Congress should have stopped Bush's pre-emptive war.
Rocky Anderson: We went into Libya without authorization from Congress.
Rocky Anderson: We're a bully in the Mideast; no wonder they don't like us.
Rocky Anderson: Work with Russia on peaceful resolution in Syria.
Rocky Anderson: Crippling sanctions hurt the people of Iran who sympathize.
Welfare & Poverty
Rocky Anderson: There is so much more work to be done onpoverty.
| | |
| --- | --- |
| Click for quotations from other sources by: | |
The above quotations are from Democracy Now! daily independent global news website.