---
Books by and about 2020 presidential candidates
Crippled America,
by Donald J. Trump (2015)
Fire and Fury,
by Michael Wolff (2018)
Trump Revealed,
by Michael Kranish and Marc Fisher (2016)
The Making of Donald Trump,
by David Cay Johnston (2016)
Promise Me, Dad ,
by Joe Biden (2017)
The Book of Joe ,
by Jeff Wilser (2019; biography of Joe Biden)
The Truths We Hold,
by Kamala Harris (2019)
Smart on Crime,
by Kamala Harris (2010)
Guide to Political Revolution,
by Bernie Sanders (2017)
Where We Go From Here,
by Bernie Sanders (2018)
Our Revolution,
by Bernie Sanders (2016)
This Fight Is Our Fight,
by Elizabeth Warren (2017)
United,
by Cory Booker (2016)
Conscience of a Conservative,
by Jeff Flake (2017)
Two Paths,
by Gov. John Kasich (2017)
Every Other Monday,
by Rep. John Kasich (2010)
Courage is Contagious,
by John Kasich (1998)
Shortest Way Home,
by Pete Buttigieg (2019)
Becoming,
by Michelle Obama (2018)
Higher Loyalty,
by James Comey (2018)
The Making of Donald Trump,
by David Cay Johnston (2017)
Higher Loyalty ,
by James Comey (2018)
Trump vs. Hillary On The Issues ,
by Jesse Gordon (2016)
Outsider in the White House,
by Bernie Sanders (2015)
---
Book Reviews

(from Amazon.com)

(click a book cover for a review or other books by or about the presidency from Amazon.com)
Business Week magazine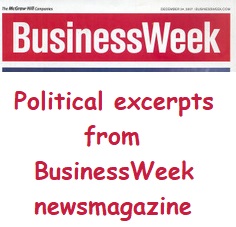 (Click for external website)
Click on a participant to pop-up their full list of quotations
from Business Week (now part of Bloomberg) (number of quotes indicated):
Articles in Business Week newsmagazine:
(On Colleen Hanabusa & Neil Abercrombie): Business Week on 2014 Hawaii Senate & Governor race, 12/12/2013
(On Charles Djou): Business Week on 2014 Hawaii Governor race, 12/9/2013
(On Antonio Villaraigosa): Business Week on 2014 California governor's race, 5/9/2013
(On Charlie Crist & Kendrick Meek): Business Week coverage of 2010 Florida Senate debate, 10/25/2010
(On Marco Rubio): Business Week coverage of 2010 Florida Senate debate, 10/25/2010
(On Lee Fisher & Rob Portman): Business Week coverage of 2010 Ohio Senate debate, 10/8/2010
(On Steve Pearce & Tom Udall): 2008 N.M. Senate debate report in N.M.Business Weekly, 8/22/2008
(On Al Gore): Interview in Business Week, p. 42-43, 12/20/1999
OnTheIssues.org excerpts: (click on issues for details)
Budget & Economy
Charlie Crist: OpEd: As incumbent, blamed for Florida's weak economy.
Al Gore: Pledges to reduce national debt every year.
Al Gore: Economic slowdown would prompt Reinvention push.
Al Gore: Clinton-Gore budget concepts broke cycle of recession.
Civil Rights
Antonio Villaraigosa: LA's diversity program is "absolutely insufficient".
Corporations
Marco Rubio: Businesses need certainty to commit to hiring new workers.
Environment
Charles Djou: Advocated for recycling and trash services on City Council.
Foreign Policy
Al Gore: Pres. Bush did too little for Russia; Clinton did not.
Free Trade
Colleen Hanabusa: Supports 1920 Jones Act: only US ships HI to West Coast.
Neil Abercrombie: Allow foreign ships to unload in Hawaii en route to US.
Rob Portman: Served as trade representative under Pres. George W. Bush.
Al Gore: WTO talks will continue, with labor & environment input.
Al Gore: WTO requires Japan & Europe to deal with our trade issues.
Al Gore: Supports permanent normal trade relations with China.
Jobs
Lee Fisher: Incentive for Ohio jobs rather than breaks for jobs overseas.
Rob Portman: High unemployment rate creates Ohio brain drain.
Principles & Values
Al Gore: Domestic priorities: schools, health, enviro, & Reinvention.
Tax Reform
Charlie Crist: Best to extend all tax cuts; but compromise and push later.
Kendrick Meek: Bush tax cuts killed surpluses; no more trickle-down.
Lee Fisher: 2005 tax cut reduced Ohio taxes by 16.8%.
Al Gore: Rules out tax increase in good economic times.
Technology
Al Gore: In information economy, oil prices rises donít matter.
Al Gore: Tax-free Internet a catastrophe for local governments.
| | |
| --- | --- |
| Click for quotations from other sources by: | |
The above quotations are from Business Week magazine.
2018 Voter Guides
for House, Senate and Gubernatorial candidates:
(below are individual candidate responses;
to the right are "surveys"
with just support/oppose inferred answers):

2016 American Family Association survey:

2014 Faith2Action survey:

2010 Faith2Action survey: