---
Books by and about 2020 presidential candidates
Crippled America,
by Donald J. Trump (2015)
Fire and Fury,
by Michael Wolff (2018)
Trump Revealed,
by Michael Kranish and Marc Fisher (2016)
The Making of Donald Trump,
by David Cay Johnston (2016)
Promise Me, Dad ,
by Joe Biden (2017)
The Book of Joe ,
by Jeff Wilser (2019; biography of Joe Biden)
The Truths We Hold,
by Kamala Harris (2019)
Smart on Crime,
by Kamala Harris (2010)
Guide to Political Revolution,
by Bernie Sanders (2017)
Where We Go From Here,
by Bernie Sanders (2018)
Our Revolution,
by Bernie Sanders (2016)
This Fight Is Our Fight,
by Elizabeth Warren (2017)
United,
by Cory Booker (2016)
Conscience of a Conservative,
by Jeff Flake (2017)
Two Paths,
by Gov. John Kasich (2017)
Every Other Monday,
by Rep. John Kasich (2010)
Courage is Contagious,
by John Kasich (1998)
Shortest Way Home,
by Pete Buttigieg (2019)
Becoming,
by Michelle Obama (2018)
Higher Loyalty,
by James Comey (2018)
The Making of Donald Trump,
by David Cay Johnston (2017)
Higher Loyalty ,
by James Comey (2018)
Trump vs. Hillary On The Issues ,
by Jesse Gordon (2016)
Outsider in the White House,
by Bernie Sanders (2015)
---
Book Reviews

(from Amazon.com)

(click a book cover for a review or other books by or about the presidency from Amazon.com)
Promise Me, Dad
A Year of Hope, Hardship, and Purpose,
by Joe Biden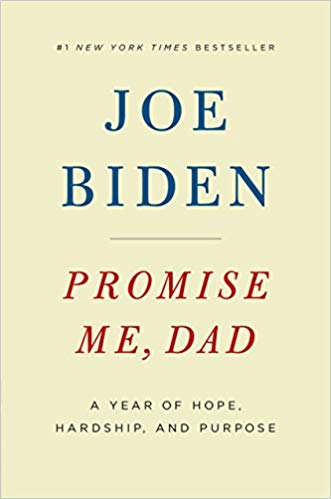 (Click for Amazon book review)
Click on a participant to pop-up their full list of quotations
from Promise Me, Dad:, by Joe Biden (number of quotes indicated):
BOOK REVIEW by OnTheIssues.org:
This book is Joe Biden's diary for the year 2015. It begins in November 2014, when his son, Beau Biden, was diagnosed with brain cancer. It ends in January 2016, after Beau succumbed, with Joe's decision to not run for the presidency in 2016.
The title refers to something that Beau said upon accepting that his cancer was likely terminal: "I was jolted by the realization that my son was beginning to make peace with his own death. 'You've got to promise me, Dad, that no matter what happens, you're going to be all right. Give me your word, Dad, that you're going to be all right. Promise me, Dad.' I promised." (p. 201). Beau was insisting that Joe accept his likely death and promise to move on, as they had done together with the deaths of Joe's wife and daughter (Beau's mother and sister) when Beau was a child.
The theme of managing to move past tragedy is a major theme of the book (explored further in The Book of Joe). Biden cites Daniel Patrick Moynihan as the source of his philosophy on that theme: "To fail to understand that life is going to knock you down is to fail to understand the Irishness of life," said Moynihan. Biden echoed, "I had been knocked down hard enough by then to understand the Irishness of life, and this past year had reminded me of it all over again" (p. 250).
Beau was also a politician -- he was elected Attorney General of Delaware in 2006 (when Joe was a Senator), and was planning to run for Governor when he was stricken (Beau was considered the frontrunner for the 2016 gubernatorial race).
Beau was supportive of Joe running for president in 2016 -- that was quoted in newspapers at the time, and Joe confirms it (p. 222). Joe's campaign plan was that "I was best equipped to finish the job Barack and I had started. If Beau had never gotten sick, we would already be running. The thought of doing it without him was painful. But as the days passed, the idea of not running started to feel like letting him down, like letting everybody down" (p. 223). Biden decided not to run in 2016; then he wrote this memoir instead, before the 2016 race, but published in November 2017 (the book mentions neither Hillary nor Trump).
Political diaries are hard to read; this diary is VERY hard to read. Political diaries are hard to read because they get too much into the daily details -- for example, the Iraqi surge of 2015 takes up dozens of pages -- without ever seeing the policy outcome beyond all the strategy and tactics. We attempt to find some policy statements in our excerpts, omitting the vast details of the Iraq war. This diary is VERY hard to read because, mixed in with daily briefings from Iraqi generals, are daily briefings from oncologists and brain surgeons about Beau's condition. That was Joe Biden's life for a year -- reading it forces one to "understand the Irishness of life."
The real question arising for readers is: "Does this book lay the groundwork for a 2020 run?" The answer is "Yes." The final chapter, entitled "Run, Joe, Run," details the planning and decision-making in late 2015 and early 2016. Biden did a lot of preparatory planning; and really was ready to run. But he really needed some recuperation time, too -- i.e. we believe his rationale that Beau's death was the reason Joe decided not to run. Joe will view the 2020 race as a somewhat-delayed fulfillment of the promise he made to his eldest son in the title of this book.
-- Jesse Gordon, jesse@OnTheIssues.org, editor-in-chief of OnTheIssues, March 2019
OnTheIssues.org excerpts: (click on issues for details)
Budget & Economy
Barack Obama: Took office in 2009 amid America's worst financial crisis.
Civil Rights
Anthony Kennedy: Right to same-sex marriage is a fundamental right.
Strom Thurmond: 1990s: Can't gays be converted so they're like other people?
Crime
Barack Obama: Reject killing police in retaliation for police killings.
Bill de Blasio: Condemn killing police in retaliation for police killings.
Bill de Blasio: Worried about why blacks need to be cautious around police.
Joe Biden: 1980s community policing worked to reduce crime rate.
Rudy Giuliani: No "time for healing" after police are killed.
Foreign Policy
Joe Biden: Repair US relations with Central America's Northern Triangle.
Joe Biden: Russia vs. Ukraine: Big country beating up a smaller one.
Joe Biden: Create secure, democratic, middle-class Western Hemisphere.
Government Reform
Barack Obama: Don't expect government to solve all problems; just some.
Joe Biden: Reject Super-PACs: "We the People" became "We the Donors".
Principles & Values
Joe Biden: Son Beau died of brain cancer despite experimental surgery.
Joe Biden: Memory of lost family members will someday bring a smile.
Technology
Joe Biden: $15B initiative to rebuild energy & water infrastructure.
War & Peace
Barack Obama: Support Ukraine and sanction Russia but no military action.
Joe Biden: Inviolate borders for Ukraine; no spheres of influence.
Lindsey Graham: Arming Ukrainians against Russia will make things better.
Ted Cruz: Provide support to Ukrainian fighters against Russia.
Welfare & Poverty
Joe Biden: Defining issue as Obama VP: restoring the middle class.
| | |
| --- | --- |
| Click for quotations from other sources by: | |
The above quotations are from Promise Me, Dad
A Year of Hope, Hardship, and Purpose,
by Joe Biden.
Books by and about 2020 Presidential hopefuls: