---
Books by and about 2020 presidential candidates
Crippled America,
by Donald J. Trump (2015)
Fire and Fury,
by Michael Wolff (2018)
Trump Revealed,
by Michael Kranish and Marc Fisher (2016)
The Making of Donald Trump,
by David Cay Johnston (2016)
Promise Me, Dad ,
by Joe Biden (2017)
The Book of Joe ,
by Jeff Wilser (2019; biography of Joe Biden)
The Truths We Hold,
by Kamala Harris (2019)
Smart on Crime,
by Kamala Harris (2010)
Guide to Political Revolution,
by Bernie Sanders (2017)
Where We Go From Here,
by Bernie Sanders (2018)
Our Revolution,
by Bernie Sanders (2016)
This Fight Is Our Fight,
by Elizabeth Warren (2017)
United,
by Cory Booker (2016)
Conscience of a Conservative,
by Jeff Flake (2017)
Two Paths,
by Gov. John Kasich (2017)
Every Other Monday,
by Rep. John Kasich (2010)
Courage is Contagious,
by John Kasich (1998)
Shortest Way Home,
by Pete Buttigieg (2019)
Becoming,
by Michelle Obama (2018)
Higher Loyalty,
by James Comey (2018)
The Making of Donald Trump,
by David Cay Johnston (2017)
Higher Loyalty ,
by James Comey (2018)
Trump vs. Hillary On The Issues ,
by Jesse Gordon (2016)
Outsider in the White House,
by Bernie Sanders (2015)
---
Book Reviews

(from Amazon.com)

(click a book cover for a review or other books by or about the presidency from Amazon.com)
Media coverage of political races in The New York Times, 2010-2019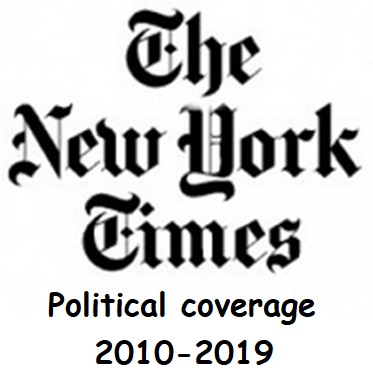 (Click for external website)
Click on a participant to pop-up their full list of quotations
from The New York Times 2010s (number of quotes indicated):
Articles from the N.Y. Times on political races in 2010s:
(On CA-39): NY Times, "Can Young Kim help turn Orange County Red again," by Jennifer Medina 10/3/2019
(Mike Bloomberg): "Ban Flavored E-Cigarettes to Protect Our Children," by Matt Myers, 9/10/2019
(Mike Parson): 2018 Missouri Gubernatorial race, 5/29/2018
(Don Blankenship): 2018 West Virginia Senatorial race, 3/26/2018
(Johnny Isakson): 2020 Georgia Senate race, 3/30/2017
(Mike Pence): 2020 presidential hopefuls, 3/30/2017
(Kate Brown & Tim Pawlenty): Associated Press, "Voter Reg made Automatic", 3/17/2015
(Scott Walker): "Woo Christian conservatives," by J. Martin, 2/23/2015
(Hillary Clinton): "Hillary Rodham Clinton: By the Book", 6/11/2014
(Jeb Bush): Michael Barbaromay, "Something to Think About", 5/24/2014
(John Kasich): article on Kasich and Tea Party, 10/28/2013
(Richard Blumenthal): "Google pays fine", 3/13/2013
(Barack Obama & Eric Holder): "Fast and Furious Contempt", 6/29/2012
(Angus King): "Senate Control Could Hinge on Angus", 5/6/2012
(Jill Stein): Michael Shear, "5 Questions", 2/14/2012
(Tim Kaine): "Letting Shareholders Know", 12/14/2011
(Elizabeth Warren): by Rebecca Traister, 11/18/2011
(Michele Bachmann): by Sheryl Gay Stolberg, 6/21/2011
(Jon Huntsman): by Michael Shear, "The Caucus", 6/15/2011
(Rodney Glassman): by Marc Lacey, 9/6/2010
(Gary Herbert): by Kirk Johnson, "Criminalize Abortion", 2/28/2010
OnTheIssues.org excerpts: (click on issues for details)
Abortion
Bill Clinton: Allow medical research that uses tissue from aborted fetuses.
Donald Trump: End medical research that uses tissue from aborted fetuses.
Kirsten Gillibrand: Abortion is the human right to bodily autonomy.
Lisa Murkowski: Joined Democrats to fund Planned Parenthood.
Susan Collins: Joined Democrats to fund Planned Parenthood.
Ed Gillespie: Opposes abortion.
Scott Brown: OpEd: Not a reliable vote on abortion rights.
Rodney Glassman: Not conservative on abortion.
Budget & Economy
Jeff Apodaca: State reserves can prime pump for new jobs.
Ron Estes: We returned $65 million to Kansans to help grow the economy.
Chris McDaniel: Era of big spending is over; age of appropriations must end.
Jill Stein: Top 1% are rolling in dough; the rest are in crisis.
Tracy Potter: $700B stimulus spending ok; something needed to be done.
Civil Rights
Lauren Underwood: Counteract institutionalized LGBTQ discrimination.
Anthony Kennedy: No longer deny gays the profound liberty of marriage.
Anthony Kennedy: Living Constitution: apply 14th amendment to gay marriage.
Antonin Scalia: Showy profundities on gay marriage are profoundly incoherent.
Antonin Scalia: Everyone in history, until 15 years ago, understood marriage.
Elena Kagan: Concurred on no longer deny gays the right to marriage.
John Roberts: Constitution says nothing about marriage OR gay marriage.
Ruth Bader Ginsburg: Concurred on no longer deny gays the right to marriage.
Sonia Sotomayor: Concurred on no longer deny gays the right to marriage.
Stephen Breyer: Concurred on no longer deny gays the right to marriage.
Rick Perry: Would attend same-sex marriage of a family member.
Bobby Jindal: Institution of marriage existed long before our laws existed.
Rick Santorum: I would never attend a same-sex wedding.
Ted Cruz: Pray against a court decision legalizing same-sex marriage.
Jeb Bush: Respect civil unions & same-sex lifetime commitments.
Jeb Bush: 1994: LGBT protections are tantamount to elevating sodomy.
Rand Paul: Don't register guns federally, nor marriages.
Jeb Bush: Don't-ask-don't-tell ok if it doesn't affect policy.
Chris McDaniel: As host of Right Side Radio, railed against hip-hop culture.
Rick Weiland: Favors same-sex marriage.
Elizabeth Warren: We need a reliable vote for equal pay for equal work.
Bob Turner: The ship has sailed on gay marriage; focus elsewhere.
George Maragos: Publicly advocate the repeal of same-sex marriage.
Charlie Crist: Lifetime member of NAACP.
Corporations
Dan Malloy: Invest state funds in businesses that preserve in-state jobs.
Jeff Bell: Low interest rates favor big businesses over small.
Ben Sasse: FactCheck: stretched truth on job as management consultant.
Al Franken: Block merger of biggest & 2nd biggest cable providers.
Jill Stein: Romney & Obama are both pro-1% big corporation.
Crime
Don Blankenship: Past criminal conviction not a barrier to running for office.
Jeb Bush: 1994: build more prisons; serve longer sentences.
Jeb Bush: 1990s: punishment over therapy; 2010s: that hardens people.
Jason Carter: No ban on the death penalty.
Charlie Crist: Chain-Gang Charlie: reinstitute prison chain gangs.
Drugs
Donald Trump: Brother died of alcoholism; so Donald never touched alcohol.
Education
Jeb Bush: 1994: cut Department of Education from 2,000 to 50 staff.
Thom Tillis: Department of Education is 5,000 overpaid bureaucrats.
Michele Bachmann: Charter school ran afoul due to Christian teaching.
Energy & Oil
Jeff Apodaca: Old and new energy industries must adapt.
Donald Trump: Revive the coal industry; end efforts to curb carbon.
Rick Perry: Defend Keystone XL and other oil & gas exploration.
Terry McAuliffe: 2012: Started GreenTech electric car company & soon resigned.
John Hoeven: Managed the rapid growth in ND's oil country.
Tracy Potter: People can't afford housing in ND's oil patch.
Charlie Crist: Open to cap-and-trade plan for carbon emissions.
Environment
Mike Parson: Right to farm & ranch, despite environmental critics.
Jeb Bush: 1990s: Compensate landowners; 2010s: state-run conservation.
Pat Roberts: For early farm bill, but final bill had too many subsidies.
Frank Pallone: Relax restrictions on over-fishing to help fishermen.
Families & Children
Mike Bloomberg: Ban flavored e-cigarettes used to entice kids to smoke.
Michele Bachmann: Raised 23 foster kids, with her own kids,as "treatment home".
Foreign Policy
James Mattis: Supports NATO alliance principle of collective defense.
Mike Pompeo: Investigate Russian interference with U.S. election.
Donald Trump: Supports construction of Israeli settlements in West Bank.
Bill Weld: Priority is not "no fly zone" but to stop killing in Aleppo.
Rick Perry: Cancel any nuclear deal Obama makes with Iran.
Jeb Bush: Pressured father's V.P. staff to help Cuban prisoners.
Chris Christie: Given who I am, Putin would not have invaded Crimea.
Jason Carter: Declares his powerful connection to Israel.
Rand Paul: GOP hawks fear my world view, but Americans support it.
Rand Paul: Neocons are neoisolationist: 'all should behave like us'.
Rand Paul: Eventually end all foreign aid, but unrealistic for now.
Marco Rubio: Only America can stand up to world totalitarianism.
Chris Christie: America should be clear to world about what we stand for.
Pat Roberts: Opposed UN ban on discrimination against disabilities.
Martin O`Malley: Respect my right to shy away from foreign policy.
Martin O`Malley: Israeli separation barrier might be called "peace wall".
Joe DioGuardi: Yes, I was a lobbyist; to fight Albanian genocide.
Free Trade
Steve Mnuchin: Free market proponent but tariffs OK to reduce trade deficit.
Chris Christie: Trade mission to Mexico doubles as foreign policy tour.
Government Reform
Ilhan Omar: Our democracy isn't perfect, but has tools to make it better.
Drew Edmondson: Blames revenue shortfall on corporate donors and lobbyists.
Tim Kaine: Public companies should publish their political spending.
Thad Cochran: OpEd: Earmarked spending brings federal funds to Mississippi.
Joe DioGuardi: In Congress, served as president of Truth In Government.
Joe DioGuardi: 1987: Voted NO on Congress pay raise; donated his to charity.
Gun Control
Kirsten Gillibrand: Ban bump stocks; reduce lobbying power of NRA.
Scott Brown: Ok'd federal ban on assault weapons after Newtown shootings.
Rick Weiland: Universal background checks for guns.
Health Care
Antonio Delgado: Public option benefits rural areas by providing competition.
Lauren Underwood: I have a pre-existing condition.
Lauren Underwood: Healthcare is a human right.
Bill Weld: Tweak ObamaCare with more free market and more choices.
Antonin Scalia: We should start calling ObamaCare "SCOTUS-care".
John Roberts: ObamaCare improves health insurance market: not destroy them.
Hillary Clinton: The science is clear: vaccines work.
Howard Dean: Only anti-government conservatives oppose vaccines.
Mike Huckabee: Vaccines don't cause autism; I get vaccinated myself.
Rick Perry: Increase immunization rates as part of protecting life.
Ed Gillespie: Benefits from GOP resistance to the new health law.
Jeanne Shaheen: No apologies for helping people get affordable insurance.
Scott Brown: Supported RomneyCare in 2006; it's different than ObamaCare.
Jill Stein: ObamaCare took single-payer & public option off the table.
John Hoeven: Tort reform over Canadian-style, single-payer' plan.
Tracy Potter: ObamaCare isn't perfect, but a step in the right direction.
Paul Kirk: Lobbyist for pharmaceutical company in 1990s.
Homeland Security
James Mattis: Don't revisit old issues; let women in combat roles.
Mike Pompeo: No torture, including coercive methods like waterboarding.
Elizabeth Warren: Reduce size of standing army to reduce deficit.
Tim Kaine: Let Bush tax cuts expire instead of automatic defense cuts.
Immigration
Kirsten Gillibrand: We need a humane asylum application process.
Scott Walker: We have too many legal immigrants.
Thom Tillis: Amnesty shouldn't be on the table.
Ed Gillespie: Unapologetic supporter of comprehensive immigration overhaul.
Bob Turner: Wouldn't report illegal immigrant working in his own home.
Rodney Glassman: Not conservative on immigration.
Jobs
Tom Foley: OpEd: His company moved 3,000 jobs to Mexico.
John Hoeven: $700B stimulus created only temporary jobs; invest in roads.
Principles & Values
Kamala Harris: Impeachment: McConnell doesn't want trial, wants cover-up.
Nikema Williams: Sees her story, born in South Korea, as the American dream.
Donald Trump: Mueller: Presidents may not be indicted for obstruction.
Amy Klobuchar: Heartland Amy: an experienced bipartisan pragmatist.
Jon Ossoff: Supported by national anti-Trump neophyte networks.
Jon Ossoff: Campaign slogan: Make Trump Furious.
James Mattis: Dislikes nickname Mad Dog Mattis.
Bill Weld: Hillary's "public and private view" makes her vulnerable.
Gary Johnson: I offer choices beyond the same old red vs. blue.
Scott Walker: My relationship with God drives every major decision.
Scott Walker: Raised as a "P.K.", Pastor's Kid, by his father Pastor Llew.
Martin O`Malley: History celebrates courage, not triangulation.
Jason Carter: Grandfather Jimmy Carter participates in grandson's campaign.
John Edward Walsh: OpEd: 2007 Master's thesis plagiarized from online sources.
Tom Cotton: Served in military, academia, and as management consultant.
Chris Christie: Parties should become pragmatic when they are out of power.
Milton Wolf: Career politicians are changed by Washington.
Pat Roberts: Resides in Virginia but votes in Kansas.
Jill Stein: Occupy Movement: coming of age of a younger generation.
Jill Stein: Dems & GOP are both sinking ships; one just sinks faster.
Jack Conway: An honor to run for Wendell Ford's senate seat.
Rand Paul: This is not Wendell Ford's seat; it's the people's seat.
Bob Smith: Only one in this race with real-world experience.
Marco Rubio: God does not love America more than Belgium.
Paul Kirk: Worked for Robert Kennedy & Ted Kennedy campaigns.
Paul Kirk: Chair of DNC from 1985 to 1989.
Social Security
Martin O`Malley: Without Social Security, 1 in 4 seniors would be poor.
Tax Reform
Bob Hugin: Opposes new $10K cap on deductions for state & local taxes.
Bill Weld: I am releasing my returns and Trump should release his.
Jeb Bush: 1994: Require voter approval of any new taxes.
Scott Brown: Never raise taxes in a recession; it hurts job creators.
George Allen: No tax increases; no defense cuts; no bargaining.
Bob Turner: No anti-tax pledge; keep taxes on the negotiation table.
George Maragos: No-tax pledge; teach the rest of Congress economic theory.
Joe DioGuardi: Fined by IRS in 1978 for deducting commodity spreads.
Technology
Donald Trump: 2016: cheered on WikiLeaks releasing Hillary's stolen emails.
Drew Edmondson: Use tobacco settlement to fund school technology.
Chelsea Manning: Business is collecting data on us, creating a life pattern.
Jeb Bush: BlackBerry pictured in official gubernatorial portrait.
Chris Christie: Bridgegate: Staff made some significant mistakes in judgment.
Elizabeth Warren: Push for spending on infrastructure.
War & Peace
James Mattis: Supports the Iran nuclear agreement.
Rick Perry: ISIS is worst threat to freedom since Communism.
Rick Perry: Provide lethal aid to Ukraine against Russian separatists.
John Bolton: To stop Iran's bomb, bomb Iran.
Jeb Bush: Non-state terrorists are greatest threat we now face.
Chris Christie: Syria: If we draw a red line, we must finish the job.
Jill Stein: We're not safer internationally with drone wars.
Antonio Villaraigosa: End wars & spend in US in stead of Baghdad and Kandahar.
Welfare & Poverty
Jeb Bush: 1994 Phoenix Project: end welfare culture.
Chris Christie: Focus on income inequality drives America toward mediocrity.
| | |
| --- | --- |
| Click for quotations from other sources by: | |
The above quotations are from Media coverage of political races in The New York Times, 2010-2019.