---
Books by and about 2020 presidential candidates
Crippled America,
by Donald J. Trump (2015)
Fire and Fury,
by Michael Wolff (2018)
Trump Revealed,
by Michael Kranish and Marc Fisher (2016)
The Making of Donald Trump,
by David Cay Johnston (2016)
Promise Me, Dad ,
by Joe Biden (2017)
The Book of Joe ,
by Jeff Wilser (2019; biography of Joe Biden)
The Truths We Hold,
by Kamala Harris (2019)
Smart on Crime,
by Kamala Harris (2010)
Guide to Political Revolution,
by Bernie Sanders (2017)
Where We Go From Here,
by Bernie Sanders (2018)
Our Revolution,
by Bernie Sanders (2016)
This Fight Is Our Fight,
by Elizabeth Warren (2017)
United,
by Cory Booker (2016)
Conscience of a Conservative,
by Jeff Flake (2017)
Two Paths,
by Gov. John Kasich (2017)
Every Other Monday,
by Rep. John Kasich (2010)
Courage is Contagious,
by John Kasich (1998)
Shortest Way Home,
by Pete Buttigieg (2019)
Becoming,
by Michelle Obama (2018)
Higher Loyalty,
by James Comey (2018)
The Making of Donald Trump,
by David Cay Johnston (2017)
Higher Loyalty ,
by James Comey (2018)
Trump vs. Hillary On The Issues ,
by Jesse Gordon (2016)
Outsider in the White House,
by Bernie Sanders (2015)
---
Book Reviews

(from Amazon.com)

(click a book cover for a review or other books by or about the presidency from Amazon.com)
PoliticalWire.com news aggregator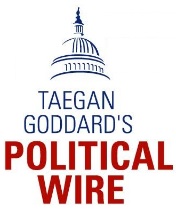 (Click for external website)
Click on a participant to pop-up their full list of quotations
from PoliticalWire.com by Taegan Goddard (number of quotes indicated):
Articles from news aggregator PoliticalWire.com:
On House Speakers: "Johnson Doesn't Believe in Separation of Church and State," by Taegan Goddard, October 26, 2023, (Link)
2020-AL-5 House: "GOP Lawmaker Will Challenge Electoral Vote," by Taegan Goddard, December 2, 2020
"Postmaster Will Suspend Operational Changes", by Taegan Goddard, August 18, 2020
"Rick Perry Says Trump Is the 'Chosen One'," by Taegan Goddard, November 25, 2019
(Jeff Flake): PoliticalWire.com on impeachment of Trump, 3/20/2018
(Kevin Cramer): 2018 North Dakota Senate race, 10/8/2018
(Corey Stewart): 2018 Virginia Senate race, 8/8/2018
(Orrin Hatch): 2018 Utah Senate race, 6/14/2018
(John Kasich): 2020 presidential hopefuls, 2/25/2018
(Kevin Cramer): Taegan Goddard on PoliticalWire.com, 9/21/2013
"Clinton backs same-sex marriage", 3/18/2013
(Joe Walsh): PoliticalWire.com, 10/19/2012
(Steve King): PoliticalWire.com, 9/23/2009
OnTheIssues.org excerpts: (click on issues for details)
Abortion
Joe Walsh: No medical need any more for exceptions for maternal health.
Civil Rights
Bill Weld: Republican Party should reject immoral choice of racism.
Corey Stewart: 2017: praised Virginia decision to secede during Civil War.
Orrin Hatch: 1977: No gay teachers; 2018: No LGBT discrimination.
Hillary Clinton: I support gay marriage personally and as law.
Steve King: Gay marriage is path to socialism.
Corporations
Mike Bloomberg: $5 trillion in new revenue from high earners & corporations.
Environment
Marianne Williamson: Deal with hurricanes by visualizing the storm's retreat.
Families & Children
Kevin Cramer: The #MeToo movement is all about victimization.
Foreign Policy
Roy Moore: America and Russia have both promoted bad things.
Government Reform
Mo Brooks: Will challenge Electoral College; vote stolen by socialists.
Mo Brooks: Will challenge Electoral College; vote stolen by socialists.
Donald Trump: Against funding post office due to mail-in ballots.
Principles & Values
Donald Trump: 2016: Sought to nullify election after losing Iowa primary.
Rick Perry: Trump Is imperfect, but perhaps he's the 'Chosen One'.
Justin Amash: President Trump has engaged in impeachable conduct.
Alexandria Ocasio-Cortez: Activism is inherently divisive, like MLK was.
Jeff Flake: Impeachment appropriate is Trump fires Special Counsel.
John Kasich: Two-party system no longer appeals to majority of voters.
Welfare & Poverty
Kevin Cramer: If anyone is not willing to work, let him not eat.
| | |
| --- | --- |
| Click for quotations from other sources by: | |
The above quotations are from PoliticalWire.com news aggregator.
2018 Voter Guides
for House, Senate and Gubernatorial candidates:
(below are individual candidate responses;
to the right are "surveys"
with just support/oppose inferred answers):

2016 American Family Association survey:

2014 Faith2Action survey:

2010 Faith2Action survey: