---
Books by and about 2020 presidential candidates
Crippled America,
by Donald J. Trump (2015)
Fire and Fury,
by Michael Wolff (2018)
Trump Revealed,
by Michael Kranish and Marc Fisher (2016)
The Making of Donald Trump,
by David Cay Johnston (2016)
Promise Me, Dad ,
by Joe Biden (2017)
The Book of Joe ,
by Jeff Wilser (2019; biography of Joe Biden)
The Truths We Hold,
by Kamala Harris (2019)
Smart on Crime,
by Kamala Harris (2010)
Guide to Political Revolution,
by Bernie Sanders (2017)
Where We Go From Here,
by Bernie Sanders (2018)
Our Revolution,
by Bernie Sanders (2016)
This Fight Is Our Fight,
by Elizabeth Warren (2017)
United,
by Cory Booker (2016)
Conscience of a Conservative,
by Jeff Flake (2017)
Two Paths,
by Gov. John Kasich (2017)
Every Other Monday,
by Rep. John Kasich (2010)
Courage is Contagious,
by John Kasich (1998)
Shortest Way Home,
by Pete Buttigieg (2019)
Becoming,
by Michelle Obama (2018)
Higher Loyalty,
by James Comey (2018)
The Making of Donald Trump,
by David Cay Johnston (2017)
Higher Loyalty ,
by James Comey (2018)
Trump vs. Hillary On The Issues ,
by Jesse Gordon (2016)
Outsider in the White House,
by Bernie Sanders (2015)
---
Book Reviews

(from Amazon.com)

(click a book cover for a review or other books by or about the presidency from Amazon.com)
Interviews and analysis of presidential hopefuls for 2024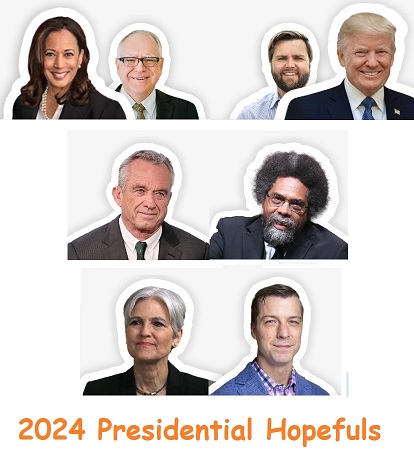 Click on a participant to pop-up their full list of quotations
from Sunday Political Talk Show interviews during 2020-2024 (number of quotes indicated):
This collection of excerpts comes from articles about and interviews of 2024 presidential hopefuls.


Speculation on 2024 presidential contenders (sources for issue excerpts):
Ernst.Senate.Gov press release: "Letter to Secretary of Education," [from ten Senators regarding Supreme Court ruling overtuning college affirmative action] Sept. 12, 2023, (Link)
ABA Journal: "'Very, very wise and learned counsel' defense will be key in Trump's election trial, his lawyer says," by Debra Cassens Weiss, August 3, 2023, (Link)
Inforum, "Guard's border deployment could cost North Dakota taxpayers $2.2 million," by April Baumgarten, June 13, 2023, (Link)
CBS News, "What does the Presidential Records Act say, and how does it apply to Trump?," by Stefan Becket & Melissa Quinn, June 13, 2023, (Link)
WMUR, "Burgum says he will not institute national abortion ban," by Arielle Mitropoulos, Jun 12, 2023, (Link)
Iowa Capital Dispatch, "ND Gov. Doug Burgum launches campaign ads in Iowa, New Hampshire," by Robin Opsahl, June 12, 2023, (Link)
Politico.com, "We get some specifics on Ramaswamy's Ukraine plan," by Alexander Ward and Ari Hawkins 06/08/2023, (Link) 2024_Hopefuls & Media_Slate
Slate e-zine, "Step Aside Wusses, It's Chris Christie Time," by Jim Newell, June 07, 2023, (Link)
Democracy Now, "Cornel West on Third-Party Presidential Run, the Roots of His Political Activism & More," June 07, 2023, (Link)
Politico, "Christie bashes Trump: 5 takeaways from Christie's presidential town hall," by Lisa Kashinsky, 06/06/2023, (Link)
Pres-2024: Politico, "55 Things You Need to Know About Tim Scott," by Michael Kruse and Sydney Gold, 05/22/2023, (Link)
ABC News, "Tim Scott joins the 2024 Republican race for president," by Libby Cathey and Mariam Khan, May 22, 2023, (Link)
Politico.com blog, "Chris Christie calls Trump a 'puppet of Putin' after CNN town hall," by Matt Berg, 05/11/2023, (Link)
AMBCrypto.com, "Presidential candidate Robert Kennedy Jr condemns Biden administration for its anti-crypto stance," May 4, 2023, (Link)
FOX News, "Robert F Kennedy Jr slams Biden border 'chaos' after illegal immigrant allegedly slaughters five in Texas," by Louis Casiano, May 3, 2023, (Link)
FOX News, "It's time for a competency test for politicians," by Nikki Haley, May 1, 2023, (Link)
Newsweek magazine, "Biden Challenger RFK Jr. Aligns With GOP on Key Culture War Issue," by Fatma Khaled, 4/30/23, (Link)
Lexington County Chronicle, "Presidential candidate stops at patriotism-emphasizing Lexington charter school," by Jordan Lawrence, April 28, 2023, (Link)
Washington Examiner, "Ramaswamy signals support for six-week abortion ban at state level," by Ryan King, April 26, 2023, (Link)
C-SPAN, "Vivek Ramaswamy Remarks to NRA Leadership Forum," 4/14/23, (Link)
Washington Times, "GOP presidential candidate calls for guns in 'every Taiwanese household' to prevent Chinese invasion," by Seth McLaughlin, April 14, 2023, (Link)
Iowa Capital Dispatch, "Faith & Freedom forum: 2024 Republicans say they'll fight 'gender ideology, 'woke' beliefs," by Robin Opsahl and Luke Clausen, April 22, 2023, (Link)
Iowa Capital Dispatch, "Nikki Haley criticizes transgender influencer, talks LGBTQ topics in Iowa," by Robin Opsahl, April 12, 2023, (Link)
Press release, "Vivek Ramaswamy Statement on Treating Transgenderism as a Mental Health Disorder and Funding School Marshals," March 28, 2023, (Link)
Washington Times, "Why Vivek Ramaswamy deserves a look in 2024," by Kelly Sadler, March 28, 2023, (Link)
Christian Post, "Larry Elder talks presidential run, fatherless epidemic, school choice and the '11th Commandment'," by Michael Gryboski, March 25, 2023, (Link)
CNN, "State of the Union," interview of Vivek Ramaswamy, 3/12/23, (Link)
CBN, "Fighting False Idols and a National Identity Crisis: Vivek Ramaswamy's Plan to Win the Presidency," by David Brody, 03-09-2023, (Link)
Newsweek, "Republican's Remarks About Putin Stun CPAC 2023 Audience," by Darragh Roche, 3/3/23, (Link)
ABC News: Full transcript of "This Week": interview of Sen. Bernie Sanders & Sen. Roy Blunt, moderated by George Stephanopoulos, Sunday, Aug. 28, 2022, (Link)
The Hill, "Five under-the-radar Democrats who could run for president in 2024," by Hanna Trudo and Amie Parnes, 06/27/22
ABC News: Full transcript of "This Week": interview of Sen. Elizabeth Warren and Gov. Kristi Noem , moderated by Martha Raddatz, Sunday, June 26, 2022, (Link)
The New Yorker, "Cornel West Sees a Spiritual Decay in the Culture," by Vinson Cunningham, March 9, 2022, (Link)
Associated Press, "Johnson kicks off governor campaign with focus on 'quality'," by David Eggert, February 23, 2022, (Link)
New York Times, "In Munich, Kamala Harris says the West faces a 'defining moment'," by David E. Sanger, Feb. 19, 2022
Pres. 2024: The Hill, "Haley criticizes US 'self-loathing': America is not a racist country," by Julia Manchester, 02/15/23, (Link)
The Guardian (U.K.), "We must do everything possible to avoid an enormously destructive war in Ukraine," by Bernie Sanders, 8 Feb 2022
White House Press Release, "President Biden Announces Former New Orleans Mayor Mitch Landrieu as Senior Advisor and Infrastructure Coordinator," November 14, 2021
CityWatch Los Angeles, "Larry Elder: Trump 2.0," by Beth Cone Kramer, 13 September 2021, (Link)
The Atlantic, "Cornel West on Why the Left Needs Jesus," by Emma Green, August 13, 2021, (Link)
Los Angeles Times, "Larry Elder's outspoken conservative radio rhetoric is under scrutiny in recall election," by James Rainey & Seema Mehta, Aug. 10, 2021, (Link)
Reason Magazine, "Ted Cruz's Eagerness to Fight Trump's Legal Battles Epitomizes the GOP's Complete Lack of Principles," by Jacob Sullum, 12.13.20
On TX v. PA et al: Texas Tribune, "U.S. Supreme Court throws out Texas lawsuit contesting 2020 election results in four battleground states," by Emma Platoff, Dec. 11, 2020
NewsMax, "Ted Cruz: Pennsylvania Election Case 'Raises Very Serious Issues'," by Jeffrey Rodack, 08 December 2020
Al Jazeera, "Diversity is Nothing Without Solidarity," by Sarah Leonard, Dec 4, 2020, (Link)
Twitter posting @WillHurd, Jun 8, 2020, (Link)
CNBC: "Former UN ambassador Nikki Haley resigns from Boeing board, opposing government aid," by Leslie Josephs & Dan Mangan, Mar 19, 2020
Senator Ted Cruz press release on H.R.6210: , "Sens. Cruz, Rubio Introduce Bipartisan Uyghur Forced Labor Prevention Act," March 12, 2020
Spectrum News 1, "RFK Jr., Sussman File Lawsuit Challenging End To Religious Exemption For Vaccinations," July 10, 2019, (Link)
Pres. 2024: Reason magazine, "North Dakota Makes it Harder for Police to Take Property Without a Conviction," by Scott Shackford, 5.6.2019, (Link)
Medium.com blog, "The EU-U.S. Relationship: An Interview with Congressman Will Hurd," Apr 23, 2018, (Link)
The Week on 2024 presidential hopefuls, "What Jeff Flake must do next," by Scott Lemieux, Oct. 25, 2017
The Advocate, "New Orleans Mayor Mitch Landrieu slammed as 'unprofessional' by U.S. Sen. John Kennedy in D.C. hearing," by Bryn Stole, Oct 18, 2017
Lambda Legal, "Lambda Legal Honors New Orleans Mayor Mitch Landrieu with 2016 Partners for Equality Award," October 7, 2016
Atlanta Black Star, "Cornel West Talks Race and Gun Control," by Kevin Webb, December 26, 2012, (Link)
Los Angeles Times, "Strict Louisiana Anti-Abortion Measure Vetoed but House Supports an Override," by Garry Boulard, July 7, 1990
OnTheIssues.org excerpts: (click on issues for details)
Abortion
Elizabeth Warren: We have never left individual rights to the states.
Vivek Ramaswamy: Supports state level ban at six weeks when brainwaves begin.
Cornel West: Wrong to be more concerned about abortion than child poverty.
Doug Burgum: Signed strict ban in North Dakota, opposes national ban.
Larry Elder: Abortion is murder, Roe one of the worst Court decisions.
Budget & Economy
Nikki Haley: Resigned from Boeing directorship; opposed government aid.
Vivek Ramaswamy: Unleash the animal inside the heart of the American economy.
Doug Burgum: Balanced the budget every year and passed record tax cuts.
Civil Rights
Robert F. Kennedy Jr.: Against biological males participating in women's sports.
Vivek Ramaswamy: Identifying as transgender can be a sign of mental illness.
Cornel West: If you don't have deep solidarity, diversity means little.
Larry Elder: Opposes rights for transgender people in restrooms, sports.
Nikki Haley: America not racist, nothing could be further from the truth.
Nikki Haley: Transgender women in sports is "women's issue of our time".
Joe Biden: Dangerous to question LGBT rights and contraceptive rights.
Joe Biden: New standard to reinstate college affirmative action.
Corporations
Jeff Flake: Deregulation counters ambition of federal workers.
Crime
Chris Christie: If Trump is convicted, I can't imagine pardoning him.
Doug Burgum: Tightened rules on civil asset forfeiture; curtailed police.
Will Hurd: Defunding the police isn't the answer, follow best practices.
Education
Bernie Sanders: Loan forgiveness helps working families & low-income people.
Vivek Ramaswamy: An advocate of school choice and government vouchers.
Energy & Oil
Ro Khanna: Let's have a moonshot on renewable energy.
Foreign Policy
Bernie Sanders: Russia has been clear about keeping Ukraine out of NATO.
Ro Khanna: We need India as an ally ultimately to contain China.
Vivek Ramaswamy: Defend Taiwan by giving the Taiwanese people guns.
Cornel West: Pro-Palestinians are accused of being anti-Semitic or naive.
Vivek Ramaswamy: Shift focus from NATO to PATO, for Pacific/Asian security.
Free Trade
Will Hurd: Many people have forgotten why free trade is important .
Government Reform
Ted Cruz: Bring Supreme Court case against mail-in ballots.
Robert F. Kennedy Jr.: Criticizes anti-cryptocurrency policies under Biden.
Perry Johnson: Voter ID will be mandatory; won't suppress votes.
Donald Trump: FactCheck: Presidential Records Act irrelevant to Boxes Hoax.
Gun Control
Vivek Ramaswamy: The Second Amendment is our last line of defense.
Cornel West: Good to discuss gun control, but why only with white victims.
Perry Johnson: I am pro-Second Amendment; I am pro-freedom.
Health Care
Robert F. Kennedy Jr.: Un-American to end religious exemptions for vaccinations.
Perry Johnson: Never again will we allow transition therapy for minors.
Homeland Security
Bernie Sanders: Cuba is in US sphere of influence; Ukraine is in Russia's.
Kamala Harris: Target Russian finances to oppose Ukraine invasion.
Immigration
Robert F. Kennedy Jr.: I will enforce a secure border & expand LEGAL immigration.
Cornel West: Treat immigrants with same dignity as any other human being.
Doug Burgum: Sending National Guard to Texas strengthens border security.
Principles & Values
Ted Cruz: One-time critic of Trump ready to argue case on his behalf.
Elizabeth Warren: Supreme Court has lost legitimacy; we need more justices.
Vivek Ramaswamy: We should embrace our national identity and be proud of it.
Vivek Ramaswamy: Judeo-Christian values cornerstone of American identity.
Vivek Ramaswamy: Defining political debate is pro-American vs. anti-American.
Cornel West: Everybody could gain by having a relationship with Jesus.
Cornel West: America is one of the most anti-intellectual cultures.
Tim Scott: Chair of segregationist Strom Thurmond's Senate campaign.
Chris Christie: We can't dismiss the question of character anymore.
Chris Christie: A self-consumed, self-serving mirror hog is not a leader.
Larry Elder: The Bible is the foundation of who and what I am.
Tim Scott: America not in decline; America is the city on the hill.
Donald Trump: FactCheck: No advice-of-counsel defense on election denial.
Tax Reform
Cornel West: Advocates taxing the rich; has $500K+ in federal tax liens.
War & Peace
Bernie Sanders: Invading Ukraine is wrong, but no need to "get tough".
Chris Christie: Trump not backing Ukraine makes him Putin's puppet.
| | |
| --- | --- |
| Click for quotations from other sources by: | |
The above quotations are from Interviews and analysis of presidential hopefuls for 2024.
2023-24 Presidential primary debates: