---
Books by and about 2020 presidential candidates
Crippled America,
by Donald J. Trump (2015)
Fire and Fury,
by Michael Wolff (2018)
Trump Revealed,
by Michael Kranish and Marc Fisher (2016)
The Making of Donald Trump,
by David Cay Johnston (2016)
Promise Me, Dad ,
by Joe Biden (2017)
The Book of Joe ,
by Jeff Wilser (2019; biography of Joe Biden)
The Truths We Hold,
by Kamala Harris (2019)
Smart on Crime,
by Kamala Harris (2010)
Guide to Political Revolution,
by Bernie Sanders (2017)
Where We Go From Here,
by Bernie Sanders (2018)
Our Revolution,
by Bernie Sanders (2016)
This Fight Is Our Fight,
by Elizabeth Warren (2017)
United,
by Cory Booker (2016)
Conscience of a Conservative,
by Jeff Flake (2017)
Two Paths,
by Gov. John Kasich (2017)
Every Other Monday,
by Rep. John Kasich (2010)
Courage is Contagious,
by John Kasich (1998)
Shortest Way Home,
by Pete Buttigieg (2019)
Becoming,
by Michelle Obama (2018)
Higher Loyalty,
by James Comey (2018)
The Making of Donald Trump,
by David Cay Johnston (2017)
Higher Loyalty ,
by James Comey (2018)
Trump vs. Hillary On The Issues ,
by Jesse Gordon (2016)
Outsider in the White House,
by Bernie Sanders (2015)
---
Book Reviews

(from Amazon.com)

(click a book cover for a review or other books by or about the presidency from Amazon.com)
Columns and news articles in The Week magazine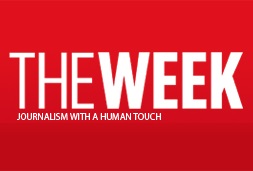 (Click for external website)
Click on a participant to pop-up their full list of quotations
from The Week (number of quotes indicated):
Articles in The Week:
On 2022_AZ_Senate: "Peter Thiel's implausible populists," by Samuel Goldman, July 15, 2021
The Week newsmagazine, "The World at a Glance: Rome: No gay marriage", 3/26/2021
(On 2022 Arkansas Governor race): "Sarah Huckabee Sanders' shameless campaign for governor," by Jeva Lange, January 26, 2021
(On 2022 Maryland Governor race): "Centrists have a solution for Trumpism: Trump Lite," by Ryan Cooper, December 16, 2020
(On 2024 MO Senate race): "The worst argument against breaking up Facebook," by Matthew Walther, December 14, 2020
(On 2021 Biden Administration): "Marco Rubio blasts Biden White House picks for Ivy League degrees--despite Trump administration's similar credentials," November 24, 2020
2018 R.I. Governor's race: "America's rethinking of history is getting ahistorical," by Bonnie Kristian, June 25, 2020
(On 2020 presidential hopefuls): "The Green Party thinks Democrats are a bunch of fake socialists," February 25, 2019
(On Alexandria Ocasio-Cortez): The Week coverage of 2018 Congress NY-14 election, 6/27/2018
On 2024 presidential hopefuls, "What Jeff Flake must do next," by Scott Lemieux, Oct. 25, 2017
(On Mitt Romney): Jon Terbush in The Week magazine, "Romney 2016", 2/3/2014
(On Brian Schweitzer): Michael Warren in The Weekly Standard magazine, 12/23/2013
(On Ben Sasse): The Weekly Standard on 2014 Nebraska Senate race, 6/17/2013
(On Rick Santorum): Santorum's "9 most controversial statements" in The Week, 1/5/2012
(On Mitt Romney & Newt Gingrich): The Week, "A Mandate for Controversy", p. 13, 12/23/2011
(On Buddy Roemer): Response to 2011 Jobs Speech in The Weekly Standard, 9/8/2011
(On Michele Bachmann): Matthew Continetti in The Weekly Standard, "Stay the Course", 6/22/2011
(On Jeb Bush): John McCormack, The Weekly Standard, "Jeb Rips Crist", 10/5/2010
(On John Cox): Matt Labash, The Weekly Standard, "Sane Fringe Candidate", 5/21/2007
(On Matt Blunt): Fred Barnes in The Weekly Standard, 5/22/2006
OnTheIssues.org excerpts: (click on issues for details)
Budget & Economy
Brian Schweitzer: As governor, cut taxes & built budget surplus.
Corporations
Brian Schweitzer: Take over Montana mining company to keep jobs in Montana.
Energy & Oil
Brian Schweitzer: Construct Keystone pipeline; and mine more coal.
Families & Children
Pope Francis: Gay marriage is not ordered to the Creator's plan.
Foreign Policy
Brian Schweitzer: 1980s: Resided and worked in Libya and Saudi Arabia.
Government Reform
Larry Hogan: Just like Trump he refuses to release his tax returns.
Brian Schweitzer: Used cattle brand saying "VETO" to publicly burn bad bills.
Gun Control
Brian Schweitzer: Gun control means, "You control yours & I'll control mine".
Health Care
Brian Schweitzer: ObamaCare was written by Big Pharma & insurance lobbyists.
Immigration
Sarah Huckabee Sanders: Some immigrants are worse than animals.
Principles & Values
Blake Masters: For patriotic education, mourns loss of American optimism.
Marco Rubio: Ivy League degrees make caretakers of decline.
Gina Raimondo: Remove "Providence Plantations" from state documents.
Lincoln Chafee: Focus on pocketbook issues; be flexible on social issues.
Mitt Romney: Documentary movie "Mitt" about post-2012 recovery.
Brian Schweitzer: Legislators can't act; executives change the world.
Tax Reform
Lincoln Chafee: Ordinary Republicans vote against their economic interests.
Technology
Bernie Sanders: Facebook is anti-competitive, should be broken up.
Josh Hawley: Facebook is anti-competitive, should be broken up.
| | |
| --- | --- |
| Click for quotations from other sources by: | |
The above quotations are from Columns and news articles in The Week magazine.