---
Books by and about 2020 presidential candidates
Crippled America,
by Donald J. Trump (2015)
Fire and Fury,
by Michael Wolff (2018)
Trump Revealed,
by Michael Kranish and Marc Fisher (2016)
The Making of Donald Trump,
by David Cay Johnston (2016)
Promise Me, Dad ,
by Joe Biden (2017)
The Book of Joe ,
by Jeff Wilser (2019; biography of Joe Biden)
The Truths We Hold,
by Kamala Harris (2019)
Smart on Crime,
by Kamala Harris (2010)
Guide to Political Revolution,
by Bernie Sanders (2017)
Where We Go From Here,
by Bernie Sanders (2018)
Our Revolution,
by Bernie Sanders (2016)
This Fight Is Our Fight,
by Elizabeth Warren (2017)
United,
by Cory Booker (2016)
Conscience of a Conservative,
by Jeff Flake (2017)
Two Paths,
by Gov. John Kasich (2017)
Every Other Monday,
by Rep. John Kasich (2010)
Courage is Contagious,
by John Kasich (1998)
Shortest Way Home,
by Pete Buttigieg (2019)
Becoming,
by Michelle Obama (2018)
Higher Loyalty,
by James Comey (2018)
The Making of Donald Trump,
by David Cay Johnston (2017)
Higher Loyalty ,
by James Comey (2018)
Trump vs. Hillary On The Issues ,
by Jesse Gordon (2016)
Outsider in the White House,
by Bernie Sanders (2015)
---
Book Reviews

(from Amazon.com)

(click a book cover for a review or other books by or about the presidency from Amazon.com)
Media coverage of NC political races in The Raleigh News-Observer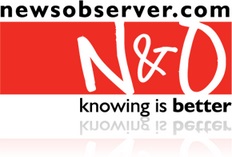 (Click for external website)
Click on a participant to pop-up their full list of quotations
from The Raleigh News-Observer (number of quotes indicated):
Articles from The Raleigh News-Observer:
The News & Observer, "'Hell's gates': Speech by NC Lt. Gov. Robinson takes aim at schools, transgender people," by Dawn Baumgartner Vaughan, July 24, 2023, (Link)
NC-4 House race: The Raleigh News & Observer, "Valerie Foushee, candidate for U.S. House District 4 in NC," by Dawn Baumgartner Vaughan, October 14, 2022, (Link)
The News & Observer, "Rett Newton, candidate for US Senate," by Danielle Battaglia, April 26, 2022
The News & Observer, "Muslim 'invaders' and transgender 'delusion': Lt. gov. candidate's posts draw criticism," by Colin Campbell, October 10, 2020, (Link)
On 2022 NC Senate race: "Emotional NC Supreme Court chief says racism, prejudice 'stubbornly persist' in courts," by Josh Shaffer and Will Doran, June 02, 2020
On 2020-NC-Senate: "COVID-19 underscores a rural NC need," by Cal Cunningham, April 06, 2020
On 2020-NC Gov: "Here's our guide for procrastinators like you," by Will Doran, March 02, 2020
On 2020-NC-Senate, Raleigh News-Observer on Greg Brannon, 12/21/2015
On 2012-NC-Gov, Raleigh News-Observer on Syrian Refugees, 11/19/2015
(more coverage citations to follow...)
OnTheIssues.org excerpts: (click on issues for details)
Abortion
Dan Forest: Claims Planned Parenthood was created to destroy black race.
Holly Grange: Highlights anti-abortion stance in campaign announcement.
Pat McCrory: Stricter regulations on abortions & abortion clinics.
Rett Newton: States would need to enact legislation if Roe overturned.
Mark Robinson: Made wrong decision getting abortion, are adamantly pro-life.
Civil Rights
Rudy Giuliani: Extended all city benefits to same-sex couples.
Crime
Cheri Beasley: Bail reform shows promising results in pilot programs.
Dan Forest: Restore law and order, violent criminals roam free.
Ken Spaulding: Retry police officer who shot to death a young black man.
Drugs
Roy Cooper: Launched state's first Opioid Action Plan in 2017.
Education
Dan Forest: Provide students with options: Opportunity Scholarships.
Holly Grange: Wants teacher pay to be tops in the region.
Ken Spaulding: Private school vouchers will re-segregate our public schools.
Pat McCrory: Expand school choice, charter schools and home schools.
Roy Cooper: Proposed 9.1% pay increase for teachers, 8.5% compromise.
Thom Tillis: FactCheck: Passed school budget of $23.1B, but no cuts.
Energy & Oil
Holly Grange: Make strides in renewable energy, be stewards of resources.
Kay Hagan: Opposed offshore drilling until August compromise.
Roy Cooper: Cut greenhouse gas emissions 40% by 2025, 70% by 2030.
Shenna Bellows: Green energy solutions instead of nuclear energy.
Environment
Dan Forest: Protect environment, no to "apocalyptic alarmism".
Government Reform
Kay Hagan: Washington experience means putting special interests first.
Shenna Bellows: Funding her campaign $5 at a time from local events.
Gun Control
Shenna Bellows: Was NRA member, but left because they became too extreme.
Health Care
Dan Forest: Against Medicaid expansion under Affordable Care Act.
Holly Grange: Against Medicaid expansion, favors work requirements.
Thom Tillis: AdWatch: TV PAC attack on ObamaCare is a "badge of honor".
Homeland Security
Holly Grange: US Army veteran: duty, honor, country.
Ken Spaulding: 18-to-24 months for Syrian refugees is plenty of vetting.
Roy Cooper: Pause Syrians for most effective screening process possible.
Shenna Bellows: We cannot afford to be the world's policemen.
Walter Beaman Jones: Coined "freedom fries" for Iraq War; but later opposed war.
Immigration
Dan Forest: No nation has ever survived diversity and multiculturalism.
Elizabeth Dole: Crackdown on illegal immigrants who commit crimes.
Holly Grange: Mandate that sheriffs comply with ICE requests.
Kay Hagan: Supports increased border security and opposes amnesty.
Pat McCrory: Stop sending Syrian refugees to North Carolina.
Roy Cooper: Supports "pause" in Syrian refugee immigration to NC.
Mark Robinson: Muslims are not immigrants; they are INVADERS.
Jobs
Dan Forest: State should look to the future in attracting companies.
Holly Grange: Recruit American companies bringing good, high paying jobs.
Holly Grange: Companies getting incentives must bring new local jobs.
Shenna Bellows: Increase minimum wage to make it a living wage.
Principles & Values
Cheri Beasley: First black female chief justice of state Supreme Court.
Elizabeth Dole: Broad experience in Washington & major-league clout.
Garland Tucker: Was less pro-Trump than anti-Clinton.
Greg Brannon: Tea Party supporter of constitutional conservative fighters.
Holly Grange: Leaders bring people together to get things done.
Ken Spaulding: Land development lawyer; served six years in the state House.
Shenna Bellows: Calls herself a progressive libertarian.
Walter Beaman Jones: Served in NC House as Democrat; then US House as Republican.
Mark Robinson: God won't to tolerate the decline of Western civilization.
Mark Robinson: Urged people to thank God for living "in a blessed country".
Social Security
Mark Harris: Aim to keep Social Security solvent.
Tax Reform
Dan Forest: Best business incentive is tax relief.
Elizabeth Dole: Sales tax, income tax, food tax, liquor tax: it's too much.
Thom Tillis: FactCheck: Kept sales tax at 3% on yachts & jet owners.
Technology
Cal Cunningham: Invest in high-speed broadband, other infrastructure.
War & Peace
Elizabeth Dole: Mistakes were made, but no precipitous withdrawal from Iraq.
Holly Grange: Worked with Democrats on taking care of veterans.
Kay Hagan: The Iraq war had not made the U.S. safer.
Walter Beaman Jones: My 2001 pro-Iraq war vote helped kill 4,000 Americans.