---
Books by and about 2020 presidential candidates
Crippled America,
by Donald J. Trump (2015)
Fire and Fury,
by Michael Wolff (2018)
Trump Revealed,
by Michael Kranish and Marc Fisher (2016)
The Making of Donald Trump,
by David Cay Johnston (2016)
Promise Me, Dad ,
by Joe Biden (2017)
The Book of Joe ,
by Jeff Wilser (2019; biography of Joe Biden)
The Truths We Hold,
by Kamala Harris (2019)
Smart on Crime,
by Kamala Harris (2010)
Guide to Political Revolution,
by Bernie Sanders (2017)
Where We Go From Here,
by Bernie Sanders (2018)
Our Revolution,
by Bernie Sanders (2016)
This Fight Is Our Fight,
by Elizabeth Warren (2017)
United,
by Cory Booker (2016)
Conscience of a Conservative,
by Jeff Flake (2017)
Two Paths,
by Gov. John Kasich (2017)
Every Other Monday,
by Rep. John Kasich (2010)
Courage is Contagious,
by John Kasich (1998)
Shortest Way Home,
by Pete Buttigieg (2019)
Becoming,
by Michelle Obama (2018)
Higher Loyalty,
by James Comey (2018)
The Making of Donald Trump,
by David Cay Johnston (2017)
Higher Loyalty ,
by James Comey (2018)
Trump vs. Hillary On The Issues ,
by Jesse Gordon (2016)
Outsider in the White House,
by Bernie Sanders (2015)
---
Book Reviews

(from Amazon.com)

(click a book cover for a review or other books by or about the presidency from Amazon.com)
CBS "Face the Nation" interviews during 2021
(Margaret Brennan interviewing candidates for 2021-20 races)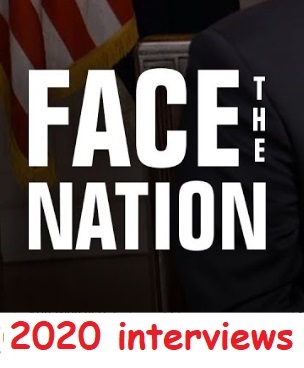 (Click for external website)
Click on a participant to pop-up their full list of quotations
from CBS "Face the Nation" interviews during 2021 (number of quotes indicated):
A long-standing political tradition is the Sunday morning talk show, beginning with "Meet the Press" in 1947. Currently, five separate "talking head" programs appear on five different TV stations every Sunday morning. OnTheIssues.org excerpts all five of the shows, listed below, with their respective interviewing pundits and each pundit's political affiliation:
ABC This Week: 9 AM - 10 AM EST: (Martha Raddatz & George Stephanopoulos; liberal; from Bill Clinton's staff)
CNN "State of the Union": 9 AM - 1 PM EST: (Jake Tapper and Dana Bash; moderate liberal)
Fox News Sunday: 9 AM EST; rebroadcast 2 PM: (Chris Wallace and Bret Baier; conservative)
NBC Meet the Press: 9 AM EST; rebroadcast 4 AM Monday: (Chuck Todd; moderate)
CBS Face the Nation: 10:30 AM - 11:30 AM EST(Margaret Brennan and John Dickerson; moderate)
Citations:
"Face the Nation" on November 14, 2021, Janet Yellen, secretary of the treasury
"Face the Nation" on October 31, 2021, Gina Raimondo, Secretary of Commerce, and Antony Blinken, Secretary of State
"Face the Nation" on October 3, 2021, Gov. Jim Justice, (R) West Virginia
"Face the Nation" on September 26, 2021, Senator Tim Scott, Republican of South Carolina
"Face the Nation" on August 22, 2021, Nikki Haley -- former U.N. ambassador, and Secretary of State Antony Blinken
"Face the Nation" on August 15, 2021, New York Lieutenant Governor Kathy Hochul
"Face the Nation" on July 4, 2021, Governor Kate Brown -- Democrat of Oregon and Governor Spencer Cox -- Republican of Utah
LA-5 House race: Host Margaret Brennan interviews Janet Letlow, 3/28/21
OPE Confirmation Hearings: Face the Nation Transcript: interview of Rep. Cedric Richmond, December 13, 2020
...more citations to follow
OnTheIssues.org excerpts: (click on issues for details)
Abortion
Glenn Youngkin: Court lets each state make its own decision on abortion.
Civil Rights
Kathy Hochul: No longer barriers/ceiling to women in government.
Crime
Tim Scott: Losing grants for inaction is defunding the police.
Education
Glenn Youngkin: We shouldn't play privilege bingo with children.
Energy & Oil
Antony Blinken: Climate change not tomorrow's problem; it's today's problem.
Antony Blinken: China's incentive on climate change not being world outlier.
Gun Control
Eric Adams: We have to stop the flow of guns; get them off the street.
Health Care
Jim Justice: Mandates divide us, for crying out loud we're Americans.
Homeland Security
Antony Blinken: Can deal with terrorist threats without boots on the ground.
Immigration
Kate Brown: Undocumented families hurt by fires deserve assistance.
Ken Cuccinelli: Politicians interfere with efforts of ICE to do their job.
Jobs
Janet Yellen: Paid leave important, but tax credit and pre-K helps women.
Julia Letlow: Pay equity is definitely something that I will look into.
Principles & Values
Julia Letlow: The Lord doesn't waste an experience good or bad.
Spencer Cox: Everything has become political, that's a huge mistake.
Technology
Gina Raimondo: Incentivize domestic computer chip production, not mandate.
War & Peace
Antony Blinken: It was in our interests to end America's longest war.
Nikki Haley: Have to negotiate from strength, Biden surrendered.
| | |
| --- | --- |
| Click for quotations from other sources by: | |
The above quotations are from CBS "Face the Nation" interviews during 2021
(Margaret Brennan interviewing candidates for 2021-20 races).
Related interviews from Sunday morning talk shows:

2021 Sunday pundit shows (2021 events; 2022 Senate races and 2021-2023 gubernatorial races):



2020 Sunday pundit shows (2020 Senate races and 2020 presidential race):