Winning Right
Campaign Politics and Conservative Policies,
by Ed Gillespie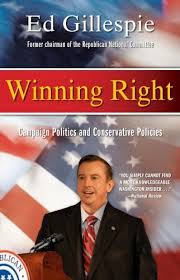 (Click for Amazon book review)
Click on a participant to pop-up their full list of quotations
from Winning Right, by Ed Gillespie (number of quotes indicated):
Ed Gillespie (5)
Elizabeth Dole (2)
OR click on an issue category below for a subset.
Error processing SSI file
OnTheIssues.org excerpts: (click on issues for details)
Free Trade
Elizabeth Dole: Supported NAFTA despite cheap textile imports.
Health Care
Ed Gillespie: 1993: HillaryCare bureaucracy meant job-killing mandates.
Homeland Security
Ed Gillespie: 2004: Kerry voted against many important weapons systems.
Principles & Values
Ed Gillespie: 1994: Named the legislation in the Contract With America.
Ed Gillespie: If you can name something, you can control it.
Social Security
Elizabeth Dole: Personal accounts avoid system going broke.
War & Peace
Ed Gillespie: Bush was insightful and resolute in War on Terror.
| | |
| --- | --- |
| Click for quotations from other sources by: | |
The above quotations are from Winning Right
Campaign Politics and Conservative Policies,
by Ed Gillespie. Error processing SSI file

Page last edited: Jan 11, 2014