---
Books by and about 2016 presidential candidates
Hard Choices,
by Hillary Clinton (2014)
Crippled America ,
by Donald J. Trump (2015)
Trump vs. Hillary On The Issues ,
by Jesse Gordon (2016)
Outsider in the White House,
by Bernie Sanders (2015)
American Dreams,
by Marco Rubio (2015)
Taking a Stand,
by Rand Paul (2015)
Unintimidated,
by Scott Walker (2013)
A Time for Truth,
by Ted Cruz (2015)
One Nation,
by Ben Carson (2014)
Trump/Pence vs. Clinton/Kaine On the Issues ,
by Jesse Gordon (2016)
Living History ,
by Hillary Rodham Clinton (2003)
Between Hope and History ,
by Bill Clinton (1996)
In Harmís Way ,
by Dr. Jill Stein (2000)
Democrat vs. Republican vs. Green vs. Libertarian,
Four Party's Presidential Nominees On The Issues (2016)
Books by and about 2012 presidential candidates
Ten Letters
about Pres. Barack Obama (2011)
Do Not Ask What Good We Do
about Rep. Paul Ryan (2012)
---
Book Reviews

(from Amazon.com)

(click a book cover for a review or other books by or about the presidency from Amazon.com)
Every Other Monday
Twenty Years of Life, Lunch, Faith, and Friendship, by John Kasich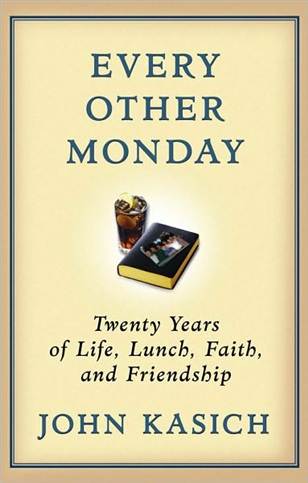 (Click for Amazon book review)
Click here for 18 full quotes from John Kasich in the book Every Other Monday, by John Kasich. Click here for 2 full quotes from New Testament in the book Every Other Monday, by John Kasich. Click here for 2 full quotes from Old Testament in the book Every Other Monday, by John Kasich.
OR click on an issue category below for a subset.
BOOK REVIEW by OnTheIssues.org:
This book was written by a candidate with presidential ambitions -- John Kasich ran for president in 1999-2000 after retiring from Congress after 9 terms. But he didn't write it while he was running for president -- he wrote it while he was running for Governor of Ohio in 2010 (he won). The contents of the book describe the period in which he served as a member of Congress, from 1983 to 2001.
During his time in Congress, Kasich met every other Monday for a Bible study group with other like-minded men. This book's primary purpose is to describe how the Bible study group got started; how it came to be the defining event of Kasich's life; and what he took from it for the rest of his life.
It's not actually a political book at all; but of course, since he was serving in Congress at the time, Kasich describes numerous political viewpoints. So why did Kasich write this book? One might think he is planning to run for President again. Certainly, with a governorship under his belt, he is much more eligible in 2016 than he was in 2000 with just Congressional service on his resume. And perhaps he wrote it to shore up his support in the religious community during his gubernatorial run.
But mostly, we think he wrote it because he wanted to tell the story -- Kasich's way of spreading the Good News of his biweekly Bible study group.
Our political excerpts appear below (and some religious excerpts). But we want to comment on one of Kasich's biblical interpretations. He describes Moses as "aggressively" working hard to get an audience with the pharaoh to get an audience: "How a guy like Moses ever returns from his exile to have a private word with the pharaoh is itself remarkable. How do you get that done? It's like calling the Oval Office and asking for an appointment." (p. 131) Moses is just a guy returning from exile? That's not what I read in the Bible! Moses was a fallen prince, who would have become pharaoh himself had he NOT been exiled. Would Pres. Bush have accepted Al Gore's appointment request at the Oval Office? Yes, I think so -- Bush exiled Gore to the political wilderness; therefore, Gore could certainly call up anytime. And just like Gore knew the private phone number from his time as V.P., Moses knew the private means of contacting the pharaoh from his time in the previous pharaoh's administration.
In other words, we disagree with Kasich's biblical interpretations as much as we disagree with his political interpretations. But you can read the book for either one.
-- Jesse Gordon, editor-in-chief, OnTheIssues.org, May 2011, [email protected]

OnTheIssues.org excerpts: (click on issues for details)
Abortion
Admire pregnant women who don't treat cancer to protect baby.
Civil Rights
Admires courage of Aung San Suu Kyi & Rosa Parks.
Crime
Columbine victims showed courage by not renouncing God.
It's God's job to judge if punishment fits the crime.
Speck in his eye? God should judge, not Man.
Education
Daughters attend a Christian school.
David beat Goliath because he practiced and had faith.
Bible stories are historical facts.
Some Bible stories are metaphors; some are historical facts.
Did earth come about on its own? Evidence says No.
Government Reform
Bible study group swelled during 1992 House banking scandal.
Separating church and state is goofy misinterpretation.
Principles & Values
Belonged to Bible study group for 20 years.
I find God every other Monday.
Learned faith via pastor dying of cancer.
Sought God after parents' death in car crash.
Living life of faith can be a liberating thing.
Biblical manifesto: old law is gone; have faith in God.
Romans 12 manifesto: old law is gone; have faith in God.
Objective moral values have existed since Creation.
Hosted Fox News program "Heartland with John Kasich".
Technology
Faith matters, but so does building up expertise.
| | |
| --- | --- |
| Click for quotations from other sources by: | |
The above quotations are from Every Other Monday
Twenty Years of Life, Lunch, Faith, and Friendship, by John Kasich.
Related books, debates, and candidates: