The Debt Bomb
A Bold Plan to Stop Washington from Bankrupting America
by John Hart and Sen. Tom Coburn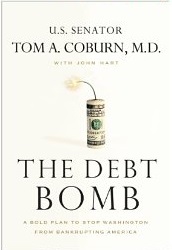 (Click for Amazon book review)
Click on a participant to pop-up their full list of quotations
from The Debt Bomb, by Sen. Tom Coburn (number of quotes indicated):
Erskine Bowles (1) 2004 former Democrat challenger; former W.H. Chief of Staff North Carolina
Milton Friedman (1)
Tom Coburn (3) Republican Jr Senator; previously Representative Oklahoma
OR click on an issue category below for a subset.
OnTheIssues.org BOOK REVIEW:
This book is a heavy-duty analysis of the national debt and its long-term implications, written by heavy-duty analyst Senator Tom Coburn. The author serves on the Senate banking committee and the Homeland Security finance subcommittee, which means that financial issues are his legislative specialty. The catch is that this is a heavy-duty REPUBLICAN analysis, with only a limited attempt at non-partisanship or even bipartisanship.
Coburn's most partisan offense is what we call "The Big Lie" of Republican budget analysis: citing only entitlements as sources of the nation's debt, while ignoring defense spending. On charts on pp. 16-7, and in analyses elsewhere in the book, Coburn cites only four categories of "Sources of Long-Term Debt": Interest costs, Medicare and Medicaid, Social Security, and Other Spending. Coburn's thesis is that "Other Spending," the biggest category at the time the book was written, will shrink in the future, while entitlements and interest grow. The Big Lie is that in the FY2013 budget, defense spending is MOST of "Other Spending," comprising $797 billion compared to $565 billion of all other discretionary spending. That compares to $820 billion for Medicare/Medicaid and $811 billion for Social Security. If one counts the defense-related departments -- $60 billion for the Department of Veterans Affairs and $55 billion for the Department of Homeland Security (also counted by Coburn in "Other Spending") -- defense spending is larger than either major entitlement program.
This Big Lie is a fixture of Republican budget analysis -- pretending that defense spending can't be meaningfully cut. But Democrats are just as guilty -- pretending that entitlements can't be meaningfully cut, for example by calling them "entitlements." Coburn suggests the solution for entitlements is to privatize Social Security (p. 208) and to raise the retirement age for Medicare (p. 199). Those indeed get at the heart of the spending issues for entitlements -- but on defense, Coburn avoids getting at the heart of the issue. All of Coburn's suggestions for defense spending cuts are to trim around the edges, like reducing waste in contracting (p. 260ff), rather than actually reducing, for example, military overseas operations (he voted three times during the period this book was written to keep US troops in Iraq, see VoteMatch question 17, with no offsetting cuts to pay for it).
Coburn is sincere, evidently, in his goal of reducing waste in defense spending as well as other spending. He keeps a 400-page list which he called "Coburn's Bible" (p. 152), citing wasteful federal expenditures. His list includes defense spending waste, such as millions spent for each defense branch to maintain a Hollywood liaison office (p. 189), presumably so that each branch will be portrayed well in films. But there is a limit to how much can be saved by reducing waste -- which is why Coburn's recommendations for entitlements go well beyond waste into real programmatic cuts -- Coburn suggests no such real programmatic cuts for defense.
Coburn's sincerity in cutting waste, and in cutting the deficit in general, is evidenced by his self-imposed rule that all new legislative spending must be offset by cuts elsewhere. There once was a congressionally-imposed rule, known as PAYGO, but it expired in 2002. Coburn, in his role on Senate finance committees, has re-imposed the rule unilaterally, by requiring all bills that pass through his committees to define offsets for new revenue (pp. 115-22). Coburn details in that section how he took partisan hits for that rule, but we would like to read from his opponents exactly when it was enforced and when it was breached. PAYGO has resurfaced as an issue -- mostly for policy wonks -- but if it passes, this book and Coburn will deserve some credit.
With this book, Coburn could position himself as the next Al Gore regarding Reinventing Government -- the Coburn Bible and its 400 pages of wasteful programs would make a fine starting point, which is exactly how Gore started his ReGo campaign, by ridiculing the worst federal programs. Overall, Coburn's book is a solid piece of work for readers interested in the national debt. Readers should read at least one other book from the liberal perspective, to offset Coburn's partisanship.
-- Jesse Gordon, editor-in-chief, OnTheIssues.org, June 2014
OnTheIssues.org excerpts: (click on issues for details)
Budget & Economy
Erskine Bowles: Debt is a cancer that destroys country from within.
Milton Friedman: Gov't inefficiency comes from spending other people's money.
Tom Coburn: Five stages to trigger the Debt Bomb.
Health Care
Tom Coburn: Some patients will die sooner under ObamaCare's coercion.
Homeland Security
Tom Coburn: Focus military research on militarily-related diseases.
Click for quotations from other sources by:
Erskine Bowles 2004 former Democrat challenger; former W.H. Chief of Staff North Carolina
Tom Coburn Republican Jr Senator; previously Representative Oklahoma
The above quotations are from The Debt Bomb
A Bold Plan to Stop Washington from Bankrupting America
by John Hart and Sen. Tom Coburn.