A Fighting Chance
by Sen. Elizabeth Warren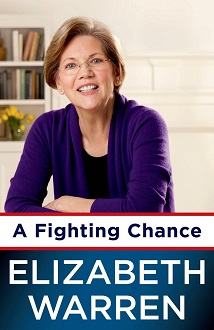 (Click for Amazon book review)
Click on a participant to pop-up their full list of quotations
from A Fighting Chance, by Elizabeth Warren (number of quotes indicated):
Elizabeth Warren (1)
Martha Coakley (1)
OR click on an issue category below for a subset.
OnTheIssues.org BOOK REVIEW:
There has been a lot of speculation this year about whether Elizabeth Warren would run for President in 2016, presenting a progressive alternative to Hillary Clinton. This book would have been her chance to lay the foundation for such a run, if she had laid out her national vision in the book. But she did not, which says clearly that Warren actually means it when she says she is not planning to run in 2016. Hillary's book, in contrast, DOES lay out Hillary's world view; and hence is appropriately seen as pre-2016 preparation. If Warren is planning to run for president, she will need another book that is broader in its scope.
This book is narrow in its scope: focusing almost entirely on financial issues, in which Warren is a national leader. We do excerpt the few tidbits where Warren talks about other issues (she's for gun control, p. 237; she's for green energy, p. 333; she's for trans-gendered rights, p. 229; etc.) but those are just minor asides amidst the financial discussion. Warren is just now, after one full year in the Senate, getting her feet wet on being a national spokesperson for issues outside her area of expertise. That is a proper role for Senators, and a necessary role for presidential candidates -- but one that Warren has not taken on before, which means she's not yet ready for a presidential run.
This book sure does have a lot of detail on areas where Warren IS a national spokesperson already -- especially on details of the financial crisis of 2008 and its aftermath, focusing on TARP and COP (Troubled Asset Relief Program and the Congressional Oversight Panel). Warren explains it from the progressive viewpoint -- but it's such a complex mess that one viewpoint is insufficient to fully explain it. Her viewpoint is that "Too Big to Fail" for banks is bad for the people but great for the bankers, so the bankers spent lots of taxpayer money to ensure they did well. Her viewpoint is summarized by the title of chapter 3, "Bailing Out the Wrong People". She also addresses the cause of the financial crisis: in her view, deregulation cause the whole mess (p. 177).
There's also a lot about the formation of the Consumer Financial Protection Bureau, which she considers a victory of the people against the bankers. (The bankers spent $1 million a day on lobbying against it, she says on p.161, but the bankers lost). Finances would seem like a boring topic, but she keeps it interesting by putting the seriously boring stuff into extensive "Notes" -- 58 pages worth of notes for only 273 pages of text. We do excerpt some of the notes, so even those aren't THAT boring.
Warren goes back prior to the 2008 financial crisis too. There's a lot about the changes to bankruptcy laws in 2005 (which she similarly describes as good for banks and bad for people, p. 34, p, 80, p. 279, p. 282, etc.) This really is her specialty: financial law, and as a watchdog on banking laws. She previously wrote another book, called "The Two-Income Trap", on family financial pressures -- we will eventually excerpt and review that book too!
So bottom line: Warren is not running for president in 2016. She has a lot to say about finances, and a little bit to say about other issues. What she says about finances makes it almost comprehensible for normal people. I can't say that after reading this book I actually understood the financial crisis (can ANYONE other than financial experts fully understand such a mess?), but I certainly understood Warren's perspective on it. I would have liked to have seen the other side's viewpoint portrayed in a less polemical manner: Warren was advocating against the financial lobbyists in this book, rather than trying to explain the two sides of the issue. That limits the reader's understanding, but serves Warren's purpose -- she has established herself as a national leader on this issue, and is poised to establish herself as a national leader on all issues. Maybe 2020….
-- Jesse Gordon, editor-in-chief, OnTheIssues.org, June 2014
OnTheIssues.org excerpts: (click on issues for details)
Budget & Economy
Elizabeth Warren: Banking lobbyists fought me on bank consumer protection.
Corporations
Martha Coakley: Wrote op-ed advocating for bank consumer protection agency.
| | |
| --- | --- |
| Click for quotations from other sources by: | |
The above quotations are from A Fighting Chance
by Sen. Elizabeth Warren.