A State of Opportunity,
by Eliot Cutler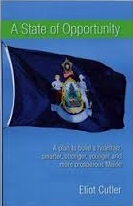 Click here for 13 full quotes from Eliot Cutler in the book A State of Opportunity, by Eliot Cutler.
OR click on an issue category below for a subset.
Error processing SSI file
OnTheIssues.org excerpts: (click on issues for details)
Budget & Economy
We lack long-term plan for economy due to partisan bickering.
Education
State funding for public charter schools.
State funding, not local property taxes, for public schools.
Merge colleges into one system to avoid balkanization.
Government Reform
North Carolina retooled strategically: Maine should do same.
Office of The Grim Repealer: remove outdated regulations.
Citizens United opened floodgates to corrupt politics.
Health Care
Universal access to quality health care.
Immigration
Aggressively court educated and skilled legal immigrants.
Local Issues
Promote year-round destination tourism & cultural tourism.
Principles & Values
New non-partisan vision: not right; not left; but forward.
Tax Reform
Property tax and sales tax are regressive.
Technology
State & local responsibility to fund public infrastructure.
| | |
| --- | --- |
| Click for quotations from other sources by: | |
The above quotations are from A State of Opportunity,
by Eliot Cutler. Error processing SSI file

Page last edited: Jan 29, 2014