Power Lines
Two Years on South Africa's Borders
by Jason Carter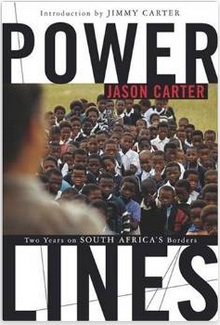 (Click for Amazon book review)
Click on a participant to pop-up their full list of quotations
from Power Lines, by Jason Carter (number of quotes indicated):
Jason Carter (1)
OR click on an issue category below for a subset.
OnTheIssues.org BOOK REVIEW:
Jason Carter is the grandson of President Jimmy Carter and the son of Jack Carter. Jack ran for Senate in Nevada in 2006, and Jason is running for Governor of Georgia in 2014, after serving as State Senator since 2010. But this book isn't about politics; it's about Jason's service in the Peace Corps in the Republic of South Africa in 1997-1999.
You might recall that Miz Lillian, Jimmy Carter's mother and Jason Carter's great-grandmother, served in the Peace Corps in India in 1966. Jason compares his own service to hers often; mostly, he focuses on how she resided in an inaccessible community, while he was always only a short distance from the First World. Jason's inaccessibility was because he resided in a black South African "township", whose Third World residents were physically close to the First World of South Africa's white cities, but were culturally isolated. Jason's task in the Peace Corps was to help dismantle that cultural isolation, which was caused by decades of apartheid, the official racism of white-ruled South Africa.
Apartheid ended in 1994, when Nelson Mandela was freed from prison and elected as South Africa's first black president. But the legacy of apartheid continued for many years because everything in South Africa was structurally set up to keep the two races separate. The title of the book refers to that structural set up: Jason's town had power lines running through it to service the nearby white city, but the township itself had no electricity (with several citations and a picture following p. 136). The roadways, too, were part of the structural set up of separateness: Jason often hitchhiked on the main highway near his town, with whites, who could not see the township from the highway (by intentional setup) and never thought about it anyway.
This book is a fascinating look at post-apartheid South Africa; I could not put it down. But I read it because Jason is running for Governor of Georgia, and I hoped to find some issue stances here. Alas, there are very few (we excerpt anything even hinting at an issue stance!). It is Jason's only published book, so it will have to do. He is running against incumbent Republican Governor Nathan Deal, and it looks to be a close and exciting race. If Jason wins, which means the Carter family will then have established a family legacy, this book will become much more important, and will presumably become Jason's first book of many political books.
-- Jesse Gordon, editor-in-chief, OnTheIssues.org, August 2014
OnTheIssues.org excerpts: (click on issues for details)
Foreign Policy
Jason Carter: 1997: Monitored Liberian elections with Carter Center.
| | |
| --- | --- |
| Click for quotations from other sources by: | |
The above quotations are from Power Lines
Two Years on South Africa's Borders
by Jason Carter.


2014 Governors' book excerpts: