The Hill e-magazine coverage and analysis of 2010-2013 campaigns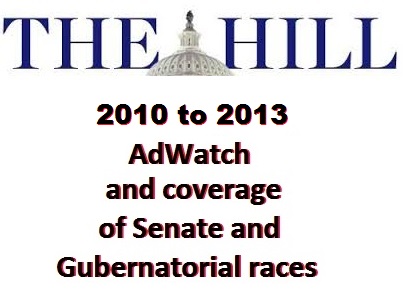 (Click for external website)
Click on a participant to pop-up their full list of quotations
from The Hill 2010-2013 (number of quotes indicated):
EXPLANATORY NOTE by OnTheIssues.org:
Starting well before each election, candidates produce and air politicial advertisements. Since Citizens United took effect, PACs have produced many campaign ads too.
In modern campaigns, ads might be on TV, but also might be via email, web video, Tweets, or other social media.
Political pundit publications, such as The Hill and Rollcall, analyze campaign advertisements as well as campaign events (although at OnTheIssues we ignore their relentless coverage of polls; since we consider them irrelevant to normal voters and relevant only to pundits!)
OnTheIssues.org reviews those ads and analyses for relevant issue content, including opponents' responses when available. Sometimes we transcribe the ads from video or audio; sometimes we include commentary; all the time, we urge paying attention to the opponent of each advertiser too, to get the full story!
OnTheIssues.org excerpts: (click on issues for details)
Abortion
Steve Lynch: Opposes abortion funding but funded Planned Parenthood.
Chris Coons: Make abortion safe, legal and rare.
Christine O`Donnell: Converted to pro-life position.
Budget & Economy
Steve Lynch: Supported sequestration and opposed financial bailouts.
Richard Carmona: Supply-side economics is valid.
Dennis Rehberg: Refused to toe the party line on CAFTA.
Chris Coons: Bailout was done too fast and put billions at risk.
Environment
Steve Lynch: Help Massachusetts fishermen as working class.
Families & Children
Christine O`Donnell: 1990s: espoused anti-masturbation; porn is akin to adultery.
Government Reform
Richard Carmona: All earmarks are not pork.
Deb Fischer: Accused of coordinating anti-Bruning TV ad with super-PAC.
Christine O`Donnell: Private sector solutions over growth of government.
Health Care
Ed Markey: Supported ObamaCare but would repeal aspects of it.
Steve Lynch: Opposed ObamaCare and would repeal aspects of it.
Richard Carmona: Would not have voted for ObamaCare.
Richard Carmona: Eliminate waste, fraud, & abuse--then prevention.
Chris Coons: Responsibly implement healthcare law while containing costs.
Christine O`Donnell: Full repeal of invasive & intrusive healthcare law.
Immigration
Jon Tester: Touts bipartisanship; voted against DREAM Act.
Principles & Values
Deb Fischer: Ran underdog primary campaign on shoestring budget.
Deb Fischer: Do Nebraskans want more career politician in Washington?
Chris Coons: Focuses on his experience; will fight on Delaware issues.
Tax Reform
Jeff Flake: I have not and will not sign Americans for Tax Reform pledge.
Jeff Flake: Full extension of Bush tax cuts.
Richard Carmona: Extend Bush tax cuts as part of comprehensive reform.
War & Peace
Richard Carmona: Whatever means necessary to prevent Iranian nukes.
| | |
| --- | --- |
| Click for quotations from other sources by: | |
The above quotations are from The Hill e-magazine coverage and analysis of 2010-2013 campaigns.


2014 Governors' book excerpts: