Dialogues
by Gov. Jerry Brown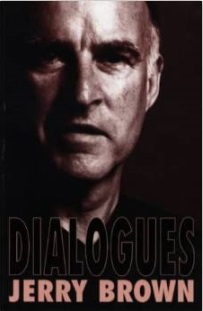 (Click for Amazon book review)
Click on a participant to pop-up their full list of quotations
from Dialogues, by Jerry Brown (number of quotes indicated):
Harry S Truman (1)
Jerry Brown (20)
Noam Chomsky (1)
OR click on an issue category below for a subset.
OnTheIssues.org BOOK REVIEW:
Jerry Brown has had an unusual political career. He is currently running for re-election as Governor of California, after winning a four-year term in 2010. But he previously served two terms, from 1975-1983, and in between ran for President twice, got elected as mayor of Oakland, and got elected statewide to a lower-level post as Attorney General. This will likely be his last election, since he is currently 76 years old, but with a career like his, one never knows.
This book is from one of the interim periods between elective office, when Brown ran a national call-in radio program called "We The People" (1994-1998, after running for President in 1992 and before running for Mayor in 1998). Brown interviewed political and cultural figures, and transcribed the most interesting shows into the bulk of this book. His guests ranged from Noam Chomsky (a progressive political activist) to Alice Walker (author of The Color Purple) to Sister Helen Prejean (the anti-death penalty nun). Mostly we excerpt what Brown had to say, since we're looking for his issue stances, but his guests' discussions provide a slice of history for those interested in the progressive viewpoint during the Clinton presidency.
Jerry Brown faces Neel Kashkari (R) for governor in 2014. Brown succeeded Arnold Schwarzenegger (R) in 2010, indicating that Republicans do stand a chance even in blue-state California. Brown has been ridiculed as "Governor Moonbeam" (and then later idolized by the journalist who made up the nickname), and idolized (as well as ridiculed) for his presidential campaign slogan "Protect the Earth, serve the people, and explore the universe." But his history of statewide election success (five statewide election victories, against only one statewide loss, for Senate in 1982) ensures that everyone takes his campaign seriously. This book's excerpts will let you decide if your take on Brown is idolization or ridicule -- or maybe a little of both.
-- Jesse Gordon, editor-in-chief, OnTheIssues.org, July 2014
OnTheIssues.org excerpts: (click on issues for details)
Crime
Jerry Brown: CA fired 8,000 college teachers & hired 25,000 prison guards.
Jerry Brown: War on crime is fabricated to frighten people.
Noam Chomsky: US uses imprisonment for population control.
Jerry Brown: Death penalty is a test of our humanity.
Jerry Brown: 1/3 of young black men in jail means absolute oppression.
Environment
Jerry Brown: Sustainability ideology obscures need for attitudinal change.
Jerry Brown: International produce supply line is not sustainable.
Jerry Brown: Fight to save the Headwaters ancient redwood groves.
Jerry Brown: EPA cost analysis ignores value of standing forests.
Jerry Brown: Animals are public trust; why do trees belong to landowner?
Jerry Brown: Capitalism needs to evolve to avoid ecological destruction.
Free Trade
Jerry Brown: GATT pushes short-term consumption; ignores over-consumption.
Harry S Truman: 1949: Announced "The Development Decade" for global economy.
Jerry Brown: Maquiladoras liberated rural women to new servitude.
Jerry Brown: Global development system expands gap between rich and poor.
Jerry Brown: NAFTA and GATT send jobs to Chinese & Mexican workers.
Jerry Brown: We need people for things other than global competitiveness.
Homeland Security
Jerry Brown: Media colludes with politicians to glorify military killing.
Jerry Brown: War killings make humans tolerate violence.
War & Peace
Jerry Brown: Kuwait War: missile flashes didn't feel like we were killing.
Jerry Brown: How do we stop the human race from wiping itself out?
Welfare & Poverty
Jerry Brown: $35B for urban agenda is drop in the bucket of $6T economy.
| | |
| --- | --- |
| Click for quotations from other sources by: | |
The above quotations are from Dialogues
by Gov. Jerry Brown.


2014 Governors' book excerpts: