A Return to Value
A Conservative Looks At His Party
by Rep. Bob Beauprez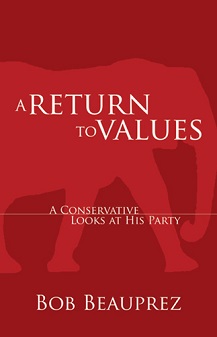 (Click for Amazon book review)
Click here for 4 full quotes from Bob Beauprez in the book A Return to Values, by Bob Beauprez.
OR click on an issue category below for a subset.
OnTheIssues.org BOOK REVIEW:
Coming soon!
OnTheIssues.org excerpts: (click on issues for details)
Abortion
Defend the most defenseless and innocent.
Civil Rights
Support & strengthen traditional marriage.
Health Care
Democrats build base by providing "equality" to victims.
Homeland Security
Freedom is a sacred right: be willing to defend it.
| | |
| --- | --- |
| Click for quotations from other sources by: | |
The above quotations are from A Return to Value
A Conservative Looks At His Party
by Rep. Bob Beauprez.
Page last edited: Jul 08, 2014