The Hill e-magazine coverage and analysis of 2014 campaigns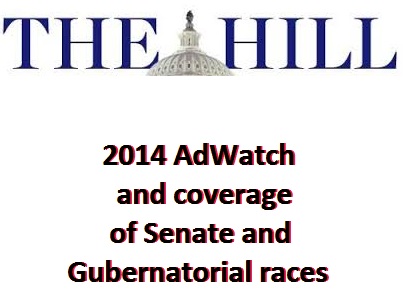 (Click for external website)
Click on a participant to pop-up their full list of quotations
from The Hill 2014 (number of quotes indicated):
EXPLANATORY NOTE by OnTheIssues.org:
Starting well before each election, candidates produce and air politicial advertisements. Since Citizens United took effect, PACs have produced many campaign ads too.
In modern campaigns, ads might be on TV, but also might be via email, web video, Tweets, or other social media.
Political pundit publications, such as The Hill and Rollcall, analyze campaign advertisements as well as campaign events (although at OnTheIssues we ignore their relentless coverage of polls; since we consider them irrelevant to normal voters and relevant only to pundits!)
OnTheIssues.org reviews those ads and analyses for relevant issue content, including opponents' responses when available. Sometimes we transcribe the ads from video or audio; sometimes we include commentary; all the time, we urge paying attention to the opponent of each advertiser too, to get the full story!
OnTheIssues.org excerpts: (click on issues for details)
Abortion
Karen Handel: Endorsed by Susan B. Anthony List for pro-life women.
John Bohlinger: 2001: Supported Fetal Protection Act & partial-birth ban.
John Bohlinger: Supreme Court decided the issue; state cannot overturn it.
Budget & Economy
Chad Taylor: Budget cuts threaten basic prosecutorial services.
Civil Rights
Matt Bevin: Why not define marriage as a parent marrying their child?
Corporations
Lindsey Graham: AdWatch: Hero of the taxpayer & guardian of small business.
Energy & Oil
Rick Weiland: Opposes Keystone XL pipeline.
Government Reform
Jeanne Shaheen: People's Pledge: Let's limit outside PAC contributions.
Scott Brown: No pledge to limit outside PAC contributions.
Mark Pryor: Government shutdown is reckless & irresponsible.
Health Care
Rick Weiland: Push for public option to expand ObamaCare.
Lindsey Graham: Opposed ObamaCare from day one.
Joe Miller: Embrace threat of federal shutdown to defund ObamaCare.
Karen Handel: Embrace threat of federal shutdown to defund ObamaCare.
Mead Treadwell: Repeal ObamaCare by winning back Senate.
Mike Rounds: Shut down ObamaCare but don't shut down government.
Terri Lynn Land: Embrace threat of federal shutdown to defund ObamaCare.
Thom Tillis: Do everything in our power to undo ObamaCare.
Homeland Security
Lindsey Graham: Doing nothing about Benghazi leads to a more dangerous world.
Principles & Values

Bill Cassidy: AdWatch: Receives ad money from billionaire Koch brothers.
Brian Schatz: Endorsed by progressive group "Democracy for America".
Social Security
Tom Cotton: Oppo AdWatch: supports Privatizing social security.
War & Peace
Rick Weiland: No U.S. military intervention in Syria.
Lindsey Graham: Obama "screams loudly & carries no stick," in Russia & Syria.
Newt Gingrich: Obama "screams loudly & carries no stick," in Russia & Syria.
| | |
| --- | --- |
| Click for quotations from other sources by: | |
The above quotations are from The Hill e-magazine coverage and analysis of 2014 campaigns.
Related FactCheck.org analyses:

2014: