| | | |
| --- | --- | --- |
| | 113th Congress inaugurated: Jan. 3, 2013 | |

82 new House members and 13 new Senators
The outgoing 112th Congress was panned by pundits and Americans alike, with approval ratings as low as 12%. But 95% of members who made it to the ballot retained their seats. The new incoming class features a record number of female (100), Latino (31), Asian American (12) and openly gay or bisexual (7) members, along with 43 African Americans.
And while a great many of those serving the previous two years are returning, the 113th Congress' class of more than 90 new lawmakers features plenty of historical firsts, including enough new women, LGBT members, Asian Americans and Latinos to set records.
There are 82 new members of the House -- 35 Republicans and 47 Democrats -- and 13 new senators, including appointee Tim Scott, R-S.C., who will be the upper chamber's only African-American. Scott, an appointee who replaces Jim DeMint, will be the first black senator from the South since Blanche Bruce of Mississippi in 1881 and the first Republican African-American senator since the 1970s.
Republican Ted Cruz, a Cuban-American who beat Texas's lieutenant governor in an upset primary, is the first Latino to represent the diverse state of Texas in the Senate.
Massachusetts' Elizabeth Warren, who became a folk hero among financial system reformers after the financial crisis, will sit on the Senate's banking committee. She's one of a record 20 women in the new Senate.
Democrat Tammy Baldwin of Wisconsin, who defeated Republican Gov. Tommy Thompson, will be the first openly gay senator.
Six of the new senators came from service in the U.S. House, including former Rep. Mazie Hirono of Hawaii, the first Asian-American woman to serve in the upper chamber. (She's also the first Buddhist.)
Arizona's Jeff Flake will join six other Mormon colleagues in the upper chamber.
All told, the partisan breakdown will narrow slightly in Democrats' favor. In the House, there will be a total of 233 Republicans, 200 Democrats, and two vacancies (likely to be filled by one Republican and one Democrat, respectively.)
In the Senate, Democrats will continue to control the Senate--but with a slightly larger 55-45 majority than the 112th, counting Sens. Bernard Sanders (I-Vt.) and Angus King (I-Maine), who will caucus with the Democratic Party. Republicans lost two seats, and Democrats gained two, including the closely-watched race in Massachusetts between Elizabeth Warren and departing Sen. Scott Brown.
Sources: Los Angeles Times, NBC News "First Read, and OnTheIssues list of all House members
| | | |
| --- | --- | --- |
| | Lt. Gov. Brian Schatz (D, HI) appointed to Senate: Dec. 27, 2012 | |

Joins Senate immediately; will become Hawaii's Senior Senator in January
U.S. Sen.-designate Brian Schatz left for Washington aboard Air Force One tonight after he was selected by Gov. Neil Abercrombie to replace the late U.S. Sen. Daniel Inouye. Schatz, 40, will be sworn in Thursday so he can participate in Senate votes to avert a fiscal cliff of federal tax increases and spending cuts scheduled to take effect in January.
Abercrombie chose Schatz from a list of recommendations from the Democratic Party of Hawaii that included U.S. Rep. Colleen Hanabusa and and Esther Kiaaina, the deputy director of the state Department of Land and Natural Resources. Inouye had asked Abercrombie to name Hanabusa, who represents urban Honolulu's 1st Congressional District, as his "last wish" before he died last week at 88 of respiratory complications. "Having served as chair of the Hawaii Senate Judiciary Committee when the succession law was passed, I fully respect the process and the governor's right to appoint a successor," Hanabusa said in a news release.
Schatz will become the state's senior senator. U.S. Rep. Mazie Hirono, who was elected in November to replace the retiring U.S. Sen. Daniel Akaka, would be the junior senator. Schatz will serve until voters in 2014 elect a senator to fill out the remainder of Inouye's six-year term, which runs through 2016. Schatz said he plans to run in 2014 and in 2016.
Source: Honolulu Star Advertiser
Click for issue stances of Sen. Brian Schatz (D, HI)
| | | |
| --- | --- | --- |
| | Sen. John Kerry (D, MA) to resign: Dec. 21, 2012 | |

Gov. Deval Patrick (D, MA) to appoint successor
President Obama nominated Kerry as the next secretary of state, a post friends and colleagues say he is well-suited for. The son of a Foreign Service officer has thought deeply about matters of war and peace, and has logged thousands of hours traveling the globe on various diplomatic quests. As a boy living in Europe during the Cold War, Kerry biked around communist East Germany despite his father's warnings and hunted for D-Day casings on the beaches of Normandy. Those close to him said they believe he made a conscious decision after the 2004 presidential race to leverage his new influence in the international arena.
Gov. Deval Patrick wants the next interim senator to pledge not to run in the upcoming special election — adding he expects to name someone to the temporary spot "pretty quickly" after U.S. Sen. John Kerry is confirmed as Secretary of State by the Senate. "I expect to appoint someone who does not plan to run for the seat because, practically, I think that's going to be hard for that person to do successfully," said Patrick. He refused to rule out the possibility that the appointee may also run, however.
Gov. Patrick has spoken with the late Sen. Edward M. Kennedy's widow, Vicki Kennedy, about the appointment. "Those conversations are in the spirit of confidentiality and I will respect that confidentiality," said Patrick. In addition to Kennedy's name, former Gov. Michael Dukakis and the retiring U.S. Rep. Barney Frank have been mentioned for the appointment. Patrick will not name a temporary appointment until after Kerry is confirmed by the Senate, which is likely after Jan. 3. The special election won't start until Kerry hands in his letter of resignation.
A WBUR poll of 500 registered voters finds voters view Sen. Scott_Brown favorably, despite the fact that in November they chose to elect Harvard law professor Elizabeth Warren in his stead. [The poll] matched him up theoretically against U.S. Reps. Ed Markey, Mike Capuano, Steve Lynch and former U.S. Rep. Marty Meehan, and in each one of those cases, Brown led by between 17 and 19 points. Lynch did issue a statement saying if a Senate seat were to become available, he "would give serious consideration to running."
Source: Boston Herald (12/21), Boston Globe (12/21) and WBUR (12/20)
Click for issue stances of Sen. John Kerry (D, MA)
or Sen. Scott_Brown (R, MA)
| | | |
| --- | --- | --- |
| | Sen. Daniel Inouye (D, HI) dies: Dec. 17, 2012 | |

Gov. Neil Abercrombie (D, HI) to appoint successor
Daniel K. Inouye died today of a respiratory ailment at a Bethesda, Md., hospital, ending a life of remarkable service for his country and Hawaii that included sacrificing his right arm in World War II combat and spending 50 years as a U.S. senator. He was 88. His last words were, "Aloha."
In a letter to Gov. Neil Abercrombie that was delivered at 11 a.m. on Monday, just hours before his death, Senator Daniel Inouye apologized for his inability to fulfill his term and made a request for his successor to the United States Senate, according to Senator Inouye's office. Inouye's representatives said that his last wish was for U.S. Rep. Colleen Hanabusa to replace him, citing her intellect and presence and saying it would be a seamless transition if he were to choose her. By law, the state Democratic party will submit three names to Abercrombie for consideration.
As the most-senior member of the majority party, Inouye served as Senate Pro Tempore, making him third in line to the presidency behind Vice President Biden and House Speaker John A. Boehner (R-Ohio). Less than two hours after Inouye's died, the Senate passed a resolution naming Sen. Patrick Leahy (D-Vt.) as the new president pro tempore. Leahy was first elected to the Senate in 1974.
In other Senate news, Republican U.S. Rep. Tim Scott will become the first African-American senator from the South since the late 19th century after he was chosen Monday by Gov. Nikki Haley to fill Jim DeMint's soon-to-be-vacated seat.
Source: Honolulu Star Advertiser; Hawaii News Now; Washington Post; Charlotte Observer (SC)
Click for issue stances of Daniel Inouye (D, HI)
or Rep. Colleen Hanabusa
| | | |
| --- | --- | --- |
| | Last House seat decided for 2013: Dec. 9, 2012 | |

Runoff election decided on Dec. 8, 2012
In Louisiana's 3rd District runoff election, four-term Congressman Charles Boustany, R-Lafayette, beat freshman Tea Party member Jeff Landry, R-New Iberia, by a healthy margin. Boustany received 61 percent and over 58,000 votes in the district, which was redrawn after a 2010 census showed a population slowdown in the state. Fellow Republican incumbent Rep. Landry received 39 percent and over 37,000 votes.
Boustany's victory represents another victory for the Republican rank-and-file over its right flank, piggybacking on several GOP establishment and Democratic wins over Tea Party candidates on Nov. 6.
Landry was heavily favored by Tea Party groups and picked up several key conservative endorsements, including the now-split FreedomWorks, Citizens United, Tea Party Nation and the Family Research Council, which hosts the annual Value Voters Summit. Meanwhile, Boustany has been able to grab some key local endorsements, including Louisiana House of Representatives Speaker Chuck Kleckley, state legislators from both sides of the aisle and various mayors and local officials.
* * *
Both Reps. Boustany and Landry are currently serving in the "lamw duck" session of Congress. Four special election winners have also been seated in the "lame duck" session; please see OnTheIssues' coverage of the special election newcomers' sponsorships and the lame duck bills.
Source: New Orleans Times Picayune (Dec. 8); and OnTheIssues.org archives
Click for issue stances of Charles Boustany or Jeff Landry,
or coverage of the 2012 lame duck session
| | | |
| --- | --- | --- |
| | Sen. Jim DeMint resigns: Dec. 7, 2012 | |

Will take $1 million think tank salary, leaving SC taxpayers with Special Election bill
DeMint announced Thursday that he would resign to become president of the Heritage Foundation. The move puts DeMint at the head of the most prominent conservative nonprofit organization in Washington. DeMint's decision marks a monumental change from a not-so-long-ago era when abandoning a prime perch in the Senate to head a think tank would have been unthinkable. But the past decade has shown the influence that figures outside of elected office — whether tea party leaders or anti-tax advocate Grover Norquist — can have on the conservative movement.
DeMint's job at Heritage will almost certainly come with a great deal more money than his $174,000 Senate salary. The terms of his deal are unknown, but the man DeMint will replace, Edwin Feulner, makes more than $1 million a year.
DeMint retires from the Senate having exerted an enormous amount of influence on the institution — yet without ever having passed a single piece of significant legislation. Rather than rising up the Senate ranks to influence legislation, DeMint chose to be a cheerful starter of civil wars. With his Senate Conservatives Fund, DeMint assembled candidates and money to wage primary fights against establishment Republicans he deemed insufficiently conservative.
South Carolina Gov. Nikki Haley will appoint someone to fill the seat until a special election in 2014. She could appoint herself, or buy some time by appointing someone who is seen as having no ambition to run in 2014—such as David Wilkins, a well-liked and respected former state lawmaker who served as U.S. ambassador to Canada under President George W. Bush.
But conservatives are urging her to name someone who would be interested in keeping the seat. A popular pick would be Rep. Tim Scott, who could become the only current black U.S. senator at a time when the GOP is trying to reach out to minorities.
Source: Washington Post (Dec. 6); Wall Street Journal (Dec. 6)
Click for issue stances of Sen. Jim DeMint
or his book Saving Freedom
| | | |
| --- | --- | --- |
| | House endorsement survey: Dec. 3, 2012 | |

Organizatonal ratings of all incoming House members
OnTheIssues has gathered issue stance summaries by several 2012 rating organizations. All of the organizations rated some or all of the 2013 newly incoming House members.
We also include older ratings from the same organizations, for comparison. When the organization's ratings are identical from year to year, we just include the newly-elected people with a new date on the old page. When the rating system differs, we include both pages separately. For example, the new "NARAL" page is just endorsements; the older one rates every member on a 0% to 100% scale.

Click for our organizatonal ratings notebook
or click for incoming House Freshmen.
| | | |
| --- | --- | --- |
| | Senate races for 2014 begin: Dec. 1, 2012 | |

Kay Hagan (D, NC) in; Jay Rockefeller (D, WV) undecided
Sen. Kay Hagan (D-N.C.) told a local radio station she plans to run for reelection in 2014, when she is expected to be a top target of Republicans. In 2012, North Carolina voted for Mitt Romney, elected a Republican governor and netted the GOP at least three House seats.
Sen Jay Rockefeller (D-W.Va.) said Tuesday that he hasn't decided whether he will run for reelection in 2014. "I'll make that decision in time," Rockefeller said, without offering specifics. Rep. Shelley Moore Capito (R-WV) announced Monday that she will run for Rockefeller's seat.
OnTheIssues.org is now prepared for the 2014 Senate races. Our 2013-2014 Senate page includes the list of 33 Senators up for re-election in 2014, plus their likely opponents (including Rep. Capito in WV, and Sen. Hagan's possible opponents in NC).
If you think it's ridiculously earrly to start considering the 2014 elections, please see our page for the 113th Senate as elected. It contains only the newly-elected Senators from the November elections, plus those re-elected and those serving in the Senate which will be sworn in, come January 2013 (that's called the "113th Congress").
Source: Washington Post "The Fix" Nov. 27; and OnTheIssue.org's archives
Click for 2014 Senate races
or U.S. Senate as elected Nov. 6, 2012
| | | |
| --- | --- | --- |
| | Jesse Jackson resigns: Nov. 21, 2012 | |

Gov. Pat Quinn (D, IL) to set a special election date in 2013
Rep. Jesse Jackson Jr. resigned from Congress on Wednesday, ending a once-promising political career. House Speaker John Boehner has received Jackson's letter of resignation, a Boehner spokesman said.
Jackson, the son of the civil rights leader, was first elected in 1995. He has been on medical leave since mid-June and twice sought treatment at the Mayo Clinic for bipolar disorder. The Democrat was easily re-elected to a ninth full term on Election Day, even though his constituents haven't seen or heard from him in months.
Once considered a rising star in the Democratic Party, Jackson is being investigated on allegations that he misused campaign funds; any deal would likely include jail time. He also has been the subject of a long-running House Ethics Committee investigation stemming from allegations that he raised money for then-Illinois governor Rod Blagojevich in exchange for appointment to the U.S. Senate. Jackson has denied wrongdoing.
Source: Catalina Camia and Susan Davis, USA Today
Click for issue stances of Rep. Jesse Jackson Jr. (D, IL-2)
or Rev. Jesse Jackson Sr.
| | | |
| --- | --- | --- |
| | 84 new House members: Nov. 16, 2012 | |

35 new Republicans; 49 new Democrats (final count)
There are still several House races being recounted, but OnTheIssues has set up issue coverage for all of the incoming members of the United States House of Representatives.
The final count is 35 new Republicans and 49 new Democrats -- we'll be filling in all of their contacts and issue stances over the next week or two -- plus filling in the several undecided race results.
Following are the most interesting new House members, in three categories:
Former House members who got re-elected
Special election winners who got seated in the lame-duck session this week
Undecided races (recounts being conducted over the next week)
So in summary by party:
35 newly-elected Republicans in 2012, and 49 newly-elected Democrats.
For comparison, in the previous House election, 94 new House members were elected. Not significantly more -- but the party balance was significantly different:
85 newly-elected Republicans in 2010, and only 9 newly-elected Democrats.
In other words, the 2010 House elections showed a very strong pro-Republican leaning; while the 2012 House elections showed a weaker -- but still significant -- pro-Democratic leaning.

These final House election results mean the 113th Congress (beginning in January 2013) will be divided 234 Republicans to 201 Democrats. OnTheIssues predicted 235 Republicans to 200 Democrats, so we were only off by one out of 435 seats!

Sources: OnTheIssues list of new House members contacts and issues



| | | |
| --- | --- | --- |
| | Preliminary House results: Nov. 12, 2012 | |

Democrats gain a few seats; GOP maintains majority
The Republicans held control of the U.S. House 240-190 before the election; the Democrats had a net gain of about 5 seats, so the 113th Senate, starting in January 2013, will still be controlled by the Republicans. (OnTheIssues predicted a net gain of 7 seats for the Democrats). The exact number is still not yet known because of several ongoing recounts; and the 3rd Louisiana House district will conduct a Dec. 8 runoff election.
The table below indicates, by category, the number of seats that changed hands in this election (with asterisks* indicating the races still undecided at this time).
Counts by category:
Democratic gains
Republican gains
Commentary
Electoral takeovers: (Incumbent ran and lost to the opposing party)
+18: CA-7, CA-36, CA-52, FL-18, FL-26, IL-8, IL-10, IL-13, IL-17, MD-6, MN=8, NH-1, NH-2, NY-18, NY-25, OH-3, TX-23
+6: AR-4, CA-8, CA-21, FL-3, IN-2, NC-13, OK-2, PA-4
This is a strong showing for the Democrats -- these are the hardest seats to win, since the incumbent is defending an existing seat. This category indicates that overall, this election shows the country agrees more with the Democratic Party than the Republican Party in 2012.
Redistricting gains: (New seats due to 2010 census)
+3: AZ-9*, FL-22, NV-4
+7: AR-4, CA-8, CA-21, FL-3, IN-2, NC-13, OK-2, PA-4
This category indicates that demographics are shifting towards the Republicans -- i.e., red states are gaining population relative to blue states, and hence there are more GOP districts. Many of the "open seats" in the next category were open partly because of redistricting also -- many incumbents faced an election battle and hence retired -- so redistricting effects are even more widespread than directly indicated.
Open seat takeovers: (Incumbent retired, but newly elected member is of the opposing party)
+5: AZ-1, CA-26, CA-29, CA-41, FL-9
+8: GA-9, IA-8, MO-3, SC-7, TX-33, TX-34, TX-36, UT-2
In a typical election, the party of the retiring incumbent strongly favors that the successor is of the same party. That did not happen in 2012. Some of these changes indicate a demographic switch, and some indicate a more partisan electorate.
Retentions: (Incumbent retired, and newly elected member is of the same party)
19: AZ-8*, CA-2, CA-5, CA-47, CA-51*, HI-2, IL-12, MA-4, MI-5, NV-1, NJ-10, NY-5, NY-10, PA-17, TX-16, TX-20, WA-1, WA-6, WI-2
16: AZ-5, CA-1, FL-6, FL-19, IL-15, IN-5, IN-6, KY-4, MO-2, MT-0, NC-9, ND-0, OH-2, OH-14, OK-1, TX-14
This is what normally happens when an incumbent retires: a replacement wins from the same party. These districts are all new faces in the U.S. House but do not affect the party balance.
Totals:
+26 new Democrats
plus 19 replacement Democrats
+21 new Republicans
plus 16 replacement Republicans
Net change is about +5 Democrats
with 82 new members regardless of party.
---
Is this a Democratic "mandate"? No, not quite -- maybe more of a "message" about hyper-partisanship. The Democrats needed 25 seats to win control of the House -- THAT would have been a mandate! Even if all of the redistricting changes are ignored -- and we assume that all open seat takeovers were due to demographic changes from redistricting -- the Democrats would still have gained only 12 seats -- not nearly enough to take over control of the House.

Overall we will see about 82 new faces in the U.S. House of Representatives (we'll report the exact number, and rework our House member list, when the final tallies are completed). But it's not actually 82 NEW faces, because 8 of the incoming "freshmen" have been in the U.S. House before! They were re-elected after having been out of Congress, usually returning by taking advantage of some redistricting changes. They are:

Those eight did not have it easy -- three other former U.S. House members ran again and lost in either the primaries or the general election. See our full House page for details....


Click for detailed House prediction or House results for the new 113th Senate
| | | |
| --- | --- | --- |
| | Gubernatorial results: Nov. 9, 2012 | |

5 new governors; 6 re-elected
The recounts are completed for all 11 gubernatorial elections that took place on Election Day:
Five new governors were elected; six incumbent governors were re-elected.
In all 5 cases of newly-elected governors, the elections were open seats -- 3 retirements and 2 term-limited governors -- so no incumbents were ousted.
In only one case did the party change hands -- NC, from Democrat to Republican.
Links to each new governor below; we'll be filling in the newly-elected governors' issue stances this week.

Click for all governors
| | | |
| --- | --- | --- |
| | Final Senate results: Nov. 8, 2012 | |

Democrats maintain control of Senate, 52-48
The Democrats held control of the U.S. Senate 53-47 before the election; the Democrats had a net gain of one or two seats, so the 113th Senate, starting in January 2013, will still be controlled by the Democrats, 55-45.
Senator-Elect Angus King (I-ME) has not stated with which party he will caucus; if he decides on the Republican Party, that would reduce the Democratic majority to 54-46 but would not change majority control. Majority control determines which party chairs each Senate committee, and hence which bills get debated on the Senate floor.
OnTheIssues predicted a Democratic majority of 50-50 (with V.P. Joe Biden casting the majority vote for the Democrats; we predicted the Presidential race correctly also). We were wrong in our prediction of 7 Senate races -- but right in 26 out of the 33 Senate races (a rate of 79% correct!), and right in predicting the Senate majority. Mostly, we over-predicted the number of Republican takeovers. The Republican Senate candidates did not do nearly as well as expected; hence the Democrats held on to many seats. Our prediction compared to actual results:
OnTheIssues Senate prediction:
3 Democratic takeovers
17 Democratic retentions
6 Republican takeovers
7 Republican retentions

Senate election results:
3 Democratic takeovers
22 Democratic retentions
1 Republican takeover
7 Republican retentions
Some of the interesting races, including all of those we predicted wrong, follow:

One Governor's race and several House races are still to be decided as of today; we will report on those results when they are known.


Click for detailed Senate prediction & results or Senators in new 113th Senate



| | | |
| --- | --- | --- |
| | Presidential prediction: Nov. 3, 2012 | |

OnTheIssues predicts Obama 279 to Romney 259
OnTheIssues.org predicts that President Obama will win re-election by an electoral margin of 279-259.We predict that the popular vote will be much closer, with Romney holding Obama to under 50% of thepopular vote. Hence we predict that the pundits will claim that the third party candidates acted as"spoilers" in this race. This map summarizes our prediction, or click for state-by-state prediction.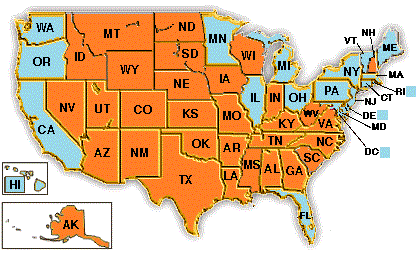 We read hundreds of polls over the last several months, and we see that the mainstream media mostlyignores the Electoral College, reporting instead on the popular vote. In the presidential election,the electoral vote is all that matters. Note that our map shows Romney overwhelmingly winning a geographicvictory; but that same map says that Obama wins the electoral victory!

We base our prediction on Obama's state-by-state victories in 2008, modified by the redistricting changes due to the 2010 census, and then further modified by several special considerations, including:
IN, NC, and NE: There were three states that Obama won in 2008 without a majority: in IN, NC, and NE. Becausethe Third Party candidates are stronger in 2012 than in previous elections, we assume they will turnthose states to Romney, reducing Obama to 332 electoral votes.
WI: Paul Ryan hails from Wisconsin, which Obama won in 2008; Ryan is popular in his home state, sowe award the 10 WI electoral votes to Romney.
FL: Seniors will overwhelmingly vote against Ryan due to his Medicare plans.
OH and MI: Romney has been struggling to make the case that he supported the Detroitautomakers during the Great Recession, but he hasn't made enough of a case to persuade the middleclass.
In summary, OnTheIssues recommends what to watch for on Election Night TV coverage:
You can get an early preview when the polls close for NH and VA at 7 PM EST -- if Obamatakes those states (we predict them for Romney), it means a landslide for Obama.
If not, then keepyour eye on Florida, Ohio, and Michigan -- all three of which have their polls close by 9 PM EST.
Soturn on your TV at 9:15 and look at the results from those three states and we predict you'll knowthe next president.
If Romney wins any of those three, Obama must win several of the otherbattleground states, or it'll be a Romney landslide.
If, as we predict, Obama wins all three, therest of the battleground states won't matter!

Click for detailed electoral prediction
| | | |
| --- | --- | --- |
| | House prediction: Oct. 28, 2012 | |

OnTheIssues predicts Republican majority 235-200
OnTheIssues predicts the Democrats will gain 7 House seats, leaving control of the United States House of Representatives in Republican hands, 235-200. Our evidence is laid out below.
So why do the Democratic pundits claim that they can gain the 25 seats necessary for their party to gain control of the House? For example, the Kansas City Star on Oct. 24, 2012, cites a Democratic Congressional Campaign Committee (DCCC) spokesperson saying "The Republican majority is in jeopardy," and expressing that he is "confident that his party can buck the odds and pick up the 25 seats needed to regain control of the House of Representatives." Let's look at the sort of evidence they present, starting with the current party split -- a large Republican majority -- of 242R-193D.
OnTheIssues conducted a "vulnerability analysis" which found 26 vulnerable Republican incumbents. If all of them lose, the Democrats would gain the House majority -- it would result in a House split with a slight Democratic majority, 217R-218D.
But of course that's only a half-truth, because some Democrats are vulnerable also. Our same analysis for vulnerable Democrats knocks down the Dems' hopes to a weaker Republican majority, 230R-205D.
But it's even worse than that, due to redistricting. The 2010 census takes effect in this House election -- and will cost the Democrats another 6 seats. Some special considerations reduce that by one loss, making our final prediction 235R-200D.
OnTheIssues does not claim to be prognosticators -- but we do claim to have real substantiation for our prediction, especially when compared to the hocus-pocus of other pundits. Our vulnerability analysis has worked to identify incumbents in our local State House who have been ousted; the redistricting analysis is complicated but accurate. We would be very shocked if the Democrats do better than 230R-205D or if the Republicans do any better than 240R-195D. More extreme results than that would indicate a "landslide mandate" for one party over the other.

Click for detailed U.S. House prediction
or click for U.S. House vulnerability analysis
or click for detailed U.S. House races
| | | |
| --- | --- | --- |
| | Romney and Obama Third and final Debate: Oct. 22, 2012 | |
At Lynn University, Boca Raton, Florida
Third and final Presidential debate, Oct. 22, 2012:
Held at Lynn University in Boca Raton, Florida.
Moderated by Bob Schieffer of CBS News.
Sponsored by the bipartisan Commission on Presidential Debates.
90 minutes on foreign policy topics.
"Democracy Now!" aired a live commentary called Expanding the Debate, including two 3rd-party candidates, the Green Party's Jill Stein and the Justice Party's Rocky Anderson; focusing on how Obama and Romney agree on the Afghan War and other foreign policies.


Commentary:
This debate was intended to stick to foreign policy, but the candidates often brought the topic back to domestic policy, despite the efforts of the moderator to stay on topic.
Any president has an inherent advantage when debating foreign policy topics, because the president has been immersed in foreign policy for four years, while the challenger mostly just reads about foreign affairs in the newspapers -- especially so this year because Romney has never served in the Senate.
Romney prepared heavily for this debate, and sounded like he had prepared heavily for this debate -- reciting esoteric facts about Mali and Pashtuns -- often sounding like a novice student who is excited at just having learned a new field. Romney sounded more comfortable and experienced when discussing the more standard topics such as China, Iran, Syria, and Libya. Overall, Romney accomplished his goal of not sounding like he would march the United States off to war.
Romney presented a much more cautious viewpoint than in the past -- definitively stating that he would not send ground troops to Syria nor Iran, contrasting his past much more belligerent statements on those same countries (which Obama pointed out were a shift towards his own positions). Romney remained belligerent towards China (saying we're in a trade war already) and Russia (saying they are still a geopolitiical foe).
Romney did make a couple of flubs, such as describing "crippling sanctions" against Iran as "peaceful dissuasion" against developing nuclear weapons. In fact, economic sanctions are an act of war under international law (they must be enforced by a navy, usually). And he head-scratchingly described Syria as Iran's "route to the sea," evidently not having been briefed on Iran's 800-mile coastline on the Persian Gulf and 300 miles on the Indian Ocean (that was RUSSIA who worried about a route to the sea, not IRAN). And Romney's attitude towards Russia sounded like he was still in the Cold War, but most of Europe feels that he is anyway.
Obama and Romney do not differ dramatically on foreign policy stances, judging by this debate. That will displease partisans on both sides -- but particularly Obama's progressive supporters. Absent was any discussion of closing Guantanamo; of reducing collateral damage of drone strikes; or of actually REDUCING the military budget as opposed to just reducing its growth rate. Those topics were addressed only in the Third Party debate -- another argument why third party candidates should be included in the main debates.
But in summary, Romney held his own in a forum in which Obama could have dominated Romney on the issues. Obama still "won" the debate, as expected, but it was not a crushing victory. At issue is whether Obama "won" by enough to reverse Romney's previous momentum -- the election is now just two weeks away!
Sources: OnTheIssues archives
| | | |
| --- | --- | --- |
| | Romney and Obama Second Debate: Oct. 16, 2012 | |
At Hofstra University, Long Island, New York
Second Presidential debate, Oct. 16, 2012:
Held at Hofstra University on Long Island, New York.
Moderated by Candy Crowley of CNN.
Sponsored by the bipartisan Commission on Presidential Debates.
90 minutes on domestic issues in Town Hall format.


"Democracy Now!" aired a live commentary called Expanding the Debate, including three 3rd-party candidates, the Constitution Party's Virgil Goode, the Green Party's Jill Stein and the Justice Party's Rocky Anderson.


Commentary: Obama recuperated in this second debate after Romney "won" the first debate.
On the issues, Obama responded to all of Romney's key points, but Romney managed to connect to the audience, addressing his most significant weakness.
The pundits and talkshows all focused on just two non-issues (as usual). Both of these "issues," we predict, will be ignored in a week, and forgotten in a month:
Romney said he had "binders full of women" when he attempted to gender-balance his gubernatorial cabinet. He meant "binders full of women's résumés," which was obvious in the full context, but the mainstream media played and replayed the excerpt out of context.
Romney noted that his cabinet and his adminstration were nationally recognized as leaders in gender-balance, but that was forgotten in the wake of the replayed out-of-context phrase. Romney also neglected to mention that his running-mate, Kerry Healey, was also female (she served as Lieutenant Governor and then ran for Governor in 2004 and lost to Deval Patrick; Romney legitimately did push gender balance, and deserves recognition for it, binders full of women or not.
Romney's second gaffe was pushing Obama on whether he referred to the attack on 9/11/2012 which killed the American ambassador to Libya as an "act of terror." Obama asserted that he did refer to it as an "act of terror" in a Rose Garden speech on 9/12/2012, and Romney pushed hard to get Obama to say that "on the record," i.e., Romney thought Obama had the facts wrong. The moderator pointed out that Romney had the facts wrong.
Romney was correct in pointing out that Obama downplayed the terrorism aspects while focusing on the surrounding riots protesting a video demeaning the prophet Mohammed. But Romney's point was lost because of the hyperfocus on what exactly Obama said on 9/12/2012.
Romney was prepared poorly for that point -- his staff should have researched the original statement and Romney should not have pushed the point so hard without the proper research in advance. But Romney's lack of preparation is not what the talkshows talk about -- they get caught up in the buzz about fact-checking Candy Crowley -- so enjoy the buzz but recognize its meaninglessness.
Sources: OnTheIssues archives
| | | |
| --- | --- | --- |
| | Biden and Ryan Debate: Oct. 11, 2012 | |
Vice Presidential debate in Kentucky
Vice Presidential debate, Oct. 11, 2012:
Held in Danville, Kentucky, at Centre College
Moderated by Martha Raddatz of ABC News
Sponsored by the Commission on Presidential Debates (a private bipartisan group which excludes third party candidates from debates)


Commentary:
Biden sure smiles a lot. And laughs a lot. And interrupts a lot.
And Ryan sure succeeded at looking vice-presidential by NOT smiling too much and NOT laughing too much and NOT interrupting too much.
Biden did fine on the issues -- he responded well to all of Ryan's points, and embarrassed Ryan by forcing him to admit that there was no Romney-Ryan plan to balance the budget (Romney & Ryan say they will cut spending without raising taxes, by closing loopholes, but Obama & Biden say there are not enough loopholes to do that, and choosing any loopholes is politically challenging. Ryan's response was to claim, as Romney did, that a Reagan-Tip-O'Neill-like discussion will take place to determine which loophooles to close).
Perhaps if one reads the transcript one would accept Biden's argument. But watching the vice president of the United States show off his dental whitening and chuckle repeatedly at a subordinate politician turned off most viewers to listening to Biden's content at all.
The mainstream media calls this one a "draw." We call a "draw" against an incumbent vice president a victory for his challenger.
Sources: OnTheIssues excerpts from V.P. debate
| | | |
| --- | --- | --- |
| | Romney and Obama First Debate: Oct. 3, 2012 | |
In Denver Colorado
First Presidential debate, Oct. 3, 2012:
Held at Magness Arena at the University of Denver in Denver, Colorado.
Hosted by Jim Lehrer of the "PBS NewsHour"
Sponsored by the bipartisan Commission on Presidential Debates.
90 minutes on domestic issues in six segments:
Three on the economy and one each on health care, the role of government and governing.


Since third-party canddates are excluded by the bipartisan Commission on Presidential Debates, "Democracy Now!" aired a live commentary called Expanding the Debate, including two 3rd-party candidates, the Green Party's Jil Stein and the Justice Party's Rocky Anderson.


Commentary: The mainstream media widely viewed Romney as having "won" this first debate. Obama several times seemed disengaged, and certainly not up to his usual level of passion.
On the issues, however, Obama did respond to all of Romney's key points. Obama's lack of passion and engagement seems to have come from lack of preparedness. I.e., Obama was not ready to respond to Romney's views.
Another way to view this debate is that Romney changed several of his key issue stances just for this debate -- he finally implemented the "Etch-a-Sketch" plan which was so much the focus of the mainstream media during the summer campaign. Some examples of key issue changes:
Romney formerly pushed for tax breaks for job creators and now says he will not reduce high-income tax rates.
Romney formerly pushed for trillions of dollars in reduced spending and now says he will not have any deficit spending, despite the tax cuts.
Romney says he will accomplish the above by closing tax loopholes, but has not (and it sounds like he will not) identified the loopholes in question. He matches that with a process description for how to decide spending cuts -- he will sit down with Congressional Democrats -- so far the only identified cut is PBS' "Big Bird" (which became the tag line of this debate).
Romney has now adopted Paul Ryan's plan to allow opt-outs of Medicare (known to opponents as the "voucher plan").
Most people expected Romney to modify his stances for the general election -- but there is a risk to doing so in October. Obama will respond more effectively to Romney's new stances in the next debate -- likely with passion and engagement. And in addition, Obama will be able to point to the "Etch-a-Sketch" changes themselves for political benefit.
In summary, Romney won this debate -- and gained several points in the polls -- but at the expense of making his task harder in the subsequent debates.
Sources: OnTheIssues archives
| | | |
| --- | --- | --- |
| | Senate race prediction: Oct. 1, 2012 | |

OnTheIssues predicts: Republicans gain 3 seats
Following are the OnTheIssues predictions for each Senate race nationwide. 33 Senate seats (out of 100) are up for election in 2012, but 23 of those seats are currently held by Democrats and 10 by Republicans. That means the Democrats have more to lose in 2012 -- but the Dems also hold the majority in the Senate, 53-47.
To gain control of the Senate, the Republicans must gain 4 seats. We arrange the chart below based on which Senate seats we predict will stay in the same party and which will change hands:
State
Prediction
Predicted Winner
Predicted Loser
AZ
Democratic takeover
Richard Carmona
Jeff Flake
CA
Democratic retention
Dianne Feinstein
Elizabeth Emken
CT
Republican takeover
Linda McMahon
Chris Murphy
I drive throughout Connecticut for my daily business, and I see a dozen "Linda" signs every hour, in every corner of the state, whereas seeing one Murphy sign per day is a lot. While signs don't vote, the lawn owners do, and they seem overwhelming.
DE
Democratic retention
Tom Carper
Kevin Wade
FL
Republican takeover
Connie Mack IV
Bill Nelson
Paul Ryan's strong stance for Medicare/Medicaid overhaul hurts the Romney-Ryan ticket in Florida, and we therefore predict Obama will win Florida based on the large elderly population in this key state. But Florida voters prefer bipartisanship and therefore Sen. Nelson will suffer from "negative coattails."
HI
Democratic retention
Mazie Hirono
Linda Lingle
IN
Republican retention
Richard Mourdock
Joe Donnelly
Oct. 26 update: Mourdock stumbled by saying in a debate that pregnancy rape was "God's will," which infuriated women's groups, but we do not see any change in the underlying dynamics that favor a conservative Senator to represent conservative Indiana.
MA
Democratic takeover
Elizabeth Warren
Scott Brown
Obama will overwhelmingly beat Romney in blue-state Massachusetts, and we predict Warren will ride Obama's coattails to victory. Sen. Brown won in a special election -- when there were no presidential coattails -- and would probably win again if this were not a presidential election year -- but the coattails are just too long against him in 2012.
MD
Democratic retention
Ben Cardin
Dan Bongino
ME
Democratic takeover
Angus King
Charlie Summers
Gov. King is an independent but we predict he will win and then choose to caucus with the Democrats in the Senate, in effect gaining the Democrats one Senate vote. King is a true independent, but sides with the Democrats on healthcare, social issues, and the need for taxes to deal with the deficit -- key upcoming voting issues for Senators.
MI
Democratic retention
Debbie Stabenow
Pete Hoekstra
MN
Democratic retention
Amy Klobuchar
Kurt Bills
MO
Democratic retention
Claire McCaskill
Todd Akin
During the summer, we would have predicted a Republican victory in red-state Missouri, but Rep. Akin put his foot in his mouth and exacerbated the problem with yet more flubs with every passing week -- he blew it!
MS
Republican retention
Roger Wicker
Albert N. Gore
MT
Republican takeover
Denny Rehberg
Jon Tester
ND
Democratic retention
Heidi Heitkamp
Rick Berg
North Dakota's economy is booming due to new oil extraction. So this Senate race is missing the usual drag on Obama and the Democrats, that the economy is bad elsewhere and that the Democrats would limit oil extraction elsewhere -- and Hietkamp will benefit.
NE
Republican takeover
Deb Fischer
Bob Kerrey
NJ
Democratic retention
Bob Menendez
Joe Kyrillos
NM
Republican takeover
Heather Wilson
Martin Heinrich
NV
Republican retention
Dean Heller
Shelley Berkley
NY
Democratic retention
Kirsten Gillibrand
Wendy Long
OH
Democratic retention
Sherrod Brown
Josh Mandel
Voter registration is an issue in many states but none more than in Ohio. As a result of the heavy-handed election-day voter suppression in minority districts in the 2004 election, Ohio Democrats have pushed voter registration and early voting (beginning Oct. 2) -- and Sen. Brown will benefit.
PA
Democratic retention
Bob Casey
Tom Smith
RI
Democratic retention
Sheldon Whitehouse
Barry Hinckley
TN
Republican retention
Bob Corker
Mark Clayton
TX
Republican retention
Ted Cruz
Paul Sadler
UT
Republican retention
Orrin Hatch
Scott Howell
VA
Democratic retention
Tim Kaine
George Allen
Gov. Allen seems to have recovered from his "macaca" gaffe in 2006, but he has run the nastiest campaign in the country, and we predict that many will vote against him to signal a dislike for negative campaigning.
VT
Democratic retention
Bernie Sanders
John MacGovern
WA
Democratic retention
Maria Cantwell
Michael Baumgartner
WI
Republican takeover
Tommy Thompson
Tammy Baldwin
The Tommy-Tammy race is one of the tightest in the country, but we predict a Republican victory based on Paul Ryan's coattails. While Wisconsin is a blue state, many independents will vote Republican on the presidential line based on Ryan's "favorite son" status, and will push that pattern downballot to the Senate race.
WV
Democratic retention
Joe Manchin III
John Raese
WY
Republican retention
John Barrasso
Tim Chesnut
To summarize our prediction by party status:
3 Democratic takeovers
17 Democratic retentions
6 Republican takeovers
7 Republican retentions
The net result of our prediction: A 50-50 split in the Senate. The Republicans score a net gain of 3 seats, but that's not enough. We predict Maine Independent Governor Angus King will win his Senate race; and we predict he will caucus with the Democrats. But if he goes Republican the GOP will gain control of the Senate -- hence King will become the kingmaker in that scenario!

The more likely scenario is that one of our predictions goes the other way: The most likely? Connecticut, where a wrestling executive takes on a long-term Congressman. And then Indiana, where a Tea Party Republican beat the incumbent Senator in the GOP primary. If either of those races goes against our prediction, the Democrats maintain control of the Senate. But a 50-50 split is MUCH more fun!

A 50-50 split means that control of the Senate is determined by the presidential race: If Romney wins the Presidency, Paul Ryan would get the tie-breaking vote in the Senate; if Obama wins re-election, Joe Biden retains his tie-breaking Senate vote. So stay tuned for our House and presidential prediction next week....

Sources: OnTheIssues archives
Click for Senate races
or click for detailed U.S. Senate prediction
or click for Senate debates