---
Books by and about 2020 presidential candidates
Crippled America,
by Donald J. Trump (2015)
United,
by Cory Booker (2016)
The Truths We Hold,
by Kamala Harris (2019)
Smart on Crime,
by Kamala Harris (2010)
Guide to Political Revolution,
by Bernie Sanders (2017)
Where We Go From Here,
by Bernie Sanders (2018)
Promise Me, Dad ,
by Joe Biden (2017)
Conscience of a Conservative,
by Jeff Flake (2017)
Two Paths,
by Gov. John Kasich (2017)
Every Other Monday,
by Rep. John Kasich (2010)
Courage is Contagious,
by John Kasich (1998)
Shortest Way Home,
by Pete Buttigieg (2019)
The Book of Joe ,
by Jeff Wilser (2019; biography of Joe Biden)
Becoming,
by Michelle Obama (2018)
Our Revolution,
by Bernie Sanders (2016)
This Fight Is Our Fight,
by Elizabeth Warren (2017)
Higher Loyalty,
by James Comey (2018)
The Making of Donald Trump,
by David Cay Johnston (2017)
Books by and about the 2016 presidential election
What Happened ,
by Hillary Clinton (2017)
Higher Loyalty ,
by James Comey (2018)
Trump vs. Hillary On The Issues ,
by Jesse Gordon (2016)
Hard Choices,
by Hillary Clinton (2014)
Becoming ,
by Michelle Obama (2018)
Outsider in the White House,
by Bernie Sanders (2015)
---
Book Reviews

(from Amazon.com)

(click a book cover for a review or other books by or about the presidency from Amazon.com)
From Hope to Higher Ground
12 STOPs to Restoring America's Greatness, by Mike Huckabee, Jan. 2007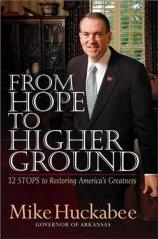 (Click for Amazon book review)
Click here for 36 full quotes from Mike Huckabee in the book From Hope to Higher Ground.
OR click on an issue category below for a subset.
BOOK REVIEW by OnTheIssues.org:
This is the sort of book that OnTheIssues dreams of every politician writing. Huckabee includes details of his issue stances on dozens of issues, including his underlying philosophy and a prescription for individual action. Please read the excerpts below and appreciate that Huckabee is the real thing when it comes to talking about the issues -- unlike most politicians, who hedge and hem and haw, even in their own books.
Huckabee's other two books are interesting reading for voters, but they're not issue-oriented books. Those two books deal with character issues and with personal legacy.
The subtitle of this book is "12 STOPS to Restoring America's Greatness." That central metaphor defines the chapter structure of this book (and plays on the "12 steps" of Alcoholics Anonymous and other self-help programs). Being a pastor, Huckabee advises self-restraint and discipline in 12 realms:
STOP being cynical
STOP thinking horizontally
STOP cheating our children
STOP the culture of chronic disease
STOP abusing our planet
STOP the revenge-based criminal justice system
STOP robbing the taxpayers
STOP the heat and turn on the light for hot issues
STOP the loss of America's prestige at home and abroad
STOP moving the landmarks of liberty
STOP the loss of good jobs and the erosion of agriculture
STOP being a selfish citizen
The main title of the book, "From Hope to Higher Ground", is a play on the title of Bill Clinton's book, "Between Hope and History." Both men were born and raised in the small town of Hope, Arkansas.
-- Jesse Gordon, jesse@OnTheIssues.org, May 2007
OnTheIssues.org excerpts: (click on issues for details)
Abortion
Pro-life and pro-death penalty, & sees them as far different.
Even Americans who are pro-choice are pro-life.
Corporations
Wal-Mart is case study in genius of American marketplace.
Crime
Commuted death penalty sentence due to problems at trial.
Supports death penalty, but only reluctantly.
Three Strikes based more on revenge than restoration.
Eliminating parole gives no incentive for rehabilitation.
Drugs
Supports drug courts for non-violent drug offendors.
Education
Sends his kids to public school; says other officials should.
Reformed AR education with Smart Start & Next Step.
Incorporate character education into school curriculum.
Authorize & advance more charter schools.
Replace entire school board for failing schools.
Energy & Oil
Kyoto was a mistake, but "Earth in the Balance" is not.
Shouldn't limit oil production while increasing consumption.
Explore ways to harness nuclear power.
Environment
Conservatives believe in conservation.
The earth is the Lord's; we are merely its caretakers.
Supported conserving Buffalo River in north AR against dams.
Foreign Policy
Support Israel as strategic ally, but respect Palestine.
Free Trade
Marketplace pushes innovation to top & prices to bottom.
Farm subsidies ok because Europe & Asia do same.
Gun Control
Owns firearms; enjoys hunting; supports 2nd amendment.
Health Care
Focus on health & prevention, not just disease treatment.
STOP the culture of chronic disease via self-discipline.
Homeland Security
Strength is more effective deterrent to war than weakness.
Immigration
Path to citizenship if illegals admit guilt & pay fine.
Principles & Values
Finished Little Rock marathon in 4:38 after 3 years training.
Thermometer leaders just read room; thermostats adjusts room.
Tax Reform
Eliminated AR marriage penalty & capital gains on home sales.
Illustrated hypocrisy with "Tax Me More Fund".
Supports national flat tax to keep up with globalization.
Technology
More bible; less blogs; more music; less network TV.
War & Peace
Strength is more effective deterrent to war than weakness.
Make sure we finish the job in Iraq and finish it right.
Welfare & Poverty
First Amendment never intended to shut out voices of faith.
| | |
| --- | --- |
| Click for quotations from other sources by: | |
The above quotations are from From Hope to Higher Ground
12 STOPs to Restoring America's Greatness, by Mike Huckabee, Jan. 2007.