---
Books by and about 2020 presidential candidates
Crippled America,
by Donald J. Trump (2015)
United,
by Cory Booker (2016)
The Truths We Hold,
by Kamala Harris (2019)
Smart on Crime,
by Kamala Harris (2010)
Guide to Political Revolution,
by Bernie Sanders (2017)
Where We Go From Here,
by Bernie Sanders (2018)
Promise Me, Dad ,
by Joe Biden (2017)
Conscience of a Conservative,
by Jeff Flake (2017)
Two Paths,
by Gov. John Kasich (2017)
Every Other Monday,
by Rep. John Kasich (2010)
Courage is Contagious,
by John Kasich (1998)
Shortest Way Home,
by Pete Buttigieg (2019)
The Book of Joe ,
by Jeff Wilser (2019; biography of Joe Biden)
Becoming,
by Michelle Obama (2018)
Our Revolution,
by Bernie Sanders (2016)
This Fight Is Our Fight,
by Elizabeth Warren (2017)
Higher Loyalty,
by James Comey (2018)
The Making of Donald Trump,
by David Cay Johnston (2017)
Books by and about the 2016 presidential election
What Happened ,
by Hillary Clinton (2017)
Higher Loyalty ,
by James Comey (2018)
Trump vs. Hillary On The Issues ,
by Jesse Gordon (2016)
Hard Choices,
by Hillary Clinton (2014)
Becoming ,
by Michelle Obama (2018)
Outsider in the White House,
by Bernie Sanders (2015)
---
Book Reviews

(from Amazon.com)

(click a book cover for a review or other books by or about the presidency from Amazon.com)
An Inconvenient Truth
The Planetary Emergence of Global Warming and What We Can Do About It
by Al Gore, copyright 2006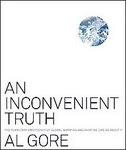 (Click for Amazon book review)
Click here for 19 full quotes from Al Gore in the book An Inconvenient Truth, by Al Gore. Click here for 1 full quotes from Jim Douglas in the book An Inconvenient Truth, by Al Gore.
OR click on an issue category below for a subset.
BOOK REVIEW by OnTheIssues.org:
This is one of the most important political books of the year, even if Al Gore does not end up running for President again. It's important mostly because it was made into an Oscar-winning movie (a documentary, which normally would not be seen by many people, ended up being seen by millions).
The book is pretty much the same as the movie -- they're both presentations of a PowerPoint slide show that Gore had been showing around the country for several years. It's hard to imagine a duller concept than a movie ABOUT a PowerPoint slide show, but, well, it seems to have worked. A book about a PowerPoint slide show is not as bad a concept as a movie about it, since you can put in splendid photographs. The book, accordingly, is on extra-large size extra-shiny paper -- excellent for coffeetables, but also with enough text for some serious content.
And the content is what Al Gore is all about these days. He claims he's not running for President (despite consistently coming in 3rd or 4th in the polls for the Democratic primary) so that he can focus on spreading the warning about global warming. His slide show is pretty smooth after several years of working on it, and the book is even smoother. So even if you're not a fan of global warming politically, you'd benefit by reading this book, because it lays out the arguments cleanly.
-- Jesse Gordon, jesse@OnTheIssues.org, May 2007
OnTheIssues.org excerpts: (click on issues for details)
Corporations
Commerce wounds nature that can no longer heal itself.
Energy & Oil
Skeptics point to historical warming--but today is hotter.
Ocean warming causes stronger hurricanes, like Katrina.
Global warming causes more floods & also more droughts.
Supported ethanol in 1970s & cellulosic ethanol now.
Arctic ice is melting & may disrupt global weather patterns.
Carbon exchange market can cap-and-trade CO2 like we did SO2.
Consensus on global warming, but newspapers fabricate doubt.
Current tech can reduce CO2 emissions to 1970 levels.
Dealing with global warming inconvenient for rich & powerful.
We solved ozone crisis; can solve CO2 crisis by same methods.
Steadily increase energy from clean, renewable sources.
Environment
Humans can impact earthís ecology; especially the atmosphere.
To let earth continue warming would be deeply immoral.
Use market capitalism as ally of environmentalism.
Foreign Policy
Drought from global warming set stage for Darfur genocide.
Homeland Security
Real danger to WTC is not terrorism, but rising sea levels.
Principles & Values
Sonís serious accident spurred interest in environment.
Technology
Tech makes us a force of nature; obligation to use wisely.
Internet restores press integrity lost by 1-way TV dominance.
| | |
| --- | --- |
| Click for quotations from other sources by: | |
The above quotations are from An Inconvenient Truth
The Planetary Emergence of Global Warming and What We Can Do About It
by Al Gore, copyright 2006.
Related books, debates, and candidates:
Books by Al Gore: