---
Books by and about 2020 presidential candidates
Crippled America,
by Donald J. Trump (2015)
United,
by Cory Booker (2016)
The Truths We Hold,
by Kamala Harris (2019)
Smart on Crime,
by Kamala Harris (2010)
Guide to Political Revolution,
by Bernie Sanders (2017)
Where We Go From Here,
by Bernie Sanders (2018)
Promise Me, Dad ,
by Joe Biden (2017)
Conscience of a Conservative,
by Jeff Flake (2017)
Two Paths,
by Gov. John Kasich (2017)
Every Other Monday,
by Rep. John Kasich (2010)
Courage is Contagious,
by John Kasich (1998)
Shortest Way Home,
by Pete Buttigieg (2019)
The Book of Joe ,
by Jeff Wilser (2019; biography of Joe Biden)
Becoming,
by Michelle Obama (2018)
Our Revolution,
by Bernie Sanders (2016)
This Fight Is Our Fight,
by Elizabeth Warren (2017)
Higher Loyalty,
by James Comey (2018)
The Making of Donald Trump,
by David Cay Johnston (2017)
Books by and about the 2016 presidential election
What Happened ,
by Hillary Clinton (2017)
Higher Loyalty ,
by James Comey (2018)
Trump vs. Hillary On The Issues ,
by Jesse Gordon (2016)
Hard Choices,
by Hillary Clinton (2014)
Becoming ,
by Michelle Obama (2018)
Outsider in the White House,
by Bernie Sanders (2015)
---
Book Reviews

(from Amazon.com)

(click a book cover for a review or other books by or about the presidency from Amazon.com)
Leadership, autobiography by Rudolph Giuliani with Ken Kurson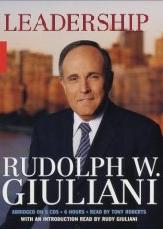 (Click for Amazon book review)
Click on a participant to pop-up their full list of quotations
from Leadership, autobiography by Rudolph Giuliani (number of quotes indicated):
Ronald Reagan (3)
Rudy Giuliani (18)
OR click on an issue category below for a subset.
BOOK REVIEW by OnTheIssues.org:
This book is Giuliani's self-portrait. In it, Giuliani describes all of the events of his political career, as he wants the public to see it. There isn't much self-criticism here -- just his version of the events. That's certainly valuable to know, now that Giuliani is running for president, but the reader should keep in mind that this is only one side of the story -- the side that makes Giuliani look good.
OnTheIssues will add in some critical books about the same era, when good ones appear -- and they will, if Giuliani remains the Republican frontrunner. We currently include excerpts from one somewhat more critical biography, Giuliani: Flawed or Flawless.
This book covers Giuliani's life for these key events:
Giuliani's early life, in brief, as it affected his decision to enter politics
Giuliani's term as mayor, and the newsworthy issues of that period
The events of Sept. 11 and Giuliani's reaction
Giuliani's short-lived Senate race against Hillary Clinton (Giuliani withdrew after being diagnosed with prostate cancer)
Giuliani's admiration of Ronald Reagan
The big question about this book is: Did Giuliani write the book with seeking the presidency in mind? I don't think so. I think Giuliani wrote the book with the idea of finishing his race for Senate against Hillary Clinton. The book certainly lays out a self-portrait that prepares for a future candidacy -- but I think it was intended for a New York audience, in a senatorial or gubernatorial race.
Perhaps the book is most targeted to future clients as well. Giuliani started a consulting firm after recovering from his illness. This book is ostensibly about Giuliani's principles of leadership. And it does detail those principles, except with examples from Giuliani's political career.
My conclusion is that Giuliani's book was a "trial balloon." That means, he wanted to see what the rest of the country would think about his story. Because the book was a bestseller, Giuliani certainly did get strong feedback about that. I suspect the positive feedback inspired him to run for president, because he saw that he could reach beyond New Yorkers successfully. In other words, Giuliani didn't write the book in order to run for president; the book's success persuaded Giuliani to run.
-- Jesse Gordon, jesse@OnTheIssues.org, August 2007
OnTheIssues.org excerpts: (click on issues for details)
Budget & Economy
Rudy Giuliani: Under-estimate future revenue to force cost containment.
Crime
Rudy Giuliani: Banished "squeegee men": civility from treating small crimes.
Rudy Giuliani: Community policing is comforting but doesn't stop crime.
Education
Rudy Giuliani: Schools should focus on educating kids, not protecting jobs.
Rudy Giuliani: Supports vouchers and supports using the word vouchers.
Rudy Giuliani: Cut city funding for offensive art at Brooklyn Museum.
Families & Children
Rudy Giuliani: Restrict sex shops to small buffer zone.
Government Reform
Rudy Giuliani: Applied "reinventing government" to New York City.
Rudy Giuliani: Debates on campaign finance reform miss the point on honesty.
Homeland Security
Ronald Reagan: Dealt with Soviets but insisted on verification with teeth.
Rudy Giuliani: Led New York City through the events of 9/11.
Rudy Giuliani: We're right and terrorists are wrong--as simple as that.
Rudy Giuliani: Deal with untrustworthy negotiators by getting it in writing.
Rudy Giuliani: Would personally execute Bin Laden for attacking NYC.
Jobs
Ronald Reagan: Fired PATCO workers who broke oath not to strike.
Principles & Values
Ronald Reagan: Built morale so people believed things could be accomplished.
Rudy Giuliani: Dropped out of 2000 Senate race to put his health first.
Rudy Giuliani: Considered medicine & priesthood before entering law.
Rudy Giuliani: Endorsed Democrat Mario Cuomo for NY Governor in 1994.
Tax Reform
Rudy Giuliani: First day as mayor: reduced sales tax from 6% to 5%.
Welfare & Poverty
Rudy Giuliani: America Works: pay company for jobs for welfare recipients.
| | |
| --- | --- |
| Click for quotations from other sources by: | |
The above quotations are from Leadership, autobiography by Rudolph Giuliani with Ken Kurson.
Related books, debates, and candidates: