---
Books by and about 2020 presidential candidates
Crippled America,
by Donald J. Trump (2015)
United,
by Cory Booker (2016)
The Truths We Hold,
by Kamala Harris (2019)
Smart on Crime,
by Kamala Harris (2010)
Guide to Political Revolution,
by Bernie Sanders (2017)
Where We Go From Here,
by Bernie Sanders (2018)
Promise Me, Dad ,
by Joe Biden (2017)
Conscience of a Conservative,
by Jeff Flake (2017)
Two Paths,
by Gov. John Kasich (2017)
Every Other Monday,
by Rep. John Kasich (2010)
Courage is Contagious,
by John Kasich (1998)
Shortest Way Home,
by Pete Buttigieg (2019)
The Book of Joe ,
by Jeff Wilser (2019; biography of Joe Biden)
Becoming,
by Michelle Obama (2018)
Our Revolution,
by Bernie Sanders (2016)
This Fight Is Our Fight,
by Elizabeth Warren (2017)
Higher Loyalty,
by James Comey (2018)
The Making of Donald Trump,
by David Cay Johnston (2017)
Books by and about the 2016 presidential election
What Happened ,
by Hillary Clinton (2017)
Higher Loyalty ,
by James Comey (2018)
Trump vs. Hillary On The Issues ,
by Jesse Gordon (2016)
Hard Choices,
by Hillary Clinton (2014)
Becoming ,
by Michelle Obama (2018)
Outsider in the White House,
by Bernie Sanders (2015)
---
Book Reviews

(from Amazon.com)

(click a book cover for a review or other books by or about the presidency from Amazon.com)
The Top American Science Questions, by sciencedebate.org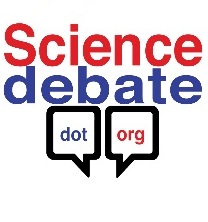 Click on a participant to pop-up their full list of quotations
from Romney vs. Obama on ScienceDebate.org (number of quotes indicated):
Barack Obama (18)
Mitt Romney (19)
OR click on an issue category below for a subset.
ScienceDebate.org managed to get both Romney and Obama to answer their candidate questionnaire. Their statement:

"Science now affects every aspect of life and is an increasingly important topic in national policymaking.

"ScienceDebate.org invited thousands of scientists, engineers and concerned citizens to submit what they felt were the the most important science questions facing the nation that the candidates for president should be debating on the campaign trail.

"ScienceDebate then worked with the leading US science and engineering organizations listed at left to refine the questions and arrive at a universal consensus on what the most important science policy questions facing the United States are in 2012.

"Candidates readily debate jobs and the economy even though they are not economists; they debate foreign policy and military intervention even though they are not diplomats or generals; they debate faith and values even though they are not priests or pastors. We call on the candidates for President to also debate these Top American Science Questions that affect all voters' lives."

OnTheIssues.org excerpts: (click on issues for details)
Education
Barack Obama: 100,000 new science & math teachers over the next decade.
Barack Obama: Educate to Innovate: new national STEM Master Teacher Corps.
Mitt Romney: Higher spending rarely correlates with better results.
Energy & Oil
Barack Obama: First-ever carbon pollution limits for new oil & coal plants.
Barack Obama: $90B for clean energy; biggest investment in history.
Barack Obama: All-of-the-above approach to reduce foreign dependence .
Mitt Romney: No consensus on extent of global warming or human activity.
Mitt Romney: $90B on green energy is better spent on private research.
Mitt Romney: With Canada & Mexico,2020 North American energy independence.
Mitt Romney: Use all energy sources, without stifling energy production.
Mitt Romney: Feds take 307 days to permit oil drilling; states take 10.
Environment
Barack Obama: First reform of food safety laws in more than 70 years.
Barack Obama: Bolster the use of organic farming methods.
Barack Obama: National clean water framework: protect America's waters.
Barack Obama: Establish Great Lakes Restoration and National Ocean Policy.
Barack Obama: Monitor health of fisheries & establish "pollution diet".
Mitt Romney: FDA should collaborate with businesses they monitor.
Mitt Romney: Clean Air & Water Acts are significantly out of date.
Mitt Romney: Welcome input from fisherman to help protect fisheries.
Mitt Romney: Mercury rule spends $10B to reduce $6M in pollution.
Foreign Policy
Barack Obama: Prepare for global pandemics with global partners.
Free Trade
Barack Obama: Develop alternatives to importing rare earths from China.
Government Reform
Mitt Romney: Regulatory cap: Repeal outdated regulations to make new ones.
Health Care
Barack Obama: Too many Americans skip preventive care due to cost.
Mitt Romney: ObamaCare drives medical device jobs overseas.
Mitt Romney: Develop countermeasures for global pandemics.
Mitt Romney: Preventive vaccines require robust R&D enterprises.
Technology
Barack Obama: Double funding for key research agencies.
Barack Obama: Invest 3% of GDP in public & private R&D.
Barack Obama: Free and open Internet is essential to modern economy.
Barack Obama: Make science policy decisions based on facts, not ideology.
Barack Obama: Send humans to Asteroids by 2025 & Mars by 2030s.
Mitt Romney: Innovation is the key to economic growth and job creation.
Mitt Romney: Government has no role in "managing" the Internet.
Mitt Romney: Net Neutrality imposes government as a central gatekeeper.
Mitt Romney: Space crucial to national security & international standing.
Mitt Romney: Rare earth scarcity driven by regulation, not economics.



| | |
| --- | --- |
| Click for quotations from other sources by: | |
The above quotations are from The Top American Science Questions, by sciencedebate.org.
2012 Presidential General Election: