---
Books by and about 2020 presidential candidates
Crippled America,
by Donald J. Trump (2015)
United,
by Cory Booker (2016)
The Truths We Hold,
by Kamala Harris (2019)
Smart on Crime,
by Kamala Harris (2010)
Guide to Political Revolution,
by Bernie Sanders (2017)
Where We Go From Here,
by Bernie Sanders (2018)
Promise Me, Dad ,
by Joe Biden (2017)
Conscience of a Conservative,
by Jeff Flake (2017)
Two Paths,
by Gov. John Kasich (2017)
Every Other Monday,
by Rep. John Kasich (2010)
Courage is Contagious,
by John Kasich (1998)
Shortest Way Home,
by Pete Buttigieg (2019)
The Book of Joe ,
by Jeff Wilser (2019; biography of Joe Biden)
Becoming,
by Michelle Obama (2018)
Our Revolution,
by Bernie Sanders (2016)
This Fight Is Our Fight,
by Elizabeth Warren (2017)
Higher Loyalty,
by James Comey (2018)
The Making of Donald Trump,
by David Cay Johnston (2017)
Books by and about the 2016 presidential election
What Happened ,
by Hillary Clinton (2017)
Higher Loyalty ,
by James Comey (2018)
Trump vs. Hillary On The Issues ,
by Jesse Gordon (2016)
Hard Choices,
by Hillary Clinton (2014)
Becoming ,
by Michelle Obama (2018)
Outsider in the White House,
by Bernie Sanders (2015)
---
Book Reviews

(from Amazon.com)

(click a book cover for a review or other books by or about the presidency from Amazon.com)
Rediscovering God in America
Reflections on the Role of Faith in Our Nation's History and Future, by Newt Gingrich (published October 10, 2006)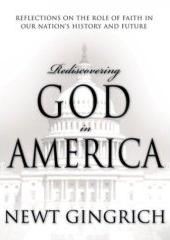 (Click for Amazon book review)
Click here for 12 full quotes from Newt Gingrich in the book Rediscovering God in America, by Newt Gingrich.
OR click on an issue category below for a subset.
BOOK REVIEW by OnTheIssues.org:
Newt Gingrich in this book expresses strongly how important God has been to American history. The structure of this book is a "tour" of Washington DC, pointing out all of the references to God built into our public monuments and buildings, as well as in their design and history. The details of that aspect of the book are mostly omitted here because OnTheIssues doesn't have categories for history nor architecture.
But there is a political purpose too, and those comprise our excerpts. In particular, Gingrich applies the historical importance of God in America to examine numerous current public policy issues, from the Pledge of Allegiance to school prayer. Gingrich reserves particular venom for the US Supreme Court and other courts who rule in favor of omitting God from public displays -- claiming that they are usurping power intended for the legislature, and also ignoring the importance of God in centuries of American history.
This book is similar in conclusions to Mike Huckabee's Character Makes a Difference. Gov. Huckabee, however, comes from a pastoral perspective, arguing on religious and moral grounds instead of Gingrich's historical grounds. Gingrich's argument is certainly more effective when attempting to persuade non-Christians or secularists. OnTheIssues hopes he enters the presidential race so that he and Huckabee can explore these differences in greater detail.
-- Jesse Gordon, jesse@OnTheIssues.org, May 2007
OnTheIssues.org excerpts: (click on issues for details)
Civil Rights
Five justices banned school prayer against American majority.
Education
Removing God from Pledge of Allegiance assaults our identity.
Removing "God" from Pledge assaults our identity.
Replace multiculturalism with patriotic education.
Government Reform
Insist on judges who understand our rights come from God.
Insist on judges who understand our rights come from God.
Our rights come from God, not from government.
Supreme Court has become permanent Constitutional Convention.
Principles & Values
Constitution says freedom OF religion, not FROM religion.
Supreme Court hostile to religion, but building based on it.
Creator as source of liberty is literally written in stone.
Media-academic-legal elite imposes radical secularist vision.
| | |
| --- | --- |
| Click for quotations from other sources by: | |
The above quotations are from Rediscovering God in America
Reflections on the Role of Faith in Our Nation's History and Future, by Newt Gingrich (published October 10, 2006).
Related books, debates, and candidates: