---
Books by and about 2020 presidential candidates
Crippled America,
by Donald J. Trump (2015)
United,
by Cory Booker (2016)
The Truths We Hold,
by Kamala Harris (2019)
Smart on Crime,
by Kamala Harris (2010)
Guide to Political Revolution,
by Bernie Sanders (2017)
Where We Go From Here,
by Bernie Sanders (2018)
Promise Me, Dad ,
by Joe Biden (2017)
Conscience of a Conservative,
by Jeff Flake (2017)
Two Paths,
by Gov. John Kasich (2017)
Every Other Monday,
by Rep. John Kasich (2010)
Courage is Contagious,
by John Kasich (1998)
Shortest Way Home,
by Pete Buttigieg (2019)
The Book of Joe ,
by Jeff Wilser (2019; biography of Joe Biden)
Becoming,
by Michelle Obama (2018)
Our Revolution,
by Bernie Sanders (2016)
This Fight Is Our Fight,
by Elizabeth Warren (2017)
Higher Loyalty,
by James Comey (2018)
The Making of Donald Trump,
by David Cay Johnston (2017)
Books by and about the 2016 presidential election
What Happened ,
by Hillary Clinton (2017)
Higher Loyalty ,
by James Comey (2018)
Trump vs. Hillary On The Issues ,
by Jesse Gordon (2016)
Hard Choices,
by Hillary Clinton (2014)
Becoming ,
by Michelle Obama (2018)
Outsider in the White House,
by Bernie Sanders (2015)
---
Book Reviews

(from Amazon.com)

(click a book cover for a review or other books by or about the presidency from Amazon.com)
First Obama-Romney 2012 Presidential debate (in Denver Colorado)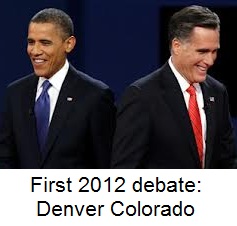 Click on a participant to pop-up their full list of quotations
from First Obama-Romney 2012 Presidential debate (number of quotes indicated):
First Presidential debate, Oct. 3, 2012:
Held at Magness Arena at the University of Denver in Denver, Colorado.
Hosted by Jim Lehrer of the "PBS NewsHour"
Sponsored by the bipartisan Commission on Presidential Debates.
90 minutes on domestic issues in six segments:
Three on the economy and one each on health care, the role of government and governing.


Since third-party canddates are excluded by the bipartisan Commission on Presidential Debates, "Democracy Now!" aired a live commentary called Expanding the Debate, including two 3rd-party candidates, the Green Party's Jil Stein and the Justice Party's Rocky Anderson.


Commentary: The mainstream media widely viewed Romney as having "won" this first debate. Obama several times seemed disengaged, and certainly not up to his usual level of passion.
On the issues, however, Obama did respond to all of Romney's key points. Obama's lack of passion and engagement seems to have come from lack of preparedness. I.e., Obama was not ready to respond to Romney's views.
Another way to view this debate is that Romney changed several of his key issue stances just for this debate -- he finally implemented the "Etch-a-Sketch" plan which was so much the focus of the mainstream media during the summer campaign. Some examples of key issue changes:
Romney formerly pushed for tax breaks for job creators and now says he will not reduce high-income tax rates.
Romney formerly pushed for trillions of dollars in reduced spending and now says he will not have any deficit spending, despite the tax cuts.
Romney says he will accomplish the above by closing tax loopholes, but has not (and it sounds like he will not) identified the loopholes in question. He matches that with a process description for how to decide spending cuts -- he will sit down with Congressional Democrats -- so far the only identified cut is PBS' "Big Bird" (which became the tag line of this debate).
Romney has now adopted Paul Ryan's plan to allow opt-outs of Medicare (known to opponents as the "voucher plan").
Most people expected Romney to modify his stances for the general election -- but there is a risk to doing so in October. Obama will respond more effectively to Romney's new stances in the next debate -- likely with passion and engagement. And in addition, Obama will be able to point to the "Etch-a-Sketch" changes themselves for political benefit.
In summary, Romney won this debate -- and gained several points in the polls -- but at the expense of making his task harder in the subsequent debates.
OnTheIssues.org excerpts: (click on issues for details)
Budget & Economy
Jill Stein: Still no end in sight to economic crisis: focus on jobs.
Barack Obama: Economic patriotism instead of top-down policies.
Barack Obama: $5T in tax cuts & $2T on defense is failed recipe from 2003.
Barack Obama: Deficit came from two wars paid for on a credit card.
Mitt Romney: Economy Tax: Middle-income families have lost $4,300.
Corporations
Barack Obama: Lower tax rate to 25% and incentivize investment at home.
Barack Obama: End $4B tax break for shipping jobs overseas.
Barack Obama: Toughest reforms on Wall Street since the 1930s.
Mitt Romney: You raise taxes on business and you kill jobs.
Mitt Romney: There is no tax break for shipping jobs overseas.
Mitt Romney: Replace Dodd-Frank; it helps big banks & hurts small ones.
Education
Barack Obama: 2 million more slots in our community colleges.
Barack Obama: Cut out the middleman on student loans from banks.
Mitt Romney: Let IDEA and Title I funds follow disabled child.
Mitt Romney: No cuts to college funding.
Energy & Oil
Barack Obama: Does anyone think Exxon-Mobil needs a subsidy?
Mitt Romney: $2.8B oil subsidy better than $90B green energy for losers.
Government Reform
Mitt Romney: Trickle-down government is not the answer.
Mitt Romney: Regulation is essential; but it's excessive and outdated.
Health Care
Jill Stein: Medicare Part D is a giveaway for pharmaceutical companies.
Jill Stein: Affordable Care Act is neither Affordable nor Caring.
Rocky Anderson: Just get the for-profit insurance companies out of the way.
Rocky Anderson: ObamaCare & RomneyCare are both "insurance companycare".
Barack Obama: Shifting Medicaid to states means some people don't get help.
Barack Obama: We reduced senior Rx prices & pushed preventive care.
Barack Obama: I don't think Medicare vouchers are the way to go.
Barack Obama: Voucher system puts seniors at mercy of insurance companies.
Barack Obama: Boards of experts identify best practices & keep costs down.
Barack Obama: ObamaCare says insurance companies can't jerk you around.
Barack Obama: ObamaCare and RomneyCare both expand private insurance.
Mitt Romney: Shift Medicaid to states, plus inflation, plus 1%.
Mitt Romney: Restore $716B in Medicare cuts.
Mitt Romney: No change to near-retirees; Medicare vouchers for young.
Mitt Romney: Give young people a choice of Medicare or private insurer.
Mitt Romney: ObamaCare has unelected board making health decisions.
Mitt Romney: ObamaCare is too expensive, and it has killed jobs.
Mitt Romney: RomneyCare was bipartisan; ObamaCare was pushed through.
Mitt Romney: RomneyCare is national model, but only state by state.
Homeland Security
Jill Stein: Bush & Obama criminalized the right to protest.
Rocky Anderson: Citizens are worried about being safe FROM our government.
Mitt Romney: Protecting life & liberty means a military second to none.
Jobs
Mitt Romney: My priority is jobs: small businesses employ 1/4 of workers.
Principles & Values
Jill Stein: At breaking point for people, planet, economy, & democracy.
Rocky Anderson: Economic justice, social justice, & environmental justice.
Barack Obama: If all Americans get opportunity, we're all better off.
Social Security
Jill Stein: System perfectly solvent when rich pay their fair share.
Rocky Anderson: Payroll tax is as regressive a tax as known to mankind.
Barack Obama: Tweak Social Security like Reagan did, but keep entitlements.
Tax Reform
Barack Obama: We got middle-class tax cuts of $3600.
Mitt Romney: I am not proposing a $5T tax cut for the rich.
Mitt Romney: To close loopholes: Perhaps allow any deductions up to $25K.
Technology
Rocky Anderson: Put 20 million to work on deteriorating infrastructure.
Mitt Romney: Stop the subsidies to PBS, even though I like Big Bird.
| | |
| --- | --- |
| Click for quotations from other sources by: | |
The above quotations are from First Obama-Romney 2012 Presidential debate (in Denver Colorado).
2012 Presidential General Election: