---
Books by and about 2020 presidential candidates
Crippled America,
by Donald J. Trump (2015)
United,
by Cory Booker (2016)
The Truths We Hold,
by Kamala Harris (2019)
Smart on Crime,
by Kamala Harris (2010)
Guide to Political Revolution,
by Bernie Sanders (2017)
Where We Go From Here,
by Bernie Sanders (2018)
Promise Me, Dad ,
by Joe Biden (2017)
Conscience of a Conservative,
by Jeff Flake (2017)
Two Paths,
by Gov. John Kasich (2017)
Every Other Monday,
by Rep. John Kasich (2010)
Courage is Contagious,
by John Kasich (1998)
Shortest Way Home,
by Pete Buttigieg (2019)
The Book of Joe ,
by Jeff Wilser (2019; biography of Joe Biden)
Becoming,
by Michelle Obama (2018)
Our Revolution,
by Bernie Sanders (2016)
This Fight Is Our Fight,
by Elizabeth Warren (2017)
Higher Loyalty,
by James Comey (2018)
The Making of Donald Trump,
by David Cay Johnston (2017)
Books by and about the 2016 presidential election
What Happened ,
by Hillary Clinton (2017)
Higher Loyalty ,
by James Comey (2018)
Trump vs. Hillary On The Issues ,
by Jesse Gordon (2016)
Hard Choices,
by Hillary Clinton (2014)
Becoming ,
by Michelle Obama (2018)
Outsider in the White House,
by Bernie Sanders (2015)
---
Book Reviews

(from Amazon.com)

(click a book cover for a review or other books by or about the presidency from Amazon.com)
In Mortal Danger
The Battle for America's Border and Security, by Tom Tancredo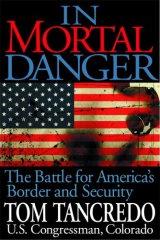 (Click for Amazon book review)
Click here for 41 full quotes from Tom Tancredo in the book In Mortal Danger, by Rep. Tom Tancredo (R, CO).
OR click on an issue category below for a subset.
BOOK REVIEW by OnTheIssues.org:
Tom Tancredo is running a presidential campaign as a means to publicize his key issue of immigration. He has used this bully pulpit well, emphasizing immigration as the central problem facing America today, but his book makes clearer his view of the centrality of immigration. The book ties numerous issues to immigration -- drugs, terrorism, low wages, and in general, the demise of American society -- as part of a coherent pattern, in Tancredo's view.
Tancredo comfortably uses the terms "anchor baby" and "chain migration" -- the buzzwords of anti-immigrant talk radio shows. I'm unclear if Tancredo popularized the terms first, or if he echoes talk radio. I suspect Tancredo is following some other policy analyst -- perhaps Pat Buchanan, whose anti-immigration book we're reviewing next -- because it seems unlikely that a sitting member of Congress would coin phrases. I'd like to hear from readers who know which came first.
I did not use the term "illegal immigrant" in the first paragraph, because Tancredo is openly against immigration, not just against illegal immigration. His honesty is refreshing -- most anti-immigrant politicians say they're against ILLEGAL immigration while being for LEGAL immigration. Tancredo opposes both. I suspect most politicians who oppose illegal immigration also oppose legal immigration, but are afraid to say so.
Now, on the concept of immigration's centrality to all other problems in America, including the pending downfall of American culture. Tancredo's belief that immigration causes all other problems is remarkably similar to the belief of strong pro-lifers or of strong anti-gay activists in the centrality of their issue. It's unclear if the immigration issue today is a relatively small group who are very effective at dominating talk radio and the Internet, or if alternatively the issue will become the central issue of the 2008 election. The pro-lifers have succeeded in establishing abortion as the premier litmus test of American politics. And the anti-gay activists succeeded in turning several states electoral votes in 2006 -- and likely the presidential election as a result. Whether immigration becomes as central an issue will only be determined in November 2008.
P.S. Tancredo's name sounds Latino--which would make him sound hypocritical--but in fact, he's of Italian descent (but since he opposes hyphenations, not an Italian-American!).
-- Jesse Gordon, jesse@OnTheIssues.org, August 2007
OnTheIssues.org excerpts: (click on issues for details)
Civil Rights
Hyphenated-Americans balkanize our society.
Cult of multiculturalism destructive to western civilization.
We're diversifying to death; promote AMERICAN culture.
Corporations
Strong immigration stance costs PAC and corporate support.
Drugs
Porous border allows Mexican cartels to smuggle drugs.
Mexican military helps drug smugglers cross border.
Education
For first time, we're telling students to NOT learn English.
Should be OK to say "Merry Christmas" at public schools.
Our students are taught Christian fanatics are the problem.
Environment
US's world-scale consumerism is a measure of success.
Free Trade
Globalization is replacing "citizens" with "consumers".
Health Care
Healthcare costs skyrocket by free treatment of aliens.
Homeland Security
Self-deluded NEA union blames America for 9/11.
We are at war with Islamofascism.
Islam's basic tenets are inextricably linked to terrorism.
Technology can't defeat religion-fueled suicide bombers.
If nuked by Islamic terrorists, take out their holy sites.
Active Hezbollah cells operate out of Mexico.
Evil prowls this planet; defend with terrorist profiling.
DHS not doing enough to keep terrorists out of US.
Bar foreign workers from working in nuclear facilities.
Press said "pro-peace" rallies: crowd chanted "Allah Akbar".
Immigration
Our society is intoxicated with multiculturalism.
Spend billions more to enforce border fully.
Erect fence along entire Mexican & Canadian borders.
Deploy military troops to support Border Patrol.
Supports employer verification in 2005 reform bill.
It's a myth that illegal immigrants benefit our economy.
Immigration agency acts as greeters; should act as enforcers.
Disallow Mexican "matricula" cards as valid ID cards.
Left supports immigration for votes; right for cheap labor.
Bush's "guest worker" program IS amnesty.
No net benefit from immigration; annual $70B loss.
Anchor babies: pregnant Mexicans give birth to US citizens.
End "catch & release" along Mexican border.
Eliminate "chain migration" where illegals bring in families.
Jobs
Americans don't shun jobs; they shun low wages.
Principles & Values
Audacious agenda: limited government & individual freedom.
Label "lightning rod" suits me fine.
We've lost 1950s selfless devotion to civic duty.
Terrorists have no identity crisis, while we do.
| | |
| --- | --- |
| Click for quotations from other sources by: | |
The above quotations are from In Mortal Danger
The Battle for America's Border and Security, by Tom Tancredo.
Related books, debates, and candidates: