---
Books by and about 2020 presidential candidates
Crippled America,
by Donald J. Trump (2015)
United,
by Cory Booker (2016)
The Truths We Hold,
by Kamala Harris (2019)
Smart on Crime,
by Kamala Harris (2010)
Guide to Political Revolution,
by Bernie Sanders (2017)
Where We Go From Here,
by Bernie Sanders (2018)
Promise Me, Dad ,
by Joe Biden (2017)
Conscience of a Conservative,
by Jeff Flake (2017)
Two Paths,
by Gov. John Kasich (2017)
Every Other Monday,
by Rep. John Kasich (2010)
Courage is Contagious,
by John Kasich (1998)
Shortest Way Home,
by Pete Buttigieg (2019)
The Book of Joe ,
by Jeff Wilser (2019; biography of Joe Biden)
Becoming,
by Michelle Obama (2018)
Our Revolution,
by Bernie Sanders (2016)
This Fight Is Our Fight,
by Elizabeth Warren (2017)
Higher Loyalty,
by James Comey (2018)
The Making of Donald Trump,
by David Cay Johnston (2017)
Books by and about the 2016 presidential election
What Happened ,
by Hillary Clinton (2017)
Higher Loyalty ,
by James Comey (2018)
Trump vs. Hillary On The Issues ,
by Jesse Gordon (2016)
Hard Choices,
by Hillary Clinton (2014)
Becoming ,
by Michelle Obama (2018)
Outsider in the White House,
by Bernie Sanders (2015)
---
Book Reviews

(from Amazon.com)

(click a book cover for a review or other books by or about the presidency from Amazon.com)
It Takes A Village, by Hillary Clinton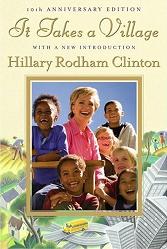 (Click for Amazon book review)
Click here for 29 full quotes from Hillary Clinton in the book It Takes A Village, by Hillary Clinton.
OR click on an issue category below for a subset.
BOOK REVIEW by OnTheIssues.org:
This book is Hillary's classic -- not so much a political book as a definition of her view of the world. It was written in 1996, well before she was considering running for the presidency. Hence it does not have much in the way of policy prescriptions. However, Hillary added an introduction in December 2006, for the "10th Anniversary Edition," along with a new set of end-notes commenting on her updated thoughts on the original text. Those 2006 additions were written with her presidential run in mind, and constitute the bulk of our excerpts. (The 2006 additions are cited as roman-numeral pages for the introduction, and page numbers above 299 for the end-notes).
The theme of Hillary's book is that children are raised not just by their parents, but also by all of the other people in the society around them. Therefore, according to Hillary, all the components of that society -- the schools and the government, but the businesses too -- have an obligation to consider their impact on children that they affect. Apparently Hillary's belief in this philosophy has been strengthened in the past 10 years, because her new commentary reinforces her original policy prescriptions with a decade of additional evidence.
On the left side of the political spectrum, one might view that philosophy as the underlying value of a compassionate society which is appropriately focused on child-rearing as its core activity. On the right side of the political spectrum, one might view that philosophy as a rationale for a government takeover of anything related to child-rearing, which can be expansively defined as anything at all. In either case, Hillary's philosophy is out in the open for public inspection -- she has not hidden her beliefs since at least 1996.
-- by Jesse Gordon, jesse@OnTheIssues.org, November 2007
OnTheIssues.org excerpts: (click on issues for details)
Abortion
Cairo Document: right to abortion but not as family planning.
Fought for years to get "Plan B" contraceptive on the market.
Civil Rights
Affirmative living: involve entire village against racism.
Corporations
Family-friendly work policies are good for business.
Businesses play social role in US; gov't oversight required.
Crime
Supports citizen patrols & 3-Strikes-You're-Out.
Pushed to expand AMBER alerts & for stricter sex penalties.
Drugs
Involved parents most influential in reducing teen drug use.
Education
Character education: teach empathy & self-discipline.
Allow student prayer, but no religious instruction.
Supports Goals 2000: hardly the stuff of revolution.
Supports public school choice and charter schools.
Early education affects things from IQ to lifelong earnings.
2001: Proposed and passed National Teacher Corps.
Families & Children
Children are not rugged individualists.
Teens not ready for sex; provide havens for alternatives.
Family Leave Act is a good start; paid leave better.
Chelsea benefited from "village" & from two parents.
It takes a village to raise a child, in interdependent world.
Mother's difficult childhood sparked concern for kids.
Supported foster care adoptions as First Lady & as Senator.
Gun Control
Get weapons off the streets; zero tolerance for weapons.
Health Care
1997: Helped found State Children's Health Insurance Program.
Jobs
Recently "we're in it together" became "you're on your own".
Minimum wage increases haven't kept up with Congress' wages.
Social Security
Respect unique power of government to meet social needs.
Tax Reform
Expand child tax credit for child's first year.
Technology
Innovations make better parent-child connections at distance.
Introduced CAMRA to study how sex in media affects teens.
| | |
| --- | --- |
| Click for quotations from other sources by: | |
The above quotations are from It Takes A Village, by Hillary Clinton.
Related books, debates, and candidates:

BIASED IN FAVOR OF HILLARY:

NEUTRAL INVESTIGATION OF HILLARY: