A Thousand Days
John F. Kennedy in the White House
by Arthur Schlesinger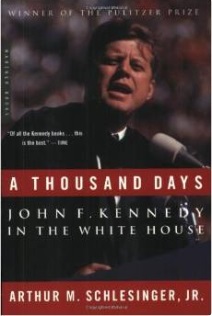 (Click for Amazon book review)
Click on a participant to pop-up their full list of quotations
from 1000 Days, by Arthur Schlesinger (number of quotes indicated):
John F. Kennedy (11)
OR click on an issue category below for a subset.
OnTheIssues.org excerpts: (click on issues for details)
Abortion
John F. Kennedy: Supply funds for international birth control studies.
Budget & Economy
John F. Kennedy: Steady rise in expenditures as economic stimulus.
Civil Rights
John F. Kennedy: Executive action for immediate civil rights progress.
Families & Children
John F. Kennedy: Find simple, effective, inexpensive fertility control.
Foreign Policy
John F. Kennedy: Help population control abroad with methods of their choice.
Jobs
John F. Kennedy: Tax reduction is first part of assault on unemployment.
Social Security
John F. Kennedy: 1961: liberalize social security to help end recession.
John F. Kennedy: Quality of life is unfinished business of FDR's New Deal.
Tax Reform
John F. Kennedy: 1963: Tax cut first; then expenditures program.
Welfare & Poverty
John F. Kennedy: Substandard homes are unfinished business of War on Poverty.
John F. Kennedy: Greater investment in distressed areas & distressed people.
| | |
| --- | --- |
| Click for quotations from other sources by: | |
The above quotations are from A Thousand Days
John F. Kennedy in the White House
by Arthur Schlesinger.
Biographies of past presidents:



President George W. Bush
Decision Points, by George W. Bush
A Charge to Keep, by George W. Bush
President Bill Clinton
Back to Work, by Pres. Bill Clinton
The Agenda, by Bob Woodward
President George H. W. Bush
All the Best, My Life in Letters, by George Bush Sr.
The Family, (the Bushes) by Kitty Kelley
William & Mary Environmental Law Review, by Cameron Lynch
President Ronald Reagan
Dutch, a Memoir of Ronald Reagan, by Edmund Morris
Abortion and the Conscience of a Nation, by Pres. Ronald Reagan
President Jimmy Carter
An Hour Before Daylight, by Jimmy Carter
Jimmy Who?: biography of Jimmy Carter
President Gerald Ford
Shadow: Five Presidents and the Legacy of Watergate,by Bob Woodward
A Time to Heal: The Autobiography of Gerald R. Ford
President Richard Nixon
Seize the Moment, by Richard Nixon
The Watergate Transcripts, by The Washington Post

President Lyndon Johnson
The Passage of Power, by Robert Caro
Taking Charge: The Johnson White House Tapes, by Michael Beschloss
President John F. Kennedy
Profiles In Courage, by John F. Kennedy
A Nation of Immigrants, by John F. Kennedy
Kennedy & Nixon, by Chris Matthews
1000 Days, by Arthur Schlesinger
President Dwight Eisenhower
Waging Peace, by Dwight Eisenhower
Ike and Dick, by Jeffrey Frank
President Harry Truman
Plain Speaking, by Merle Miller
Wit & Wisdom of Harry Truman, by Ralph Keyes