Kennedy & Nixon
The Rivalry That Shaped Postwar America
by Chris Matthews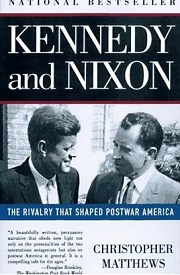 (Click for Amazon book review)
Click on a participant to pop-up their full list of quotations
from Kennedy & Nixon, by Chris Matthews (number of quotes indicated):
John F. Kennedy (1)
Richard Nixon (2)
OR click on an issue category below for a subset.
BOOK REVIEW by OnTheIssues.org:
The author of this book is the well-known host of MSNBC's "Hardball." He made his name as a political pundit by publishing this book in 1996, although his 1999 book Hardball: How Politics is Played, Told by One Who Knows the Game provided his lasting catchphrase. Matthews does "know the game," since he was a Congressional aide to Tip O'Neill (D, MA) and a speechwriter for Jimmy Carter. He also ran unsuccessfully for Congress in 1974, and considered running for Senate in 2010.
As indicated in the subtitle, the Kennedy-Nixon rivalry "shaped postwar America" from 1946 until Nixon's resignation in 1974. In 1946, both Kennedy and Nixon were first elected to Congress; both had served in WWII; they had offices directly across the hall from one another when Nixon was Vice President and Kennedy was a Senator. Those parallels are explored along with their differences: Kennedy lived a wealthy lifestyle in Georgetown with servants; Nixon instead lived the "Dagwood Bumstead" lifestyle (p. 56); Kennedy went to Harvard; Nixon went to Whittier College. Although Kennedy famously looked full of "vigor" in comparison with Nixon in the 1960 debates, in fact Kennedy was sickly compared to Nixon: JFK was given last rites once during back surgery (p. 99) and another time for Addison's disease (pp. 54-7).
But the book explores more than their personal parallels and differences; it also explores deeply both their politics and their policy stances. Both fought Communism while in Congress: Nixon more famously with the "Alger Hiss case"; but Kennedy was no liberal when it came to Communism. In fact, that's one of the most interesting subtexts of the book: Both men pushed moderate politics instead of the harsh labeling of today. Nixon pushed what he called "practical liberalism" (p. 34) and Kennedy called himself a "fighting conservative" (p. 40). Those self-imposed labels are opposite of their party affiliation, and indicate a willingness to work with the other party in a way which would never be dared by today's politicians.
The book concludes, "Today, the Kennedy Center and the Watergate sit beside each other along the Potomac--like unmatched bookends." This book is not a "retrospective" of "insider politics" like we at OnTheIssues hate--it has some real history; some real sympathy for both sides of many hot issues; and some real depth in explaining two important leaders' motivations. Chris Matthews certainly deserved to earn his reputation with this book--if only other political pundits did the same!
-- Jesse Gordon, OnTheIssues editor-in-chief, July 2013
OnTheIssues.org excerpts: (click on issues for details)
Principles & Values
John F. Kennedy: 1947: Diagnosed with Addison's Disease and given Last Rites.
Richard Nixon: Earned nickname "Tricky Dicky" in 1950 Senate race.
War & Peace
Richard Nixon: Operation Vulture: Nuke Vietnam if North overruns South.
| | |
| --- | --- |
| Click for quotations from other sources by: | |
The above quotations are from Kennedy & Nixon
The Rivalry That Shaped Postwar America
by Chris Matthews.
Biographies of past presidents:



President George W. Bush
Decision Points, by George W. Bush
A Charge to Keep, by George W. Bush
President Bill Clinton
Back to Work, by Pres. Bill Clinton
The Agenda, by Bob Woodward
President George H. W. Bush
All the Best, My Life in Letters, by George Bush Sr.
The Family, (the Bushes) by Kitty Kelley
William & Mary Environmental Law Review, by Cameron Lynch
President Ronald Reagan
Dutch, a Memoir of Ronald Reagan, by Edmund Morris
Abortion and the Conscience of a Nation, by Pres. Ronald Reagan
President Jimmy Carter
An Hour Before Daylight, by Jimmy Carter
Jimmy Who?: biography of Jimmy Carter
President Gerald Ford
Shadow: Five Presidents and the Legacy of Watergate,by Bob Woodward
A Time to Heal: The Autobiography of Gerald R. Ford
President Richard Nixon
Seize the Moment, by Richard Nixon
The Watergate Transcripts, by The Washington Post