---
Books by and about 2020 presidential candidates
Crippled America,
by Donald J. Trump (2015)
United,
by Cory Booker (2016)
The Truths We Hold,
by Kamala Harris (2019)
Smart on Crime,
by Kamala Harris (2010)
Guide to Political Revolution,
by Bernie Sanders (2017)
Where We Go From Here,
by Bernie Sanders (2018)
Promise Me, Dad ,
by Joe Biden (2017)
Conscience of a Conservative,
by Jeff Flake (2017)
Two Paths,
by Gov. John Kasich (2017)
Every Other Monday,
by Rep. John Kasich (2010)
Courage is Contagious,
by John Kasich (1998)
Shortest Way Home,
by Pete Buttigieg (2019)
The Book of Joe ,
by Jeff Wilser (2019; biography of Joe Biden)
Becoming,
by Michelle Obama (2018)
Our Revolution,
by Bernie Sanders (2016)
This Fight Is Our Fight,
by Elizabeth Warren (2017)
Higher Loyalty,
by James Comey (2018)
The Making of Donald Trump,
by David Cay Johnston (2017)
Books by and about the 2016 presidential election
What Happened ,
by Hillary Clinton (2017)
Higher Loyalty ,
by James Comey (2018)
Trump vs. Hillary On The Issues ,
by Jesse Gordon (2016)
Hard Choices,
by Hillary Clinton (2014)
Becoming ,
by Michelle Obama (2018)
Outsider in the White House,
by Bernie Sanders (2015)
---
Book Reviews

(from Amazon.com)

(click a book cover for a review or other books by or about the presidency from Amazon.com)
CBS "Face the Nation" interviews during 2017
(John Dickerson interviewing candidates for 2017-18 races)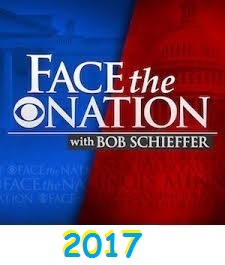 (Click for external website)
Click on a participant to pop-up their full list of quotations
from CBS "Face the Nation" interviews during 2017 (number of quotes indicated):
A long-standing political tradition is the Sunday morning talk show, beginning with "Meet the Press" in 1947. Currently, five separate "talking head" programs appear on five different TV stations every Sunday morning.

Making an appearance on all five talk shows on one Sunday is known as a Full Ginsburg, because it was first accomplished by William Ginsburg (Monica Lewinsky's attorney) in 1998.

In 2013, both Jeb Bush and Marco Rubio accomplished a Full Ginsburg, fueling speculation that both were planning a presidential run in 2016.

In 2014, John Kerry was the only person to accomplish a Full Ginsburg, but no one thought he was planning a presidential run in 2016.

In 2015, two federal officials accomplished a Full Ginsburg: one in the follow-up to the January 2015 State of the Union speech, and the other after a train derailment. Paul Ryan accomplished a Full Ginsburg after becoming Speaker of the House in November 2015.

In the first half of 2016, two presidential candiadtes accomplished a Full Ginsburg: Ted Cruz on Feb. 28, and Marco Rubio twice, on Feb. 14 and Feb. 21.

OnTheIssues.org excerpts all five of the shows, listed below, with their respective interviewing pundits and each pundit's political affiliation:

ABC This Week: (George Stephanopoulos; liberal; from Bill Clinton's staff)
CNN "State of the Union": (Jake Tapper and Dana Bash; moderate liberal)
Fox News Sunday: (Chris Wallace and Bret Baier; conservative)
Meet the Press: (Chuck Todd; moderate)
CBS Face the Nation: (John Dickerson; moderate)
OnTheIssues.org excerpts: (click on issues for details)
Abortion
Bernie Sanders: Support pro-life Dems if they replace pro-life Republicans.
Budget & Economy
Jeff Flake: Big-spending GOP gave away limited government mantle.
Civil Rights
Bernie Sanders: Women's March: never again second-class citizens.
Drugs
John Kasich: If we all marched against drugs, we'd win that battle.
Education
John Hickenlooper: Reinvent bipartisan apprenticeships & workforce training.
Foreign Policy
Chris Christie: America is strongest moral power for what is good and right.
Mike Pence: America represent the highest ideals of humankind.
Mike Pence: Re-engage the world but put America first.
Government Reform
Cory Booker: Even billionaires need transparency in confirmation hearings.
Health Care
John Hickenlooper: Stabilize private markets & deal with high-cost pools.
John Kasich: To Dems: let market work; to GOP: help people who need it.
Cory Booker: Repealing ObamaCare with no replacement just hurts Americans.
Immigration
Chris Christie: No Muslim ban, but ok to ban 7 Muslim countries.
Mike Pence: Muslim-country ban has solid constitutional foundation.
Principles & Values
Jeff Flake: Wrote Conscience of a Conservative because GOP lost its way.
Jeff Flake: We get nothing done because of lack of political civility.
Bernie Sanders: Change direction of Democrats to grassroots & bottom-up.
John Kasich: America's divided; reunite by thinking bigger than ourselves.
John Kasich: Focus on common humanity and fix problems where we live.
Social Security
John Kasich: Deal with all entitlements or we'll drown in debt.
Technology
Bernie Sanders: 13 million jobs by rebuilding our crumbling infrastructure.
War & Peace
Marco Rubio: We cannot live in a world where North Korea can nuke us.
| | |
| --- | --- |
| Click for quotations from other sources by: | |
The above quotations are from CBS "Face the Nation" interviews during 2017
(John Dickerson interviewing candidates for 2017-18 races).
Related interviews from Sunday morning talk shows:

2017 Sunday pundit shows (Presidential race and Veepstakes):