---
Books by and about 2020 presidential candidates
Crippled America,
by Donald J. Trump (2015)
United,
by Cory Booker (2016)
The Truths We Hold,
by Kamala Harris (2019)
Smart on Crime,
by Kamala Harris (2010)
Guide to Political Revolution,
by Bernie Sanders (2017)
Where We Go From Here,
by Bernie Sanders (2018)
Promise Me, Dad ,
by Joe Biden (2017)
Conscience of a Conservative,
by Jeff Flake (2017)
Two Paths,
by Gov. John Kasich (2017)
Every Other Monday,
by Rep. John Kasich (2010)
Courage is Contagious,
by John Kasich (1998)
Shortest Way Home,
by Pete Buttigieg (2019)
The Book of Joe ,
by Jeff Wilser (2019; biography of Joe Biden)
Becoming,
by Michelle Obama (2018)
Our Revolution,
by Bernie Sanders (2016)
This Fight Is Our Fight,
by Elizabeth Warren (2017)
Higher Loyalty,
by James Comey (2018)
The Making of Donald Trump,
by David Cay Johnston (2017)
Books by and about the 2016 presidential election
What Happened ,
by Hillary Clinton (2017)
Higher Loyalty ,
by James Comey (2018)
Trump vs. Hillary On The Issues ,
by Jesse Gordon (2016)
Hard Choices,
by Hillary Clinton (2014)
Becoming ,
by Michelle Obama (2018)
Outsider in the White House,
by Bernie Sanders (2015)
---
Book Reviews

(from Amazon.com)

(click a book cover for a review or other books by or about the presidency from Amazon.com)
In the President`s Secret Service, by Ronald Kessler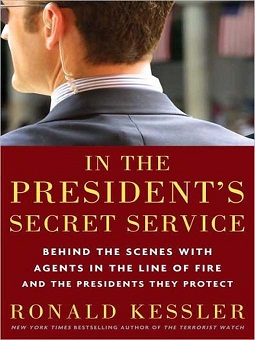 (Click for Amazon book review)
Click on a participant to pop-up their full list of quotations
from In the President`s Secret Service, by Ronald Kessler (number of quotes indicated):
BOOK REVIEW by OnTheIssues.org:
This book is about the Secret Service and their "protectees." OnTheIssues.org only excerpts materials about Presidents from Kennedy onward, but the Secret Service has been around since well prior to 1960, and also protects the Vice President, former presidents, and their families (and investigates counterfeiting!). This book is a fringe book for political junkies -- but a must-read for anyone interested in the inner workings of the Secret Service, or the inner workings of the White House.
The book's real value is in its analysis of the shortcomings of the Secret Service -- detailing how they lose experienced agents due to inflexible and arbitrary work rules, for example. The Secret Service became part of DHS, the new Department of Homeland Security initiated after 9/11, and according to the author has suffered ever since, both in terms of funding and effectiveness. The book ends with a warning, "Without changes, an assassination of Barack Obama or a future president is likely. If that happens, a new Warren Commission will be appointed to study the tragedy. It will find that the Secret Service was shockingly derelict in its duty."
This book reveals lots of interesting trivia about the personal lives of presidents -- they're the bulk of our excerpts -- we omit the more salacious details about each president in living memory. Secret Service agents know many such salacious details as part of doing their job, and evidently are often enlisted to assist in evading First Ladies (using the "FLOTUS protectee locator", of course!). Readers might wonder how the author gathered this information, since Secret Service agents supposedly keep mum about their protectees' activities.
This book also reveals lots of interesting trivia about assassination attempts -- plus the Kennedy assassination and the Secret Service's lessons learned. In doing so, the book explains Secret Service's methodology -- everything from how they read and score incoming mail threats; to how they uses visions from psychics to avoid trouble. Readers might wonder how the author gathered this information, since the Secret Service's methodology is supposedly secret too.
-- Jesse Gordon, editor-in-chief, OnTheIssues.org, April 2011
P.S. See our review of Kessler's other presidential book, A Matter of Character.
OnTheIssues.org excerpts: (click on issues for details)
Crime
Barack Obama: Survived vague threats from Ku Klux Klan during campaign.
Bill Clinton: Survived six assassination attempts in 1994, one by airplane.
George W. Bush: Survived 2005 assassination attempt in former USSR.
Gerald Ford: Survived 1975 assassination attempt by Squeaky Fromme.
Gerald Ford: Survived 1975 assassination attempt by Sara Jane Moore.
John F. Kennedy: After assassination, Secret Service bolstered security.
John F. Kennedy: Warned before assassination to avoid Dallas as too dangerous.
Richard Nixon: Survived 1958 mob riot as VP in Venezuela.
Ronald Reagan: Survived 1981 assassination attempt by John Hinckley.
Ted Kennedy: Survived 1979 assassination attempt in Senate office.
Drugs
Barack Obama: Yes, he still smokes while President.
George W. Bush: 2001: Both daughters arrested for alcohol possession.
Jimmy Carter: Declared White House to be officially "dry".
Energy & Oil
Jimmy Carter: Installed solar panels on White House roof.
Environment
Al Gore: Changed EPA rules about bacteria tests in bottled water.
Gun Control
Ronald Reagan: Carried a pistol as president on his ranch & to the USSR.
Homeland Security
Jimmy Carter: Declined to keep "nuclear football" at home in Georgia.
Joe Biden: Revealed location of top-secret bunker beneath VP residence.
Immigration
Michael Chertoff: Illegal immigrants cleaned his DC home; fined $22,880.
Principles & Values
Barack Obama: FactCheck: Obama treats Secret Service members with respect.
Barack Obama: Inaugurated using Abraham Lincoln's Bible.
Bill Clinton: "Clinton Standard Time": late to most appointments.
Bill Clinton: OpEd: Feeds on energy from personal contact with crowds.
Bill Clinton: Why Harlem? "We won't let anything happen to that man".
George Bush Sr.: Requires that all hotels have exercise bikes in his room.
Gerald Ford: Portrayed as a klutz, but was actually athletic.
Hillary Clinton: 1995: Rumors that she would divorce Bill and run against him.
Hillary Clinton: Listening Tour: gracious in public; but events were staged.
Hillary Clinton: 1999: Paid $1.7M for personal home in Chappaqua.
Jimmy Carter: Discourteous & dismissive of White House staff.
John F. Kennedy: Double life as charismatic leader and cheating husband.
John F. Kennedy: Insisted on low-security open convertible despite risks.
Lyndon Johnson: 1987: Lady Bird admitted, "My husband loved women".
Richard Nixon: Silent with family; limited relationship with wife.
Richard Nixon: Didn't know whom to trust during Watergate; became paranoid.
Richard Nixon: Vice President Spiro Agnew resigned in financial scandal.
Ronald Reagan: Nancy's book: You bet I gave Ronnie advice.
| | |
| --- | --- |
| Click for quotations from other sources by: | |
The above quotations are from In the President`s Secret Service, by Ronald Kessler.
Biographies of past presidents:



President Joe Biden
Promise Me, Dad, by Joe Biden
Biden Cabinet, On The Issues collection
The Truths We Hold, by Kamala Harris
President Donald Trump
Crippled America, by Donald Trump
Trump Cabinet, On The Issues collection
President Barack Obama
Decision Points, by Barack Obama
Obama Cabinet, On The Issues collection
President George W. Bush
Bush Cabinet, On The Issues collection
Decision Points, by George W. Bush
A Charge to Keep, by George W. Bush
President Bill Clinton
Clinton Cabinet, On The Issues collection
Back to Work, by Pres. Bill Clinton
The Agenda, by Bob Woodward
President George H. W. Bush
All the Best, My Life in Letters, by George Bush Sr.
The Family, (the Bushes) by Kitty Kelley
William & Mary Environmental Law Review, by Cameron Lynch
President Ronald Reagan
Dutch, a Memoir of Ronald Reagan, by Edmund Morris
Abortion and the Conscience of a Nation, by Pres. Ronald Reagan
President Jimmy Carter
An Hour Before Daylight, by Jimmy Carter
Jimmy Who?: biography of Jimmy Carter
President Gerald Ford
Shadow: Five Presidents and the Legacy of Watergate,by Bob Woodward
A Time to Heal: The Autobiography of Gerald R. Ford
President Richard Nixon
Seize the Moment, by Richard Nixon
The Watergate Transcripts, by The Washington Post

President Lyndon Johnson
The Passage of Power, by Robert Caro
Taking Charge: The Johnson White House Tapes, by Michael Beschloss
President John F. Kennedy
Profiles In Courage, by John F. Kennedy
A Nation of Immigrants, by John F. Kennedy
Kennedy & Nixon, by Chris Matthews
1000 Days, by Arthur Schlesinger
13 Days, by Robert F. Kennedy
President Dwight Eisenhower
Waging Peace, by Dwight Eisenhower
Ike and Dick, by Jeffrey Frank
President Harry Truman
Plain Speaking, by Merle Miller
Wit & Wisdom of Harry Truman, by Ralph Keyes