---
Books by and about 2020 presidential candidates
Crippled America,
by Donald J. Trump (2015)
United,
by Cory Booker (2016)
The Truths We Hold,
by Kamala Harris (2019)
Smart on Crime,
by Kamala Harris (2010)
Guide to Political Revolution,
by Bernie Sanders (2017)
Where We Go From Here,
by Bernie Sanders (2018)
Promise Me, Dad ,
by Joe Biden (2017)
Conscience of a Conservative,
by Jeff Flake (2017)
Two Paths,
by Gov. John Kasich (2017)
Every Other Monday,
by Rep. John Kasich (2010)
Courage is Contagious,
by John Kasich (1998)
Shortest Way Home,
by Pete Buttigieg (2019)
The Book of Joe ,
by Jeff Wilser (2019; biography of Joe Biden)
Becoming,
by Michelle Obama (2018)
Our Revolution,
by Bernie Sanders (2016)
This Fight Is Our Fight,
by Elizabeth Warren (2017)
Higher Loyalty,
by James Comey (2018)
The Making of Donald Trump,
by David Cay Johnston (2017)
Books by and about the 2016 presidential election
What Happened ,
by Hillary Clinton (2017)
Higher Loyalty ,
by James Comey (2018)
Trump vs. Hillary On The Issues ,
by Jesse Gordon (2016)
Hard Choices,
by Hillary Clinton (2014)
Becoming ,
by Michelle Obama (2018)
Outsider in the White House,
by Bernie Sanders (2015)
---
Book Reviews

(from Amazon.com)

(click a book cover for a review or other books by or about the presidency from Amazon.com)
Plain Speaking
An Oral Biography of Harry S. Truman
by Merle Miller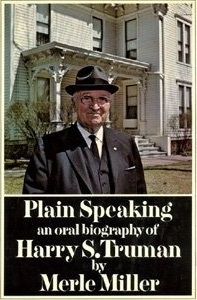 (Click for Amazon book review)
Click on a participant to pop-up their full list of quotations
from Plain Speaking, by Merle Miller (number of quotes indicated):
OR click on an issue category below for a subset.
Coming soon!
(Come back for excerpts and book review in spring 2014)
OnTheIssues.org excerpts: (click on issues for details)
| | |
| --- | --- |
| Click for quotations from other sources by: | |
The above quotations are from Plain Speaking
An Oral Biography of Harry S. Truman
by Merle Miller.
Biographies of past presidents:



President Joe Biden
Promise Me, Dad, by Joe Biden
Biden Cabinet, On The Issues collection
The Truths We Hold, by Kamala Harris
President Donald Trump
Crippled America, by Donald Trump
Trump Cabinet, On The Issues collection
President Barack Obama
Decision Points, by Barack Obama
Obama Cabinet, On The Issues collection
President George W. Bush
Bush Cabinet, On The Issues collection
Decision Points, by George W. Bush
A Charge to Keep, by George W. Bush
President Bill Clinton
Clinton Cabinet, On The Issues collection
Back to Work, by Pres. Bill Clinton
The Agenda, by Bob Woodward
President George H. W. Bush
All the Best, My Life in Letters, by George Bush Sr.
The Family, (the Bushes) by Kitty Kelley
William & Mary Environmental Law Review, by Cameron Lynch
President Ronald Reagan
Dutch, a Memoir of Ronald Reagan, by Edmund Morris
Abortion and the Conscience of a Nation, by Pres. Ronald Reagan
President Jimmy Carter
An Hour Before Daylight, by Jimmy Carter
Jimmy Who?: biography of Jimmy Carter
President Gerald Ford
Shadow: Five Presidents and the Legacy of Watergate,by Bob Woodward
A Time to Heal: The Autobiography of Gerald R. Ford
President Richard Nixon
Seize the Moment, by Richard Nixon
The Watergate Transcripts, by The Washington Post

President Lyndon Johnson
The Passage of Power, by Robert Caro
Taking Charge: The Johnson White House Tapes, by Michael Beschloss
President John F. Kennedy
Profiles In Courage, by John F. Kennedy
A Nation of Immigrants, by John F. Kennedy
Kennedy & Nixon, by Chris Matthews
1000 Days, by Arthur Schlesinger
13 Days, by Robert F. Kennedy
President Dwight Eisenhower
Waging Peace, by Dwight Eisenhower
Ike and Dick, by Jeffrey Frank
President Harry Truman
Plain Speaking, by Merle Miller
Wit & Wisdom of Harry Truman, by Ralph Keyes