---
Books by and about 2020 presidential candidates
Crippled America,
by Donald J. Trump (2015)
United,
by Cory Booker (2016)
The Truths We Hold,
by Kamala Harris (2019)
Smart on Crime,
by Kamala Harris (2010)
Guide to Political Revolution,
by Bernie Sanders (2017)
Where We Go From Here,
by Bernie Sanders (2018)
Promise Me, Dad ,
by Joe Biden (2017)
Conscience of a Conservative,
by Jeff Flake (2017)
Two Paths,
by Gov. John Kasich (2017)
Every Other Monday,
by Rep. John Kasich (2010)
Courage is Contagious,
by John Kasich (1998)
Shortest Way Home,
by Pete Buttigieg (2019)
The Book of Joe ,
by Jeff Wilser (2019; biography of Joe Biden)
Becoming,
by Michelle Obama (2018)
Our Revolution,
by Bernie Sanders (2016)
This Fight Is Our Fight,
by Elizabeth Warren (2017)
Higher Loyalty,
by James Comey (2018)
The Making of Donald Trump,
by David Cay Johnston (2017)
Books by and about the 2016 presidential election
What Happened ,
by Hillary Clinton (2017)
Higher Loyalty ,
by James Comey (2018)
Trump vs. Hillary On The Issues ,
by Jesse Gordon (2016)
Hard Choices,
by Hillary Clinton (2014)
Becoming ,
by Michelle Obama (2018)
Outsider in the White House,
by Bernie Sanders (2015)
---
Book Reviews

(from Amazon.com)

(click a book cover for a review or other books by or about the presidency from Amazon.com)
Jimmy Who?
An Examination of Presidential Candidate Jimmy Carter
by Leslie Wheeler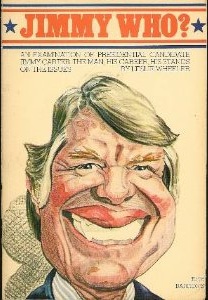 (Click for Amazon book review)
Click here for 17 full quotes from Jimmy Carter in the book Jimmy Who?, by Leslie Wheeler.
OR click on an issue category below for a subset.
BOOK REVIEW by OnTheIssues.org:
This book was written during the 1976 presidential campaign, but independent of the campaign. It was written to fill in the gaps because so few people knew much about Jimmy Carter, then the governor of a relatively small state. The title comes from a typical poll response; the author reports that in most polls, Carter scored only 1% name recognition, with many of the other respondents asking, "Jimmy who?"
This book outlines Carter's personal background, personal beliefs, and policy stances. If such a book were written about every major candidate in every election, our voting and our citizenship would be greatly improved.
-- Jesse Gordon, OnTheIssues editor-in-chief, July 2012
OnTheIssues.org excerpts: (click on issues for details)
Abortion
Discourage abortion by providing family planning.
Civil Rights
A dozen blacks in high positions on his campaign staff.
Supports the Equal Rights Amendment.
Crime
Conservative on abortion and death penalty.
Retain death penalty for a few specific crimes.
Drugs
As governor, implemented drug abuse programs.
Supports decriminalization of marijuana.
Education
Feds should pay higher percentage of public education.
Government Reform
Pushed government-in-sunshine open-meetings laws.
Gun Control
Register handguns; ban cheap guns; add waiting period.
Health Care
Nationwide comprehensive mandatory health insurance.
Homeland Security
Punish CIA operatives involved in illegal activities.
Defense is most wasteful agency in federal government.
Principles & Values
Oct. 1975: Choice of 1% of voters; others said, "Jimmy Who?".
Nothing wrong with ethnic purity in neighborhoods.
Social Security
Levy Social Security tax on wider range of incomes.
Tax Reform
Shift the tax burden away from low- and middle-income groups.
| | |
| --- | --- |
| Click for quotations from other sources by: | |
The above quotations are from Jimmy Who?
An Examination of Presidential Candidate Jimmy Carter
by Leslie Wheeler .
Books by and about Jimmy Carter: