---
Books by and about 2020 presidential candidates
Crippled America,
by Donald J. Trump (2015)
United,
by Cory Booker (2016)
The Truths We Hold,
by Kamala Harris (2019)
Smart on Crime,
by Kamala Harris (2010)
Guide to Political Revolution,
by Bernie Sanders (2017)
Where We Go From Here,
by Bernie Sanders (2018)
Promise Me, Dad ,
by Joe Biden (2017)
Conscience of a Conservative,
by Jeff Flake (2017)
Two Paths,
by Gov. John Kasich (2017)
Every Other Monday,
by Rep. John Kasich (2010)
Courage is Contagious,
by John Kasich (1998)
Shortest Way Home,
by Pete Buttigieg (2019)
The Book of Joe ,
by Jeff Wilser (2019; biography of Joe Biden)
Becoming,
by Michelle Obama (2018)
Our Revolution,
by Bernie Sanders (2016)
This Fight Is Our Fight,
by Elizabeth Warren (2017)
Higher Loyalty,
by James Comey (2018)
The Making of Donald Trump,
by David Cay Johnston (2017)
Books by and about the 2016 presidential election
What Happened ,
by Hillary Clinton (2017)
Higher Loyalty ,
by James Comey (2018)
Trump vs. Hillary On The Issues ,
by Jesse Gordon (2016)
Hard Choices,
by Hillary Clinton (2014)
Becoming ,
by Michelle Obama (2018)
Outsider in the White House,
by Bernie Sanders (2015)
---
Book Reviews

(from Amazon.com)

(click a book cover for a review or other books by or about the presidency from Amazon.com)
An Hour Before Daylight
Memories of a Rural Boyhood
by Jimmy Carter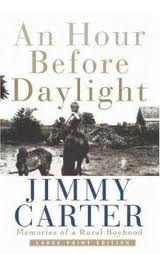 (Click for Amazon book review)
Click here for 4 full quotes from Jimmy Carter in the book An Hour Before Daylight. by Jimmy Carter.
OR click on an issue category below for a subset.
OnTheIssues.org BOOK REVIEW:
This book is the personal memoir of Jimmy Carter's childhood in rural Georgia in the 1930s and 1940s. Carter wrote this book post-presidency; he has produced a couple of policy-oriented books post-presidency, but this one is entirely policy-free.
His purpose seems to be to document what life was like in the post-Civil War and pre-WWII rural South. He succeeds masterfully -- the reader is left with as vivid an image as that produced by Mark Twain (pre-Civil War South) or William Faulkner (same period as Carter but from the aristocrats' perspective). Carter's family was land-owning, and hence middle-class, but certainly poor by today's standards, and poor by the standards of the 1930s compared to typical Northerners. Carter describes how his family lived; how they made do on little; and how their black neighbors lived too.
Those black neighbors are really the politically relevant part of this book. Carter's family farm housed dozens of black families as sharecroppers; those families made up the bulk of Carter's childhood playmates (but not schoolmates, since schools were segregated). Carter's father was tolerant of blacks -- personifying what was intended by "separate but equal." For example, he took the lead in raising tenant farmer wages from $1 per day to $1.25 per day after a farmworker strike; but would not meet blacks who came knocking at his front door (social custom of the 1930s required that blacks go to the back door of white homes). On the other hand, Carter's mother, known to modern pundits as "Miz Lillian," was much more sympathetic to blacks -- she was the attending nurse when any of the sharecropper families were ill; and she did answer the front door when blacks came knocking.
Carter describes black living conditions (poor with little hope of breaking the cycle of poverty); black school conditions (certainly separate but certainly not equal); and black voting conditions (blocked from voting even after the Civil Rights Act, requiring his personal intervention to even allow voter registration). It read to my Northerner ears as a fair book, written with sympathy for the downtrodden blacks as well as the whites.
For modern political junkies, Carter also describes the colorful characters who became known to America during his presidency: Miz Lillian, mentioned above; his younger brother Billy, the purveyor of Billy Beer; his sister the evangelist; and his other sister the Harley-Davidson motorcycle aficionado. In other words, there's something for everyone in this book: some history; some politics; some personal details. Just little about the presidency itself -- but Carter has other books for that.
-- Jesse Gordon, OnTheIssues editor-in-chief, January 2013
OnTheIssues.org excerpts: (click on issues for details)
Civil Rights
Childhood Civil War view: whites conquered; blacks liberated.
1930s South: elders resented Reconstruction; but not youth.
Drugs
Never smoked; parents and siblings all died of cancer.
Principles & Values
Grew up in Archery, GA; no longer exists except for church.
| | |
| --- | --- |
| Click for quotations from other sources by: | |
The above quotations are from An Hour Before Daylight
Memories of a Rural Boyhood
by Jimmy Carter.
Biographies of past presidents:



President Joe Biden
Promise Me, Dad, by Joe Biden
Biden Cabinet, On The Issues collection
The Truths We Hold, by Kamala Harris
President Donald Trump
Crippled America, by Donald Trump
Trump Cabinet, On The Issues collection
President Barack Obama
Decision Points, by Barack Obama
Obama Cabinet, On The Issues collection
President George W. Bush
Bush Cabinet, On The Issues collection
Decision Points, by George W. Bush
A Charge to Keep, by George W. Bush
President Bill Clinton
Clinton Cabinet, On The Issues collection
Back to Work, by Pres. Bill Clinton
The Agenda, by Bob Woodward
President George H. W. Bush
All the Best, My Life in Letters, by George Bush Sr.
The Family, (the Bushes) by Kitty Kelley
William & Mary Environmental Law Review, by Cameron Lynch
President Ronald Reagan
Dutch, a Memoir of Ronald Reagan, by Edmund Morris
Abortion and the Conscience of a Nation, by Pres. Ronald Reagan
President Jimmy Carter
An Hour Before Daylight, by Jimmy Carter
Jimmy Who?: biography of Jimmy Carter
President Gerald Ford
Shadow: Five Presidents and the Legacy of Watergate,by Bob Woodward
A Time to Heal: The Autobiography of Gerald R. Ford
President Richard Nixon
Seize the Moment, by Richard Nixon
The Watergate Transcripts, by The Washington Post

President Lyndon Johnson
The Passage of Power, by Robert Caro
Taking Charge: The Johnson White House Tapes, by Michael Beschloss
President John F. Kennedy
Profiles In Courage, by John F. Kennedy
A Nation of Immigrants, by John F. Kennedy
Kennedy & Nixon, by Chris Matthews
1000 Days, by Arthur Schlesinger
13 Days, by Robert F. Kennedy
President Dwight Eisenhower
Waging Peace, by Dwight Eisenhower
Ike and Dick, by Jeffrey Frank
President Harry Truman
Plain Speaking, by Merle Miller
Wit & Wisdom of Harry Truman, by Ralph Keyes