---
Books by and about 2020 presidential candidates
Crippled America,
by Donald J. Trump (2015)
United,
by Cory Booker (2016)
The Truths We Hold,
by Kamala Harris (2019)
Smart on Crime,
by Kamala Harris (2010)
Guide to Political Revolution,
by Bernie Sanders (2017)
Where We Go From Here,
by Bernie Sanders (2018)
Promise Me, Dad ,
by Joe Biden (2017)
Conscience of a Conservative,
by Jeff Flake (2017)
Two Paths,
by Gov. John Kasich (2017)
Every Other Monday,
by Rep. John Kasich (2010)
Courage is Contagious,
by John Kasich (1998)
Shortest Way Home,
by Pete Buttigieg (2019)
The Book of Joe ,
by Jeff Wilser (2019; biography of Joe Biden)
Becoming,
by Michelle Obama (2018)
Our Revolution,
by Bernie Sanders (2016)
This Fight Is Our Fight,
by Elizabeth Warren (2017)
Higher Loyalty,
by James Comey (2018)
The Making of Donald Trump,
by David Cay Johnston (2017)
Books by and about the 2016 presidential election
What Happened ,
by Hillary Clinton (2017)
Higher Loyalty ,
by James Comey (2018)
Trump vs. Hillary On The Issues ,
by Jesse Gordon (2016)
Hard Choices,
by Hillary Clinton (2014)
Becoming ,
by Michelle Obama (2018)
Outsider in the White House,
by Bernie Sanders (2015)
---
Book Reviews

(from Amazon.com)

(click a book cover for a review or other books by or about the presidency from Amazon.com)
The Wit & Wisdom of Harry Truman
A Treasury of Quotations, Anecdotes, and Observations
by Ralph Keyes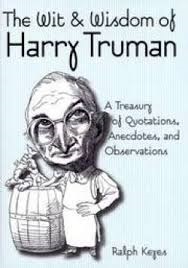 (Click for Amazon book review)




Click here for 28 full quotes from Harry S Truman in the book The Wit & Wisdom of Harry Truman, by Ralph Keyes.
OR click on an issue category below for a subset.

OnTheIssues.org BOOK REVIEW:

This book gathers together numerous quotations by Harry Truman, from before, during, and after his presidency. The quotations are organized in categories, such as "Truman on People" and "Truman on Issues," with subcategories in each category. One category, "Dear Diary," has each quotation dated, but the rest are undated. The author, Ralph Keyes, frames materials in the category "Harry Truman's Life Stories," and provides additional framing with some opening notes, plus extensive bibliographical notes.

This book's subtitle ("A Treasury of Quotations, Anecdotes, and Observations") is more accurate than its title, since "Wit and Wisdom" leads the reader to believe the content will be funny. It DOES contain lots of Truman's dry Midwestern humor, plus his dry Midwestern wisdom, but it's much like of a "treasury of quotations." We were delighted to discover this book earlier this year when we expanded our "Past Presidents" coverage backward to Eisenhower and Truman; it provided a strong base of Truman material in an accessible form. We're not sure who, other than journalists, would be interested in this sort of "treasury," but we wish there were such a book about every president, and indeed, about every major candidate. One of our tasks at OnTheIssues.org is providing analogous books during the presidential election cycle, such as Obama vs. Romney On The Issues.

Ralph Keyes has written several other "treasuries of quotations," some of which are politically-oriented:

The last book in that list is political, but the rest are more linguistics-oriented -- about the same mix as this Harry Truman book. Mostly, readers will enjoy this book for its verification (or dis-verification) of Harry Truman quotes; a few crazy pundits will read it for the politics.

-- Jesse Gordon, editor-in-chief, OnTheIssues.org, Dec. 2013

Editor's Note: In the interest of full disclosure, Ralph Keyes is my cousin. (He is married to my father's first cousin, so I guess he is my second-cousin-once-removed-in-law). Ralph has consulted for the OnTheIssues.org website as well, although we never fully paid him (so please donate so we can do so!)

OnTheIssues.org excerpts: (click on issues for details)
Budget & Economy
Pay-as-you-go for a balanced budget.
GOP trickle-down mostly helps Wall Street & big business.
Civil Rights
South is living 80 years behind the times.
Racial discrimination is contrary to American ideals.
The treatment of Indians was a disgrace and always will be.
Endorsed concept of Equal Rights Amendment.
Crime
Opposes capital punishment.
Foreign Policy
House Un-American Activities Committee was un-American.
We have to get along with rest of world, or get overwhelmed.
China is fundamentally anti-foreign; keep that away from us.
Government Reform
Nation-wide presidential primaries favor wealthy candidates.
As judge, rejected patronage jobs & business.
Health Care
I failed at national compulsory health insurance.
National system of payments for healthcare.
Homeland Security
Cold War averted World War Three.
Truman Committee exposed military waste & fraud.
Initiated full racial integration of the armed forces.
Principles & Values
1950: Assassination attempt killed one bodyguard.
Jesus rejected despots in both Church and State.
I just told the truth and they thought it was hell.
As president, I can't pass the buck to anyone.
In 1917, Bess accepted one of Harry's many proposals.
On FDR's death: if you ever pray, pray for me now.
Tax Reform
Taxation should be for revenue, not redistribution.
War & Peace
1945: We have discovered the most terrible bomb in history.
Opposed to "preventive" war; you only "prevent" peace.
Soviet spies kept USSR posted on atomic bomb progress.
Atomic bombing of Japan saved 100,000s of American lives.



| | |
| --- | --- |
| Click for quotations from other sources by: | |
The above quotations are from The Wit & Wisdom of Harry Truman
A Treasury of Quotations, Anecdotes, and Observations
by Ralph Keyes.
| | | |
| --- | --- | --- |
| Books by and about Harry Truman: | | Books by and about Dwight Eisenhower: |