Government Bullies
How Everyday Americans Are Being Harrassed, Abused, And Imprisoned by the Feds
by Rand Paul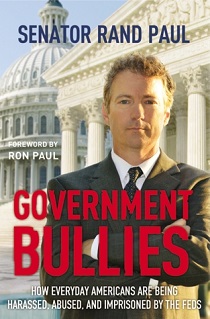 (Click for Amazon book review)
Click on a participant to pop-up their full list of quotations
from Government Bullies, by Senator Rand Paul (R, KY) (number of quotes indicated):
Paul Broun (1)
Rand Paul (1)
OR click on an issue category below for a subset.
BOOK REVIEW by OnTheIssues.org:
This book is tedious to read. It comprises case after case (after case after case) about wetlands, and about how the federal government took inappropriate action against the owners of those wetlands. The reader concludes that there just MUST be another side to these stories! As a result, the book feels imbalanced -- like propaganda, rather than like an effective political argument. A few cases, focused on a few key issues, would have been better -- and even better yet would have been interviewing the enforcing agencies to get their side of the story.
The over-focus on environmental issues contributes to the feel of imbalance. There are other sections of the book, but the first 100 pages are dedicated entirely to the EPA -- that's "Part 1." Then "Part 2" brings up another 52 pages on environmental enforcement by NMFS -- which is a federal agency unrelated to the EPA, but readers will not make that distinction (it's the National Marine Fisheries Service, a branch of the Department of Commerce, under separate jurisdiction than the EPA, but it's still all just environmental law, to the casual reader).
Finally, beginning on page 155, we get some issues related to the TSA, the DHS, the FDA, and the USDA. Finally, after 155 pages, this book gets interesting -- because it makes some generalizations about federal activity and federal wrongdoing. Prior to mentioning those other agencies, it was unclear if Paul's argument was anti-environmentalist, anti-EPA, or just anti-Lacey Act (and other environmental laws). If the book had started with non-environmental agencies, and then applied the lessons to the EPA and NMFS, it would be more effective -- and would retain more readers too!
Senator Paul is running for president in 2016, the pundits say. This book is a good start, because it outlines numerous issue stances that Paul will fight for in the Senate and will bring to the fore in 2016. The senior Paul wrote numerous heavy-duty policy books; this is the first pure policy book by the junior Paul (he wrote a book on the Tea Party, but its focus was politics, not policy). We hope that Senator Paul will write more (and better!) books prior to 2016. The Paulistas who adored Senator Paul's father will enjoy this book -- but it's just too hard to read for the typical reader.
-- Jesse Gordon, jesse@OnTheIssues.org, Oct. 2013
OnTheIssues.org excerpts: (click on issues for details)
Crime
Paul Broun: Stop over-criminalization in vague laws like Lacey Act.
Rand Paul: Stop over-criminalization in vague laws like Lacey Act.
| | |
| --- | --- |
| Click for quotations from other sources by: | |
The above quotations are from Government Bullies
How Everyday Americans Are Being Harrassed, Abused, And Imprisoned by the Feds
by Rand Paul.