---
Books by and about 2020 presidential candidates
Crippled America,
by Donald J. Trump (2015)
United,
by Cory Booker (2016)
The Truths We Hold,
by Kamala Harris (2019)
Smart on Crime,
by Kamala Harris (2010)
Guide to Political Revolution,
by Bernie Sanders (2017)
Where We Go From Here,
by Bernie Sanders (2018)
Promise Me, Dad ,
by Joe Biden (2017)
Conscience of a Conservative,
by Jeff Flake (2017)
Two Paths,
by Gov. John Kasich (2017)
Every Other Monday,
by Rep. John Kasich (2010)
Courage is Contagious,
by John Kasich (1998)
Shortest Way Home,
by Pete Buttigieg (2019)
The Book of Joe ,
by Jeff Wilser (2019; biography of Joe Biden)
Becoming,
by Michelle Obama (2018)
Our Revolution,
by Bernie Sanders (2016)
This Fight Is Our Fight,
by Elizabeth Warren (2017)
Higher Loyalty,
by James Comey (2018)
The Making of Donald Trump,
by David Cay Johnston (2017)
Books by and about the 2016 presidential election
What Happened ,
by Hillary Clinton (2017)
Higher Loyalty ,
by James Comey (2018)
Trump vs. Hillary On The Issues ,
by Jesse Gordon (2016)
Hard Choices,
by Hillary Clinton (2014)
Becoming ,
by Michelle Obama (2018)
Outsider in the White House,
by Bernie Sanders (2015)
---
Book Reviews

(from Amazon.com)

(click a book cover for a review or other books by or about the presidency from Amazon.com)
Yahoo's "Your Voice Your Vote" debate in Iowa, Dec. 10, 2011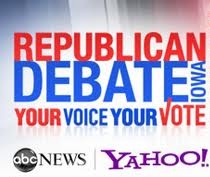 Click on a participant to pop-up their full list of quotations
from Yahoo's "Your Voice Your Vote" debate in Iowa, Dec. 10, 2011 (number of quotes indicated):
Debate in Iowa "Your Voice Your Vote", sponsored by the Des Moines Register, ABC News, Yahoo! News, and Republican Party of Iowa; Moderated by George Stephanopoulos and Diane Sawyer.
The highlight of this debate was a $10,000 bet offered by Mitt Romney to Rick Perry, in an attempt by Romney to prove Perry wrong about RomneyCare being the model for national healthcare.
Democrats and Republicans alike are accusing Mitt Romney of being out of touch after he said during this weekend's debate that he would make a $10,000 bet with Rick Perry even as millions of Americans struggle to make ends meet in a troubled economy.
Romney shrugged off the comment Sunday -- but says he's been reminded he's not a good gambler. "After the debate was over, Ann came up and gave me a kiss," Romney said, referring to his wife. "And she said, `there are a lot of things you do well. Betting isn't one of them.'"
Romney's bet -- for a sum that represents more than two months' salary for Americans with mid-range incomes --has ignited a discussion about whether Romney, a wealthy businessman whose worth is estimated at more than $200 million, is out of step with the challenges facing the millions of struggling or unemployed Americans who are having trouble providing for their families in an ailing economy.
"I would suggest to you that $10,000 is pocket change for Mitt," said Perry, the Texas governor, who was campaigning in Iowa on Sunday. "Having an extra $10,000 to throw down on a bet seems very out of the ordinary."
Source: OnTheIssues.org archives and Kasie Hunt on Bloomberg Businessweek
OnTheIssues.org excerpts: (click on issues for details)
Budget & Economy
Newt Gingrich: Don't bail out Freddie Mac & Fannie Mae; break them up.
Rick Perry: The federal reserve is at the root of a lot of our problems.
Ron Paul: Destroying our currency transfers wealth to the rich.
Families & Children
Mitt Romney: Kids working in libraries is fine; don't change labor laws.
Newt Gingrich: Let poor kids work so they learn like middle class.
Rick Santorum: Promote the family as economic anchor point.
Foreign Policy
Newt Gingrich: Tell the truth: Palestinians are an "invented people".
Government Reform
Rick Perry: Cut Congress' pay in half & make them part-time.
Health Care
Michele Bachmann: 2012 is our one shot to get rid of ObamaCare.
Mitt Romney: Return healthcare to states, under the 10th Amendment.
Mitt Romney: No FEDERAL individual mandate; but state mandate ok.
Newt Gingrich: HillaryCare mandate ok; ObamaCare mandate unconstitutional.
Rick Perry: ObamaCare is an abomination for this country.
Ron Paul: Government should not protect you from yourself.
Homeland Security
Ron Paul: 17,000 troops for Baghdad embassy? Come home!
Principles & Values
Ron Paul: Freedom is based on tolerance and non-violence.
Technology
Mitt Romney: Mining the moon costs too much.
Newt Gingrich: America should be in space, aggressively & entrepreneurially.
War & Peace
Mitt Romney: Disagree with Israelis in private; stand with them in public.
Ron Paul: Let locals settle Israel-Palestine issue; no world police.
| | |
| --- | --- |
| Click for quotations from other sources by: | |
The above quotations are from Yahoo's "Your Voice Your Vote" debate in Iowa, Dec. 10, 2011.