---
Books by and about 2020 presidential candidates
Crippled America,
by Donald J. Trump (2015)
United,
by Cory Booker (2016)
The Truths We Hold,
by Kamala Harris (2019)
Smart on Crime,
by Kamala Harris (2010)
Guide to Political Revolution,
by Bernie Sanders (2017)
Where We Go From Here,
by Bernie Sanders (2018)
Promise Me, Dad ,
by Joe Biden (2017)
Conscience of a Conservative,
by Jeff Flake (2017)
Two Paths,
by Gov. John Kasich (2017)
Every Other Monday,
by Rep. John Kasich (2010)
Courage is Contagious,
by John Kasich (1998)
Shortest Way Home,
by Pete Buttigieg (2019)
The Book of Joe ,
by Jeff Wilser (2019; biography of Joe Biden)
Becoming,
by Michelle Obama (2018)
Our Revolution,
by Bernie Sanders (2016)
This Fight Is Our Fight,
by Elizabeth Warren (2017)
Higher Loyalty,
by James Comey (2018)
The Making of Donald Trump,
by David Cay Johnston (2017)
Books by and about the 2016 presidential election
What Happened ,
by Hillary Clinton (2017)
Higher Loyalty ,
by James Comey (2018)
Trump vs. Hillary On The Issues ,
by Jesse Gordon (2016)
Hard Choices,
by Hillary Clinton (2014)
Becoming ,
by Michelle Obama (2018)
Outsider in the White House,
by Bernie Sanders (2015)
---
Book Reviews

(from Amazon.com)

(click a book cover for a review or other books by or about the presidency from Amazon.com)
National Security debate: Moderated by Wolf Blitzer of CNN; hosted by Heritage Foundation and the American Enterprise Institute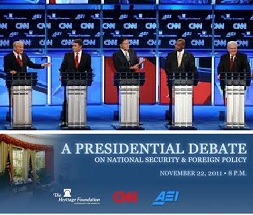 Click on a participant to pop-up their full list of quotations
from 2011 CNN National Security GOP primary debate (number of quotes indicated):
According to Nielsen Fast National data, CNNís GOP National Security Debate (8:00-10:00pm EST), moderated by Wolf Blitzer, delivered 3.599 million total viewers and 1.041 million in the key demographic 25-54 last night, Tuesday, November 22. This debate topped CNBCís 11/09 debate (993k), CNNís 6/13 debate (918k) and FNCís 5/5 debate (854k) in the key demo 25-54. CNN was, by far, #1 during the 8-10pm time period last night among cable news networks.
(Source: Bill Gorman, Cable News Ratings / Network TV Press Releases)
OnTheIssues.org excerpts: (click on issues for details)
Drugs
Ron Paul: Cancel the drug war, and cancel its violence.
Foreign Policy
Michele Bachmann: Continue aid to Pakistan, but get more intel from them.
Rick Perry: End aid to Pakistan; money only goes to allies.
Rick Perry: FactCheck: Pakistan is our ally, according to Bush generals.
Government Reform
Jon Huntsman: Congress needs term limits.
Homeland Security
Newt Gingrich: All of us will be in danger for the rest of our lives.
Newt Gingrich: Every tool possible against terrorists, incluing PATRIOT Act.
Ron Paul: The Patriot Act is unpatriotic; it undermines our liberty.
Immigration
Herman Cain: Insecure border is a national security threat.
Michele Bachmann: More visas for skilled engineers; but not for illegal aliens.
Mitt Romney: Alien employment cards ; not amnesty.
Newt Gingrich: Review all illegal aliens & if you have no ties, go home.
Newt Gingrich: Illegal aliens born in the US should not be deported.
Rick Perry: US-Mexican border security helps the entire hemisphere.
Rick Santorum: Welcome legal immigrants as part of made-in-America plan.
Ron Paul: Incentives like benefits create illegal alien problem.
Technology
Herman Cain: We need to focus more on cyber-attacks.
Newt Gingrich: Prepare more for electromagnetic pulse attack.
War & Peace
Herman Cain: Join Israel in attacking Iran if mission was clear.
Michele Bachmann: Pakistan's nuclear weapons are an existential threat.
Newt Gingrich: Sabotage Iran's oil refinery.
Rick Perry: Sanction the Iranian Central Bank; no-fly zone over Syria.
Ron Paul: Israel won't attack Iran, and neither should we.
| | |
| --- | --- |
| Click for quotations from other sources by: | |
The above quotations are from National Security debate: Moderated by Wolf Blitzer of CNN; hosted by Heritage Foundation and the American Enterprise Institute.