---
Books by and about 2020 presidential candidates
Crippled America,
by Donald J. Trump (2015)
United,
by Cory Booker (2016)
The Truths We Hold,
by Kamala Harris (2019)
Smart on Crime,
by Kamala Harris (2010)
Guide to Political Revolution,
by Bernie Sanders (2017)
Where We Go From Here,
by Bernie Sanders (2018)
Promise Me, Dad ,
by Joe Biden (2017)
Conscience of a Conservative,
by Jeff Flake (2017)
Two Paths,
by Gov. John Kasich (2017)
Every Other Monday,
by Rep. John Kasich (2010)
Courage is Contagious,
by John Kasich (1998)
Shortest Way Home,
by Pete Buttigieg (2019)
The Book of Joe ,
by Jeff Wilser (2019; biography of Joe Biden)
Becoming,
by Michelle Obama (2018)
Our Revolution,
by Bernie Sanders (2016)
This Fight Is Our Fight,
by Elizabeth Warren (2017)
Higher Loyalty,
by James Comey (2018)
The Making of Donald Trump,
by David Cay Johnston (2017)
Books by and about the 2016 presidential election
What Happened ,
by Hillary Clinton (2017)
Higher Loyalty ,
by James Comey (2018)
Trump vs. Hillary On The Issues ,
by Jesse Gordon (2016)
Hard Choices,
by Hillary Clinton (2014)
Becoming ,
by Michelle Obama (2018)
Outsider in the White House,
by Bernie Sanders (2015)
---
Book Reviews

(from Amazon.com)

(click a book cover for a review or other books by or about the presidency from Amazon.com)
Pres. Obama's Address to Joint Session of Congress, Sept. 8, 2011, plus opposition responses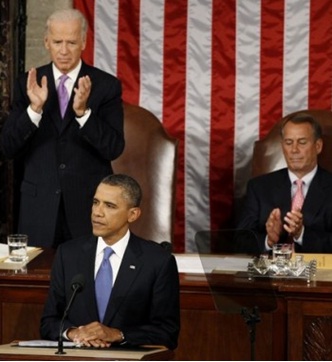 Click on a participant to pop-up their full list of quotations
from Pres. Obama's Jobs Bill Speech (number of quotes indicated):
Pres. Obama addressed a Joint Session of Congress on Sept. 8, 2011, to introduce his "American Jobs Act".
Excerpts below, including those from the responses from the Republican contenders for President.
OnTheIssues.org excerpts: (click on issues for details)
Budget & Economy
Newt Gingrich: No sequel to failed stimulus & job-killing policies.
Thad McCotter: "Stimulus" just means more taxes, spending, & deficits.
Buddy Roemer: Government stimulus creates jobs, but only in China.
Gary Johnson: Trillion-dollar stimulus failed; so will another $450B?
Jon Huntsman: OpEd: Huntsman offers most pro-growth proposal ever.
Rick Perry: We cannot spend our way to prosperity.
Herman Cain: Block proposals for more spending and debt.
Corporations
Barack Obama: $4,000 tax credit for companies who hire unemployed workers.
Michele Bachmann: We need to give job creators certainty.
Mitt Romney: America needs a conservative businessman to recover economy.
Jobs
Michele Bachmann: Longer unemployment means people less likely to find jobs.
Mitt Romney: Obama's policies have put 2.5 million Americans out of work.
Principles & Values
Barack Obama: Compact in past decades: do your job & make it in America.
Ron Paul: Routinely skips presidential speeches as "a bunch of fluff".
Tax Reform
Barack Obama: We need a tax code where everybody pays their fair share.
Gary Johnson: Replace job-killing tax code with FairTax.
Jon Huntsman: Eliminate loopholes & make code flatter & simpler.
Michele Bachmann: Reduce repatriation tax to zero percent.
Technology
Barack Obama: Investing in the future is federal responsibility.
| | |
| --- | --- |
| Click for quotations from other sources by: | |
The above quotations are from Pres. Obama's Address to Joint Session of Congress, Sept. 8, 2011, plus opposition responses.