---
Books by and about 2020 presidential candidates
Crippled America,
by Donald J. Trump (2015)
United,
by Cory Booker (2016)
The Truths We Hold,
by Kamala Harris (2019)
Smart on Crime,
by Kamala Harris (2010)
Guide to Political Revolution,
by Bernie Sanders (2017)
Where We Go From Here,
by Bernie Sanders (2018)
Promise Me, Dad ,
by Joe Biden (2017)
Conscience of a Conservative,
by Jeff Flake (2017)
Two Paths,
by Gov. John Kasich (2017)
Every Other Monday,
by Rep. John Kasich (2010)
Courage is Contagious,
by John Kasich (1998)
Shortest Way Home,
by Pete Buttigieg (2019)
The Book of Joe ,
by Jeff Wilser (2019; biography of Joe Biden)
Becoming,
by Michelle Obama (2018)
Our Revolution,
by Bernie Sanders (2016)
This Fight Is Our Fight,
by Elizabeth Warren (2017)
Higher Loyalty,
by James Comey (2018)
The Making of Donald Trump,
by David Cay Johnston (2017)
Books by and about the 2016 presidential election
What Happened ,
by Hillary Clinton (2017)
Higher Loyalty ,
by James Comey (2018)
Trump vs. Hillary On The Issues ,
by Jesse Gordon (2016)
Hard Choices,
by Hillary Clinton (2014)
Becoming ,
by Michelle Obama (2018)
Outsider in the White House,
by Bernie Sanders (2015)
---
Book Reviews

(from Amazon.com)

(click a book cover for a review or other books by or about the presidency from Amazon.com)
South Carolina 2012 GOP debate hosted by CNN's John King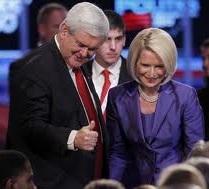 Click on a participant to pop-up their full list of quotations
from South Carolina 2012 GOP debate hosted by CNN's John King (number of quotes indicated):
South Carolina GOP CNN debate, Jan. 19, 2012, moderated by John King of CNN.
This debate started with a heated exchange between the moderator, John King, and Speaker Newt Gingrich, regarding Gingrich's former wife accusing Gingrich of adultery. This heated exchange was covered breathlessly and unremittingly by the mainstream media, who claimed it gave Gingrich his victory in the S.C. primary. We assume normal voters will forget all about it in a week, but we provide the relevant parts here for political junkies:
JOHN KING: Your ex-wife says that you came to her in 1999, at a time when you were having an affair. She says you asked her to enter into an open marriage. Would you like to take some time to respond to that?
GINGRICH: No--but I will. (Cheers, applause.) I think the destructive, vicious, negative nature of much of the news media makes it harder to govern this country, harder to attract decent people to run for public office. And I am appalled that you would begin a presidential debate on a topic like that. (Cheers, applause.)
KING: Is that all you want to say, sir? (Boos, cheers, applause.)
GINGRICH: Every person in here knows personal pain. Every person in here has had someone close to them go through painful things. To take an ex-wife and make it two days before the primary a significant question in a presidential campaign is as close to despicable as anything I can imagine. (Cheers, applause.)
Click for analysis of the South Carolina primary result
OnTheIssues.org excerpts: (click on issues for details)
Abortion
Mitt Romney: Courts added tax-paid abortions to RomneyCare; not me.
Mitt Romney: I had no litmus test for appointing judges, but I'm pro-life.
Corporations
Mitt Romney: Capitalism works; free enterprise works; & profit works.
Free Trade
Ron Paul: China trade benefits American consumers.
Jobs
Mitt Romney: End crony capitalism to get Americans back to work.
Newt Gingrich: Create transitional program for returning vets, like in WWII.
Rick Santorum: National right-to-work law yes; Pennsylvania law no.
Ron Paul: FactCheck: Feds paid for 8M WWII vets to attend college.
Ron Paul: National right-to-work law reduces outsourcing.
Technology
Mitt Romney: SOPA, as written, restricts the Internet & free speech.
Newt Gingrich: I favor Internet freedom; SOPA favors Hollywood.
| | |
| --- | --- |
| Click for quotations from other sources by: | |
The above quotations are from South Carolina 2012 GOP debate hosted by CNN's John King.