---
Books by and about 2020 presidential candidates
Crippled America,
by Donald J. Trump (2015)
United,
by Cory Booker (2016)
The Truths We Hold,
by Kamala Harris (2019)
Smart on Crime,
by Kamala Harris (2010)
Guide to Political Revolution,
by Bernie Sanders (2017)
Where We Go From Here,
by Bernie Sanders (2018)
Promise Me, Dad ,
by Joe Biden (2017)
Conscience of a Conservative,
by Jeff Flake (2017)
Two Paths,
by Gov. John Kasich (2017)
Every Other Monday,
by Rep. John Kasich (2010)
Courage is Contagious,
by John Kasich (1998)
Shortest Way Home,
by Pete Buttigieg (2019)
The Book of Joe ,
by Jeff Wilser (2019; biography of Joe Biden)
Becoming,
by Michelle Obama (2018)
Our Revolution,
by Bernie Sanders (2016)
This Fight Is Our Fight,
by Elizabeth Warren (2017)
Higher Loyalty,
by James Comey (2018)
The Making of Donald Trump,
by David Cay Johnston (2017)
Books by and about the 2016 presidential election
What Happened ,
by Hillary Clinton (2017)
Higher Loyalty ,
by James Comey (2018)
Trump vs. Hillary On The Issues ,
by Jesse Gordon (2016)
Hard Choices,
by Hillary Clinton (2014)
Becoming ,
by Michelle Obama (2018)
Outsider in the White House,
by Bernie Sanders (2015)
---
Book Reviews

(from Amazon.com)

(click a book cover for a review or other books by or about the presidency from Amazon.com)
Fox News-Google Presidential debate, Sept. 22, 2011, at the Orlando Convention Center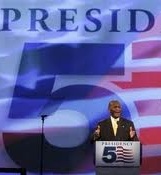 Click on a participant to pop-up their full list of quotations
from 2011 GOP Google/Fox News presidential primary debate in Orlando FL (number of quotes indicated):
The Fox News-Google GOP Presidential debate took place on September 22, 2011 at the Orlando Convention Center in Orlando, Fla. It was sponsored by Fox News and Google in conjunction with the Florida Republican Party. It aired on the Fox News Channel, streamed on YouTube.com/FoxNews, and broadcast on Fox News Radio.
The debate was in anticipation of the Florida Straw Poll which took place the next day, with the following results:
| Candidate | Straw Poll Result |
| --- | --- |
| Herman Cain | 37% |
| Gov. Rick Perry | 15% |
| Gov. Mitt Romney | 14% |
| Sen. Rick Santorum | 11% |
| Rep. Ron Paul | 10.5% |
| Speaker Newt Gingrich | 8.5% |
| Gov. Jon Huntsman | 2% |
| Rep. Michele Bachmann | 1% |
According to Fox News, Romney and Bachmann had both left Florida before the voting began and their campaigns discounted the straw poll's role in the campaign. Previous straw polls have predicted the GOP nominee. Ronald Reagan won in 1979, George H.W. Bush in 1987 and Kansas Sen. Bob Dole in 1995. The Republican Party of Florida, however, has not organized the test vote in recent years.
OnTheIssues.org excerpts: (click on issues for details)
Abortion
Ron Paul: More laws don't solve problems on abortion.
Budget & Economy
Mitt Romney: Obama economy hurt middle class the most, so help them first.
Newt Gingrich: Only leadership can balance the budget.
Corporations
Gary Johnson: Started a one-man handyman business; grew it to 1,000 people.
Jon Huntsman: Phase out all of the corporate welfare subsidies.
Rick Perry: Reduce business' tax burden & regulatory climate.
Education
Gary Johnson: Education Dept. takes 16 cents for every 11 cents it gives.
Herman Cain: Get the federal government out of educating our kids.
Jon Huntsman: I signed the second voucher bill in the US.
Michele Bachmann: Mother of all repeal bills for federal Dept. of Education.
Mitt Romney: Smaller classroom size only matters to teachers' unions.
Mitt Romney: We should insist that teachers get evaluated.
Newt Gingrich: Dramatically shrink the federal Department of Education.
Rick Perry: Promote school choice all across this country.
Rick Santorum: Our education system doesn't serve the customer.
Ron Paul: Stop enforcing No Child Left Behind; allow opt-out of system.
Energy & Oil
Jon Huntsman: Energy subsidies don't work & we can no longer afford them.
Environment
Herman Cain: EPA should not start regulating dust, as scheduled in 2012.
Foreign Policy
Gary Johnson: Flights to Cuba ok; trade promotes friendship.
Herman Cain: If you mess with Israel, you're messing with the US.
Jon Huntsman: We need diplomatic corps to exhibit democracy abroad.
Michele Bachmann: No foreign aid to state sponsors of terror.
Mitt Romney: Unacceptable for Iran to become a nuclear nation.
Newt Gingrich: Corruption from our bureaucrats giving bureaucrats money.
Rick Perry: F-16s to India; they are our allies, not Pakistan.
Rick Santorum: Deal with Musharraf in Pakistan in advance of trouble.
Government Reform
Gary Johnson: Vetoed more bills than all other governors combined.
Mitt Romney: I didn't inhale while governor; government is too big.
Ron Paul: Veto every single bill that violates the 10th amendment.
Health Care
Herman Cain: If ObamaCare were in effect in 2006, I'd be dead of cancer.
Jon Huntsman: Stripped-down bare-bones catastrophic health insurance.
Michele Bachmann: Decisions about STD vaccines should be made by parents.
Mitt Romney: RomneyCare intended as state plan; never as national model.
Mitt Romney: In MA, we addressed only the 8% who were uninsured.
Rick Perry: I will always err on the side of life.
Rick Perry: We're proud of Texas health system; let Texas decide rules.
Homeland Security
Gary Johnson: 43% reduction in military spending; cut foreign aid too.
Newt Gingrich: Real danger of Iran getting nukes from Pakistan.
Rick Santorum: Removing Don't-Ask injects social experiment into military.
Immigration
Michele Bachmann: Build a fence on every inch of our southern border.
Mitt Romney: Vetoed in-state tuition; turn off the magnet.
Newt Gingrich: Employers should use e-verify for all hires.
Rick Perry: We have Texas Rangers patrolling the border.
Rick Perry: You don't have a heart if you don't educate immigrant kids.
Rick Perry: A 2000-mile fence makes no sense; need boots on the ground.
Rick Santorum: No in-state tuition for illegal immigrants.
Ron Paul: Data banks for illegal aliens keep track of us too.
Jobs
Jon Huntsman: High unemployment is a human tragedy.
Michele Bachmann: #1 reason why employers aren't hiring is ObamaCare.
Newt Gingrich: Fundamentally wrong to give unemployment pay for 99 weeks.
Rick Perry: Texas has been the #1 state for relocation for last 5 years.
Rick Perry: Pull back on job-killing regulations.
Rick Santorum: Public employee unions have bankrupted states.
Ron Paul: Government destroys jobs; the market creates jobs.
Principles & Values
Herman Cain: We've slid down the side of that shining city on the hill.
Michele Bachmann: Obama has ushered in socialism.
Michele Bachmann: Separation of church and state is a myth.
Mitt Romney: Obama takes political inspiration from socialist Europe.
Newt Gingrich: Is Obama a socialist? "Sure, of course he is".
Rick Perry: Obama is "hell bent" on taking America towards socialism.
Rick Santorum: Obama is the new King George III, dictating from on high.
Social Security
Herman Cain: Chilean personal retirement model has worked for 30 years.
Mitt Romney: System is federal responsibility, not state governments.
Rick Perry: Solemn oath to people approaching Social Security age.
Rick Perry: Let state employees opt out of Social Security.
Tax Reform
Gary Johnson: FairTax would absolutely reboot the American economy.
Gary Johnson: Replace tax system with a FairTax.
Herman Cain: 9-9-9 plan eliminates several taxes while creating 1 new tax.
Michele Bachmann: What you earn is your money, not the government's.
Mitt Romney: $200,000 income threshold for no interest & dividend tax.
War & Peace
Jon Huntsman: After 10 years, Americans are ready to exit Afghanistan.
Rick Santorum: We need 20,000 troops to stay in Iraq to achieve victory.
Rick Santorum: We're tying one hand behind our backs; change Afghan rules.
| | |
| --- | --- |
| Click for quotations from other sources by: | |
The above quotations are from Fox News-Google Presidential debate, Sept. 22, 2011, at the Orlando Convention Center.