---
Books by and about 2020 presidential candidates
Crippled America,
by Donald J. Trump (2015)
United,
by Cory Booker (2016)
The Truths We Hold,
by Kamala Harris (2019)
Smart on Crime,
by Kamala Harris (2010)
Guide to Political Revolution,
by Bernie Sanders (2017)
Where We Go From Here,
by Bernie Sanders (2018)
Promise Me, Dad ,
by Joe Biden (2017)
Conscience of a Conservative,
by Jeff Flake (2017)
Two Paths,
by Gov. John Kasich (2017)
Every Other Monday,
by Rep. John Kasich (2010)
Courage is Contagious,
by John Kasich (1998)
Shortest Way Home,
by Pete Buttigieg (2019)
The Book of Joe ,
by Jeff Wilser (2019; biography of Joe Biden)
Becoming,
by Michelle Obama (2018)
Our Revolution,
by Bernie Sanders (2016)
This Fight Is Our Fight,
by Elizabeth Warren (2017)
Higher Loyalty,
by James Comey (2018)
The Making of Donald Trump,
by David Cay Johnston (2017)
Books by and about the 2016 presidential election
What Happened ,
by Hillary Clinton (2017)
Higher Loyalty ,
by James Comey (2018)
Trump vs. Hillary On The Issues ,
by Jesse Gordon (2016)
Hard Choices,
by Hillary Clinton (2014)
Becoming ,
by Michelle Obama (2018)
Outsider in the White House,
by Bernie Sanders (2015)
---
Book Reviews

(from Amazon.com)

(click a book cover for a review or other books by or about the presidency from Amazon.com)
2015-2016 Values Voters Summit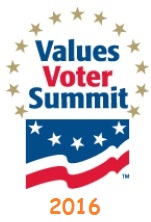 Click on a participant to pop-up their full list of quotations
from Speeches at 2015=2016 Values Voters Summit (number of quotes indicated):
Ben Carson (5) HUD Secretary
Donald Trump (10) Republican Presidential candidate
Ted Cruz (3) Republican 2016 Primary Challenger
OR click on an issue category below for a subset.

The Values Voter Summit is an annual political conference for American social conservative activists and elected officials from across the United States.

Values Voter Summit is hosted by the Family Research Council with numerous conservative organizations sponsoring or otherwise participating in the conference. In the most recent summit, 38 organizations participated and 2,000 people were in attendance.[1] The summit is usually held in September or October of each year. Their website self-description:

Since 1983, Family Research Council (FRC) has advanced faith, family and freedom in public policy and the culture from a Christian worldview. FRC is the leading voice for the family in our nation's halls of power. FRC is a non-profit organization whose vision is a culture in which human life is valued, families flourish and religious liberty thrives.

OnTheIssues.org excerpts: (click on issues for details)
Budget & Economy
Ben Carson: $18T national debt pales with $200T liability fiscal gap.
Civil Rights
Donald Trump: Minorities in disaster cities: what do you have to lose?
Education
Donald Trump: Disadvantaged students are trapped in failing schools.
Donald Trump: Money follows student to public, private or religious school.
Environment
Ted Cruz: Take on EPA and agencies that strangle small businesses.
Foreign Policy
Donald Trump: Obama paid $1.7 billion cash ransom to Iran for hostages.
Ted Cruz: Greatest threat facing America is nuclear Iran.
Ben Carson: Foreign development aid is a win-win situation.
Health Care
Donald Trump: ObamaCare is government control over our everyday lives.
Immigration
Ben Carson: Our southern border is so porous, anybody can get in.
Principles & Values
Donald Trump: Our media culture often mocks and demeans people of faith.
Donald Trump: Cherish and defend our Christian heritage.
Donald Trump: Repeal LBJ law: let preachers talk politics, tax-exempt.
Ted Cruz: Religious liberty: Don't lock up Christians like Kim Davis.
Ben Carson: Muslims can be President, if they subjugate their beliefs.
War & Peace
Donald Trump: Military and cyberwar to prevent ISIS genocide of Christians.
Welfare & Poverty
Donald Trump: Help those in need by massive tax cuts & cutting regulations.
Ben Carson: America provides opportunities for poor.



Click for quotations from other sources by:
Ben Carson HUD Secretary
Donald Trump Republican Presidential candidate
Ted Cruz Republican 2016 Primary Challenger
The above quotations are from 2015-2016 Values Voters Summit.
2016 Presidential General Election:
2016 Vice Presidential Election and Speculation:
2016 Presidential Primaries: