---
Books by and about 2020 presidential candidates
Crippled America,
by Donald J. Trump (2015)
United,
by Cory Booker (2016)
The Truths We Hold,
by Kamala Harris (2019)
Smart on Crime,
by Kamala Harris (2010)
Guide to Political Revolution,
by Bernie Sanders (2017)
Where We Go From Here,
by Bernie Sanders (2018)
Promise Me, Dad ,
by Joe Biden (2017)
Conscience of a Conservative,
by Jeff Flake (2017)
Two Paths,
by Gov. John Kasich (2017)
Every Other Monday,
by Rep. John Kasich (2010)
Courage is Contagious,
by John Kasich (1998)
Shortest Way Home,
by Pete Buttigieg (2019)
The Book of Joe ,
by Jeff Wilser (2019; biography of Joe Biden)
Becoming,
by Michelle Obama (2018)
Our Revolution,
by Bernie Sanders (2016)
This Fight Is Our Fight,
by Elizabeth Warren (2017)
Higher Loyalty,
by James Comey (2018)
The Making of Donald Trump,
by David Cay Johnston (2017)
Books by and about the 2016 presidential election
What Happened ,
by Hillary Clinton (2017)
Higher Loyalty ,
by James Comey (2018)
Trump vs. Hillary On The Issues ,
by Jesse Gordon (2016)
Hard Choices,
by Hillary Clinton (2014)
Becoming ,
by Michelle Obama (2018)
Outsider in the White House,
by Bernie Sanders (2015)
---
Book Reviews

(from Amazon.com)

(click a book cover for a review or other books by or about the presidency from Amazon.com)
American Family Association iVoterGuide on 2016 Senate, House, and Gubernatorial races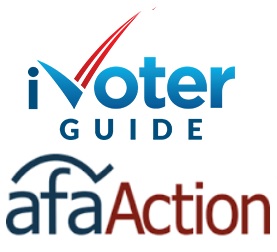 (Click for external website)
Click on a participant to pop-up their full list of quotations
from 2016 AFA iVoterGuides (number of quotes indicated):
OnTheIssues.org excerpts: (click on issues for details)
Abortion
Alex Merced: Invest in technology & charity to reduce number of abortions.
Darryl Glenn: Life begins at conception.
David Kustoff: No exceptions for any circumstances.
Don Bacon: Life starts at conception.
Donald Trump: Unpredictable abortion funding good; Planned Parenthood bad.
Drew Ferguson: Life beings at conception.
Frank Gilbert: Only allow abortion for rape, incest, and maternal life.
Hillary Clinton: Troubled by misleading allegations about Planned Parenthood.
Jack Bergman: Only allow abortion when maternal life at risk.
James Comer: Abortion should NEVER be allowed, except for maternal life.
Jerry Moran: Life from conception is sacred and must be defended.
Jodey Arrington: All human life is a gift from God and begins at conception.
Joe Miller: Roe v. Wade is judicial activism at its worst.
Mark Callahan: Abortion is murder.
Matt Gaetz: Roe v. Wade was a terrible decision.
Misty Snow: Don't interfere with private medical decisions of women.
Neal Dunn: Only allow abortion for rape, incest, and maternal life.
Richard Shelby: Roe v. Wade flawed on both a constitutional & moral basis.
Ron Johnson: Only allow abortion for rape, incest, and maternal life.
Warren Davidson: Life begins at conception.
Wendy Long: Attempt to save life of child if you must do abortion.
Budget & Economy
Jodey Arrington: I cut FDIC budgets by millions & shrunk bureaucracy.
Civil Rights
Jill Stein: Don't use 'religious freedom' as fig leaf for discrimination.
Education
Donald Trump: I may cut Department of Education.
Donald Trump: Call them vouchers or scholarships; I call it competition.
Hillary Clinton: Common Core is most important non-family enterprise in US.
Hillary Clinton: Voted against vouchers; but public school choice ok.
Hillary Clinton: Unconstitutional to post Ten Commandments in schools.
Jill Stein: No charter schools; yes public; no Common Core; yes local.
Energy & Oil
Donald Trump: Fracking will lead to American energy independence.
Hillary Clinton: Natural gas is a "bridge fuel".
Families & Children
Francis Rooney: Marriage is a sacrament ; protected by religious freedom.
Foreign Policy
Donald Trump: Treating Israel like a second-class citizen will end.
Government Reform
Donald Trump: It's scary that people can vote without ID.
Hillary Clinton: Automatic voter registration and 20-day early voting.
Jill Stein: Make voter ID laws obsolete and impossible.
Gun Control
Matt Gaetz: Supports open carry and Stand-Your-Ground.
Immigration
James Comer: Vocally in support of building a wall on the southern border.
Warren Davidson: Securing our borders is a top national security issue.
Principles & Values
John Neely Kennedy: Belief in Jesus informs every decision I make.
Alex Merced: I consider myself spiritual, via faith and forgiveness.
Claudia Tenney: Constitution created to limit religious persecution.
Darryl Glenn: God is the highest authority in my life.
Don Bacon: Priorities: be a good Christian, husband, father and citizen.
Don Bacon: I was raised reading National Review and Human Events.
Donald Trump: Fiercely defend religious freedom and terms like "Christmas".
Donald Trump: I go to communion and that's asking forgiveness.
Drew Ferguson: My Christian faith guides all of my activities and beliefs.
Francis Rooney: I will do all I can to defend Christian values.
Francis Rooney: Man's greed & corruption necessitate separation of powers.
Frank Gilbert: Christian Libertarian & believes in Non-Aggression Principle.
Hillary Clinton: They say "religious freedom" but mean "gay discrimination".
Jack Bergman: I believe the Bible is the true word of God.
Jack Bergman: Commitment to being the best made most exceptional nation.
James Comer: I believe that public servants should put God above all else.
James Comer: I am a social conservative.
Jerry Moran: I led the fight to give Republicans control of the Senate.
Jodey Arrington: The inerrant Bible is the source of all truth.
Joe Miller: I am a limited government constitutionalist.
Joe Miller: We created greatest Republic by looking to God for wisdom.
Mark Callahan: God is guiding me to fight for the freedom of our country.
Mark Callahan: Very conservative first-time office holder.
Matt Gaetz: America is unique because we know our rights come from God.
Matt Gaetz: Bible is instructions from God; we are to follow faithfully.
Misty Snow: Spiritually, I value love and compassion for all people.
Misty Snow: I describe myself as a libertarian-leaning progressive.
Neal Dunn: Describes himself as a very conservative Catholic.
Richard Shelby: Judeo-Christian values should guide all that we do.
Warren Davidson: Political left has maintained a progressive attack on faith.
Wendy Long: Human nature's propensity for sin necessitates Constitution.
Wendy Long: Conservative work for Judicial Confirmation Network.
| | |
| --- | --- |
| Click for quotations from other sources by: | |
The above quotations are from American Family Association iVoterGuide on 2016 Senate, House, and Gubernatorial races.
Related Links:

Voter guides: